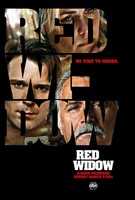 TV Info
---
Episode Premiere
March 03, 2013

Distributor
ABC

Genre
Drama

Show Period
2013 - 2013

Production Company
ABC Studios, Endemol


Cast and Crew
---
Director
Dan Sackheim
Screenwriter
Melissa Rosenberg
Main Cast
Additional Cast
Rod Rowland
Fernanda Andrade
Erin Cahill
Edi Gathegi
Pedro Pascal as Jay Castillo
Synopsis
---
It's been two weeks since Marta Walraven's husband was gunned down in cold blood in the "Pilot." Her young son, Boris, witnessed the slaying. He's been having nightmares ever since that tragic day. As for Marta, she's living the nightmare of owing a debt to Nicholae Schiller. The ruthless crime figure wants her to import a consignment for him. The wait for his call to action has Marta completely on edge. She jumps when the phone rings only to learn that it is Irwin calling from prison. Her brother says he won't last long in there. This is just before two other inmates try to attack him.
Schiller orders Marta to partner up with Mike even though she doesn't trust him. No problem. He doesn't trust her either. Marta would much rather work with her father. Mike lets Marta know that the key to getting drugs through customs is having a supervisor in your pocket. He attempts to reengage Evan's old contact, but the guy tries to forcibly squeeze more money out of him. TWACK! Marta whacks the guy across the back with a long piece of lumber. Mike says they're gonna need a new supervisor.
Marta and Mike lock in on Bob Lagrosse as their next supervisor option. The guy was taken to the cleaners by his wife in a nasty divorce. He's flat broke which makes him supremely bribable. Marta relentlessly flirts with the guy, but he's too down on life to notice. The only good thing he has is the beloved motorcycle he restored with his dad. Marta's flirting session is cut short when her phone rings. It's a school that's willing to take Boris in as a student. This is thanks to a strong recommendation that was given by Schiller. During a brutal kickboxing session, the crime lord lets Marta know that he only did this to keep her from being distracted.
While staking out Bob's place, Mike is shocked to learn that Marta believes Evan is the one who got them into this mess. In reality, it was her brother, Irwin. They make a move to steal Bob's beloved motorcycle. Marta keeps him busy with a phone call while Mike loads the bike onto the back of a truck. Bob is devastated when he sees the last thing in the world that he owns being taken away. Marta feels equally as horrible that she's the one behind this decent guy's anguish.
Andrei wants to provide Luther to his daughter for protection. Marta is against this, but she will allow a security system to be installed in her home. Luther has a nice moment with Boris, who is waiting for pizza in the driveway. The little guy has an accident when he hears a motorcycle drive by. It's a reminder of the day his dad was killed. Marta returns home to find Luther doing a load of laundry. He's washing her son's pants, as Boris didn't want anyone to know what happened. These two obviously have a special bond.
FBI Agent James Ramos heads off to work while his wife shoots up behind a closed bathroom door. He has a chat with Natalie, who is wondering about the true nature of what happened to her dad. She's not so sure it was a random act of violence like her Aunt Kat claims. As for James, he lets Marta know that she hasn't done anything that she can't come back from… yet. He camps in front of the house to keep an eye on her. This inspires Gabriel to slash his car tire. The distraction allows Marta to leave the house unnoticed, though she's furious at her son for his actions.
Marta sits across from Bob's workplace. She's flustered by what she's become. A call to Dina helps remind her of the simpler life she had not so long ago. As for the business at hand, Marta makes her move on Bob. She offers him bribe money. As desperate as the guy is, this is not something he ever considered. He threatens to call Homeland Security. Andrei wants to use physical force to get Bob to play ball. That's not something Marta is willing to do. As mentioned earlier, she hasn't gone too far just yet.
Marta shows up at Bob's place. She comes clean about her entire situation. She even admits to stealing his bike. Marta is relieved to learn that Bob wasn't truly planning on calling Homeland Security. The two of them talk about how they loved the illusion of the perfect life they had when they were married. Bob wipes away Marta's tears as he agrees to take her bribe. These two desperate individuals share a kiss as they become reluctant partners in crime.
Marta brings Gabriel into prison for a visit with his uncle. The idea is to scare him into not doing stupid things like vandalizing the car of a federal agent. Irwin gives him a lecture that seems to do the trick. Later, mother and son enjoy some ice cream on a bench. It's a beautiful day and the two of them share a good laugh. Everything seems normal until Marta's phone rings. It's Schiller. It's time for Marta to go to work.