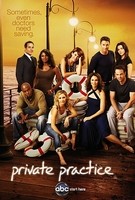 TV Info
---
Episode Premiere
April 17, 2012

Distributor
ABC

Genre
Drama, Comedy

Show Period
2007 - 2013

Production Company
ABC, ShondaLand


Cast and Crew
---
Director
Bill Purple
Screenwriter
Adele Lim, Christopher Fife
Main Cast
Additional Cast
Synopsis
---
Sheldon treats a woman named Elyse who is in prison for murdering her two children. Her husband chastises Jake for trying to help the person who killed his kids. Sheldon believes that Elyse may have had a psychotic break as a result of postpartum depression. If he testifies to this in court, there's a chance she may go free. This has Jake upset, as he's the one who helped Elyse get pregnant with the third child she's now carrying.
Elyse gives Sheldon the details of the day she took the lives of her two children. None of it is easy to hear. Sheldon believes the pain and guilt she feels now is proof that she was not rational that night. She had to have had a psychotic break. Elyse doesn't want to hear any of this. She gets upset to the point where she needs to be rushed to the hospital.
Addison lets Elyse know that they need to induce labor before she has another seizure. After the baby is born, Elyse will have a few moments with the child before being sent back to prison. The delivery goes well and Addy tells her distraught patient that she did a real good job. Elyse's husband breaks down the moment he sees his beautiful new daughter. He manages to put away his anger long enough to visit the woman he once loved with their new child.
Addison has resigned herself to the fact that she's never going to have a baby. That doesn't mean she doesn't want to make preparations for Amelia, who is reluctant to get an ultrasound because that would mean accepting that her baby is real. Addy gives her friend a firsthand look at the miracle of childbirth with a new mom. Suddenly, Amelia is totally jazzed about doing the mommy thing. She's also a little concerned about Sheldon once she learns he has to go see his ex-wife.
Mason has convinced himself that his mom is going to get better. That's not going to happen. Erica's condition is deteriorating quickly. She's adamant about not seeing Mason. Erica is so scared. Charlotte promises to be there for her the entire time. As for Mason, he wants to pray for his mom, so his dad shows him how. Charlotte hangs with Mason so that Cooper can say goodbye to Erica. He lets her know that she did an amazing job raising Mason alone. She lets Coop know that she's so glad he's Mason's dad.
As the end draws near for Erica, Charlotte pleads with her to let Mason visit one last time. She says, "Our son needs to see you." Finally, Erica agrees. Charlotte races to find Cooper. They bring Mason up to Erica's room. He's hesitant to go in at first, but then he courageously climbs into his mom's bed to tell her how much he loves her. He made it there just in time as these are the last words Erica hears before taking her final breath.
Addison lets Jake know that he wasn't responsible for what happened with Elyse. He's a good doctor and a good man. The two of them lean in to share a kiss that we wish would have lasted a little longer. Speaking of kissing, Violet lets Pete know that she and Scott broke up. He already knew that, but didn't let on for some reason. The two of them share a laugh when the truth comes out. Then they almost share a kiss. Almost. Later, they admit they still love each other, but they have some work to do.
There's more kissing for Addison at home with Sam. This unexpected smooch is interrupted by a phone call. Addison is needed at the hospital. It's not for another delivery though. It's to meet with the rep from the adoption agency. She lets Addy know that the mom of one of the babies she delivered earlier in the day saw her picture in the book of prospective mothers. She figured it was a sign as to who should raise her baby. After so many past disappointments, Addison Forbes Montgomery is finally a mother.