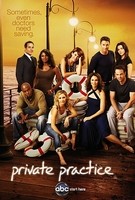 TV Info
---
Episode Premiere
December 02, 2010

Distributor
ABC

Genre
Drama, Comedy

Show Period
2007 - 2013

Production Company
ABC, ShondaLand


Cast and Crew
---
Director
Stephen Cragg
Screenwriter
Elizabeth Klaviter
Main Cast
Additional Cast
JoBeth Williams
Ann Cusack
Don McManus
Clare Carey
Synopsis
---
Naomi's back! She's returned from her multi-continent philanthropic adventure. The guys are having a poker night, so Addison suggests a girls' night in to catch up on things. After all, a lot has happened since Nay went away. Charlotte was attacked. All of her friends gave away Dell's daughter, Betsey. And Addison wants to have a baby, preferably with her ex-hubby. That'll teach her to leave the country.
Emily Wendell (guest star Gaby Hoffman) is a drug-addicted patient who shows up every 10 months or so after getting pregnant. Addison is shocked to learn that Violet, Pete and Charlotte have been taking turns over the years to pay Emily 50 bucks to give up her annual baby. It's the only way to be sure each child will be safe. But Emily says she's clean now and wants to keep this baby. Addison is the only one willing to help her.
Pete goes behind Addison's back to convince Emily to have her tubes tied during her upcoming C-section. Well, he didn't really convince her. He paid her 250 bucks. Addison is furious. Pete's only defense is that Emily is a lost cause. Addison delivers Emily's baby but doesn't tie her tubes.
Addison truly believes the woman has changed. But when Violet dangles the idea of more money in front of Emily, Addison sees her true colors. And the end of the day, Addy's the one who ends up giving this loser mom a thousand bucks to relinquish her parental rights. It's unethical, illegal and the best possible solution.
Sam catches Addison crying outside the nursery. They have a conversation they've been avoiding for some time. She says Emily's baby girl could be theirs. He reminds her that she isn't. In fact, social services found two loving parents who are ready to give the child a happy home. Sam tells Addison they can't make this baby decision based on her biological clock, as it is moving way too fast. He needs a little time. He needs her to believe in him. Thankfully, she does.
Cooper is furious when he learns the D.A. is not going to prosecute the man who raped the woman he loves. As for Charlotte, she seems numb and detached as she calmly spews forth cliches like "I'm in the driver's seat now" and "it's always darkest before the dawn." She's also smiling a lot. And Charlotte's not a smiley person. She is, however, hiding her pain.
When Cooper flips out about all her bumper sticker sayings, Charlotte locks herself in the bathroom. She's trembling and crying into a towel. It's a tough scene to watch. Charlotte later admits to Naomi that she's afraid Cooper is going to leave her. Naomi gives her a hug. It's a bit surprising because Charlotte's not a huggy person either. But this one seems to help.
Justin, a patient Cooper hasn't seen in years, has gained an unhealthy amount of weight. Justin's mom is out of touch and his dad is verbally-abusive tool. Since Coop can't get Charlotte to talk to him, he tries to get Justin reveal why he eats so much. The reason is jarring. He wanted to get bigger so he wouldn't be touched anymore.
Cooper rushes down the hall and begins beating on the boy's father. But Justin's dad is the parent who has been touching him. Now Coop has to hold back the dad from attacking the mom, who is ultimately arrested. With Sheldon's help, Justin is able to ask his dad why he didn't protect him. Remember how we said the guy was a tool? Well, it looks like he may have ditched his jerky ways to finally be there for his son.
At the end of a long day, Cooper sits alone in his office. Amelia pops by and he promptly tries to kiss her. She pushes him away and angrily tells him to go home. But Cooper doesn't go home. He makes his way over to Sheldon's office where he says the Charlotte he fell in love with is gone. It's his job to hold up this person who, to him, doesn't exist anymore. That could be a problem.
An early morning phone call wakes Addison. It's her mom, Bizzy. Whatever she says on the other end of the line is enough to make Addison spring up out of bed. A short time later, Addison is at the airport as a charted plane lands. Bizzy steps out to say she needs Addison's help. Then we see Susan, Bizzy's longtime lover, being taken off the plane in a wheelchair. We're not sure what's wrong, but it doesn't look good.