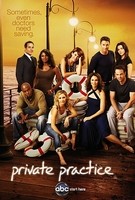 TV Info
---
Episode Premiere
December 03, 2009

Distributor
ABC

Genre
Drama, Comedy

Show Period
2007 - 2013

Production Company
ABC, ShondaLand


Cast and Crew
---
Director
Donna Deitch
Screenwriter
Craig Turk
Main Cast
Synopsis
---
Eleanor is a 60-year-old woman who is 23 weeks pregnant with a buildup of cerebral spinal fluid. If the swelling continues, the baby could have severe brain damage. Addison suggests a complex in-utero surgery on the baby's brain to relieve the pressure. Ronald, Eleanor's much younger husband, doesn't want to risk losing his wife. But Eleanor and Addison convince him that surgery is the way to go.
Violet catches Addison's father, The Captain, checking her out just before a lunch date with his daughter. Addison and her dad struggle to find non-surgical things to talk about during their meal. After lunch, The Captain checks out Violet once again, and she likes it. Guess that's why they end up in bed together. Violet accidentally spills the news of her liaison to Charlotte and word spreads to everyone but Pete and Addison. How long do you think that'll last?
Naomi is concerned that Maya is growing up too fast. She doesn't like the revealing outfits her daughter wears and gets especially upset when she catches her little girl home alone rolling around on the sofa with a boy. His name is Dink. No, really. Anyway, Sam tries to play mediator between Maya and a furious Naomi by offering to take her over to his place for some father-daughter time.
Sam offers Maya a deal. He says, "You tell me everything you do, with whom and where, and I will treat you like you know right from wrong." Maya agrees to the terms. Well, she says she agrees. All bets are off though when Sam comes home to find Maya throwing a party at his place. Yes, Dink is there and he's running his fingers through Sam's little girl's hair. Sam makes it very clear that the party is over. Sam and Naomi agree to stay tough and work together to watch over Maya.
Coop asks Violet for help with Rachel, a mom of six who is having intimacy issues with her husband. Charlotte wants in on the case, so she and Violet engage in some tag team therapy. They determine that the husband's hormones have changed to mirror Rachel's. Charlotte says they can help get her hubby "charged back up." But that's the last thing Rachel wants. They can't use birth control and, for her, six is enough when it comes to kids.
After Cooper has a talk with the husband, he believes they may need help from a rabbi for advice on birth control. But the rabbi says the couple most likely won't be swayed by anyone. They don't want to go against their faith even though having more children would be a hardship. Nevertheless, Cooper, Charlotte and Violet try to find a birth control loophole that will work.
They give Rachel birth control pills but spin it to make it sound like they are to treat anemia. If Rachel feels like she needs the pills, then the decision to use them would be hers. After we see Rachel slip the pills into her pocket without her husband seeing, Charlotte says to Cooper, "Sometimes you don't tell the person you love something to protect them." Clearly, she's talking about why she kept her first marriage a secret.
The Captain asks Addison if he could observe her surgery. During the procedure, he chats with Pete, who says he recently had a baby with Violet. That's news to The Captain. The surgery is difficult but all goes well. The Captain is most impressed by his daughter's talents and Addison seems to appreciate his interest in her work. But when Naomi breaks the news that Violet slept with her dad, she's crushed.
Addison doesn't have a lot of time to feel down, as Eleanor is having post-op complications. The baby is in distress. They have to go back in on Eleanor to remove leaking amniotic fluid from her belly. It's touch-and-go for awhile, but in the end, Addison is able to save both mother and baby. This is wonderful news, of course, so Pete is confused as to why Addison seems so down. Then she tells him about her father and Violet. Pete then later tells Violet, "I'm done."
Addison is angry at Violet, but she becomes emotionally unhinged when she finally confronts her father. She can't understand why he can be so wonderful to every woman in the world except for his daughter and his wife. When she storms off, The Captain makes a call on his cell phone. He says, "Bizzy, hi. Listen, if you don't come out here and tell her the truth, I will." What's the truth, you ask? Guess we'll find out soon.