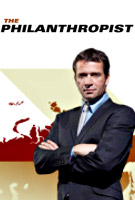 TV Info
---
Episode Premiere
July 29, 2009

Distributor
NBC

Genre
Action

Show Period
2009 - 2009

Production Company
Universal Media Studios, Levinson/Fontana Company


Synopsis
---
It appears as if Teddy has a doppelganger who has taken on his persona in San Diego, living Teddy's opulent lifestyle including sleeping with married women and giving donations away to charity. All does not seem well with Teddy as his doppelganger is out and about, and Teddy is tied up in the back of a car.
Flashback to Teddy in Malibu, his assistant informs him that there are some fraudulent charges on his credit card. The curious thing is that the some of the charges are to a charity. Teddy ponders this unusual crime as Olivia and Philip have dinner with Kenneth Adams. As Adams stands up to take a call, he is arrested by FBI agents.
Teddy decides to visit San Diego to figure out who has been making donations in his name. Dax thinks he should just cancel the card but Teddy's curiosity has been piqued. Teddy visits a bar where some of the charges occurred. It turns out the "other" Teddy Rist has been buying rounds for the whole bar. Not one to back away from a challenge, Teddy buys out all the liquor at the bar and gives everyone free drinks. As he and Dax exit the bar, they discover their car has been vandalized; no doubt the imposter knows the real Teddy Rist is in town.
Back to the present, Teddy is still tied up in the car, trying to convince his kidnapper, Walter, that he is not the Teddy Rist Walter thinks he is. Walter isn't buying any of Teddy's doppelganger stories. Walter asks Teddy why he came back to his club and tries to get Teddy to confess, but Teddy has no idea to what Walter is referring.
Back to the flashback, Teddy tracks the imposter to his hotel room and goes to investigate. He and Dax discover a man and woman in the hotel room and question them. It turns out that the imposter had gifted the Corporal Michael Whitmere and his girlfriend a hotel room because their apartment had burned down. Teddy hears their story and agrees to help them get a new apartment.
Back in New York, Olivia is talking with Kenneth Adam's wife. She asks for Olivia's help as she thinks Kenneth is guilty. In San Diego, Teddy investigates another of his charitable donations. He visits a vet whose wheelchair ramp is being built with Teddy's money. It seems that the doppelganger is helping military veterans. Teddy offers to help completely renovate the veteran's home with wheelchair-friendly access.
Teddy's assistant calls and tells him the card is getting new charges by the minute. Teddy refuses to cancel it. Teddy follows the charges to a strip club where he catches sight of the imposter, who runs off. Dax tries to step in but it seems the other guy has help.
In the present, Teddy has been brought back to Walter's club, the Mirror Ball, where he first followed the imposter. Finally, Walter reveals that he thinks Teddy slept with his girlfriend. At the strip club, things have calmed down and a stripper reveals that the imposter has a tattoo on his arm that may help identify him as a Marine.
In New York, Olivia is dealing with his friend's situation. It turns out that Kenneth was running a Ponzi scheme and her and Philip's entire foundation is gone. In San Diego, Dax is using his Marine contacts to help track down the imposter. He visits a colonel who agrees to help him. Upon exiting, they again find that the car has been vandalized.
While Teddy deals with the car, Dax learns the name and address of the imposter; it seems they need to find Dean Fitzsimmons. Dax and Teddy break into Dean's apartment and find a recording he made for his parents in case he got killed while serving overseas. It seems as though Dean has been preparing for the worst before he goes to war.
Teddy feels for the Marine, but Dax is less sympathetic. Teddy asks Dax to stay and watch the apartment while he visits Dean's parents to try and get more answers. In New York, Olivia visits the foundation she and Philip have created and sees children learning how to play instruments. She is heartbroken to tell the director there is no budget for next year.
At Dean's parent's home, Teddy meets Dean's mother. He pretends to know Dean and they give him a call. He sees pictures of Dean's brother who was killed overseas. When they get through to Dean on his cell, Teddy finally gets the chance to talk to him. Teddy doesn't reveal anything to Dean's family but sets up a meeting.
When Dean doesn't show for their meeting, Teddy and Dax argue about the morality of war. In New York, Olivia confronts Kenneth; she is so furious all she can do is slap him and walk out. After the beach, Teddy returns to his hotel room where he is abducted by Walter. In the present, Walter is losing his cool, he is beating Teddy when Walter's girlfriend corroborates Teddy's story. A sheepish Walter realizes his mistake. It turns out that Walter was the one vandalizing all the cars.
Olivia can't stop blaming herself. Philip promises that they will rebuild the foundation. Gerard, Teddy's assistant, informs Teddy that Dean was arrested and that's why he missed the meeting. In jail, Teddy offers Dean a deal if he answers Teddy's questions. It turns out the Dean found Teddy's credit card when visiting a New York club that Teddy frequents. He explains to Teddy he wanted to live before going off to war.
Teddy drops the charges against Dean. As they walk out of the jail together, Teddy offers to help Dean transfer to a safer assignment. Dean is furious, but Teddy doesn't care; he informs Dean that this is his punishment. When Teddy gets back to New York he tells Olivia to donate $100,000 to the VA hospital in San Diego. She confesses the entire Kenneth Adams situation to him.
Teddy decides to sell a famous painting he had just purchased to help get the foundation on track. When he tells Olivia, he asks that she make the VA donation in Dean's brother's name. In place of the painting, Teddy hangs a picture of Nate Fitzsimmons along with others he has helped save. There is a lot of room for more pictures.