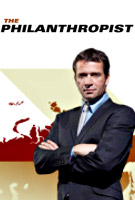 TV Info
---
Episode Premiere
July 22, 2009

Distributor
NBC

Genre
Action

Show Period
2009 - 2009

Production Company
Universal Media Studios, Levinson/Fontana Company


Synopsis
---
Teddy is taking his ex-wife Julia on a trip to Kosovo. When she questions why, he tells her a story about a family trip to an amusement park where his father and mother told him they were getting a divorce and evades the question. When she questions him again, he tells her about the war-torn history of Kosovo and the feud between the Christians and Muslins, and the story of his first business trip there.
Teddy tells Julia how he planned to open a bauxite halloysite mine but he had to get the cooperation of both the Serbian Christians and Albanian Muslims. In a flashback, he tries to convince the Albanians and Serbs to work together but they cannot overcome their differences. Two people in particular cannot seem to reconcile their differences: a Serbian man named Javor Perovichand an Albanian woman named Genta Cobaj.
Philip meets Teddy in Kosovo and Teddy tells him the real reason behind his motivation for the mine. He wants to help bring the two warring groups together. He plans to appeal to the vocal leaders of the groups but he learns that the blood feuds run deeper than he thought. In the cultures of the Albanians and Serbs, if the family members of a murder victim do not kill the murderer, they themselves are considered guilty of the murder of their family member; it is a practice called Kanuni. Both Javor and Genta have had many family members killed over the years of fighting.
Teddy turns to a man named Randy Rayburn, working for a UN-subcontracted policing company called Global Reach, for advice. Randy advises him to give up. Teddy speaks again to Javor and meets his adopted son; Javor took Milos in when Milos' parents were killed. Javor tells Teddy he will try to get his people to work for the mine.
Teddy speaks to Genta as she walks to the market to sell baked goods. He buys both baskets and gives them to the many children playing outside. He tries to convince Genta that it is time to heal the town's wounds, but she refuses to trust Perovic. Teddy calls Olivia and asks her to use some of the company's discretionary fund to build a youth center for the children of Mitrovica.
Teddy explains to Julia that by the time they had gotten everyone's permission to build the factory, he really thought he had found a balance for the people of Mitrovica. But he was wrong; as they cut the ribbon on the construction site for the new mine, a huge explosion goes off, injuring many of people around it, including Philip. Teddy screams for help but there are so many people crying out for help.
Philip is airlifted to a hospital in Germany while Olivia flies out to meet him; Teddy is racked with guilt as he realizes he has put his best friend's life in danger. He stays in Kosovo, unable to face the fact that Philip may die. While visiting the hospital in Mitrovica, he speaks with Genta who believes Javor set the explosion. She tells Teddy that in the war, explosions were Perovic's specialty. Perovic is nowhere to be found.
Teddy meets with Rayburn who tells him that someone planted an American bomb on the construction equipment after they swept the field for bombs. Rayburn also thinks Perovic is guilty and rounds up Milos and Perovic's priest, Father Todor Tapani. Teddy offers them money for any information they have on Javor's location. They tell Teddy that Perovic is innocent and that he only ran out of self-defense, as he knew that he would be blamed. Teddy warns that if Perovic doesn't contact him by noon tomorrow, he will find him.
Olivia arrives at the hospital in Germany and forces her way into surgery to see Philip; the doctor informs her that he is going to make it. Back in Kosovo, Teddy and Rayburn go to find Perovic in his home town. Knowing that he is in town, Perovic contacts Teddy on his satellite phone. Perovic asks Teddy not to alert Rayburn and they meet in secret.
Perovic reveals that Rayburn planted the bomb. He tells Teddy that Rayburn is in the business of war, and that peace means no black market business for Rayburn. Perovic gives Teddy a book with evidence against Rayburn. Perovic agrees to turn himself in if Teddy promises to stop Rayburn and bring the mine and hope to Mitrovica. Just as Perovic surrenders to Teddy, Rayburn shows up with his gun pointed. Teddy plays along hoping to find a way to entrap Rayburn.
Teddy arrives at the police station with lawyers to get Perovic out of custody, but it appears as if Perovic hung himself in his cell. Knowing that Rayburn must have been behind Perovic's death, Teddy appeals to the government factions of Kosovo. They claim that Perovic's notebook is not enough and they refuse to arrest Rayburn. Teddy is furious and decides to take matters into his own hands.
Teddy visits Genta and tells her about Rayburn. He asks her to move forward, to help him, and in return she tells him a dark secret. A secret that she hopes will help heal the rift between the Serbs and Albanians. She admits to Milos and Father Topani that she was the one that bombed the church and killed Milos' family and she asks for their forgiveness. As she weeps, Milos slowly walks towards her and offers her a comforting arm.
Having received background information on Rayburn from AJ, Teddy confronts Rayburn. It turns out that Rayburn was dishonorably discharged from the US Army for inciting anti-Muslim mobs. But Rayburn isn't frightened by Teddy's accusations, as he knows no one will arrest him. Unbothered, Teddy begins to tell Rayburn of his latest business deal. It turns out that Maidstone-Rist gave GRS security, the same firm that employs Rayburn, a very generous loan. They were so happy that they agreed to do Teddy a favor. Teddy hands Rayburn an envelope and tells him that he and his men are fired.
Back in present day Kosovo with Teddy and Julia, Teddy mends his relationship with Julia. He admits that he blamed her and himself for their son, Bobby's, death. He tells her that he forgives her and asks for her forgiveness one day. Moved to tears, she tells him he is already forgiven. Hand in hand, they enter the children's center that he built and see all the happy children. As they continue through the center, Julie catches sight of a dedication and realizes that Teddy built all this in memory of their son.