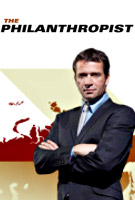 TV Info
---
Episode Premiere
July 15, 2009

Distributor
NBC

Genre
Action

Show Period
2009 - 2009

Production Company
Universal Media Studios, Levinson/Fontana Company


Synopsis
---
Back in Nigeria, Teddy recounts his first Nigerian adventure to an unknown man in the market. Teddy tells him how rebel leader Jonathan Bankole tried to shoot him off his motorcycle during that last visit. The man is incensed, calling Bankole a disgrace.
Teddy and the man talk about betrayal. Flash back to New York, Teddy is giving a press conference about a return business trip to Nigeria to generate cheap petroleum. He is definitely looking forward to returning to Kujama and Doctor Chima Balo. According to A.J., Kujama is now safer than ever, thanks to a treaty with the local rebels. Flash forward to Nigeria, and Teddy and company are caught in rebel crossfire. It turns out Bankole is upset Teddy did not ask permission to build his business venture in Bankole's territory.
To Teddy's surprise he finds a very pregnant Dr. Balo. When he presses her for details she tells him that the father of her baby was killed in the hurricane. Moving on from this sensitive subject, Balo tells Teddy that while the government considers Bankole a terrorist, some of the villages consider him a good man. Encouraged by this, Teddy convinces Dr. Balo to seek out Bankole and secure a meeting to talk about the refinery.
Hours later, Dr. Balo has not returned and Dax brings Teddy a package containing Balo's bracelet. Bankole has kidnapped her. Suddenly, there's a commotion outside, the rebels have come to take Teddy. Teddy orders everyone to do nothing but Dax follows after him, only to be thwarted when they jump into a boat.
Teddy meets with Bankole; Bankole wants the government to pay millions for their release so that he may build hospitals and schools. Teddy tries to reason with him and tells him of the oil refinery. Bankole will have nothing to do with it; he wants Teddy to negotiate with the government to get the $1 million in return for Dr. Balo's life.
Back in New York, Philip is meeting with an old friend. His friend is trying to find a tutor for his son, Dwayne. Philip offers to get Dwayne a tutor. Teddy's deal is not going as easily. Speaking with a Nigerian general, Teddy is informed that the government will do nothing. Back in New York, Dwayne is meeting with Philip. Philip offers to pay him as incentive to pull up his grades.
Teddy has called upon his drug dealer friends from Nigeria; Teddy is drunk and trying to find a way to blackmail the general but to no avail, so he returns to his room. Philip calls Teddy to confront him about insulting the general but Teddy has had an idea. He tells AJ to call an emergency meeting and for Jared to go buy the best camcorder in Nigeria.
Teddy tells Bankole he plans to film the rebels and broadcast the documentary across Nigerian television, giving the decision to the people, not the government. Back in New York, Philip's friend James is back, the hotel he worked for has been sold and he can't find a job as a bartender since he has a torn ACL. His friend wants Philip to help him out as he doesn't qualify for state aid.
Teddy shows the Nigerian general the documentary and makes a deal for $50 million. Olivia isn't too happy with Philip when she finds out about his deal with James; she feels that the program the deal is based on has had mixed results at best. Later, Olivia receives a call from Dwayne, he's been mugged and is in the ER and wants Philip to visit him.
At the rebel camp, Teddy and Bankole talk and Teddy gives him the money and receives his permission to build the refinery. He's reunited with Dr. Balo and notices something strange between Bankole and Balo. Balo reveals that she was in on the ruse to get the money and that Bankole is the father of her child. She reveals she trusted Bankole more than Teddy. Teddy walks away.
Philip visits Dwayne in the hospital, but James is incensed. Unable to make sense of it, Philip leaves but realizes that James may be beating his son and using Philip for money. Back in New York, Teddy is continuing to do press for the Nigerian refinery and cannot get Dr. Balo out of his head.
Dwayne meets with Philip and tells him the truth about his violent father and that he's now living with his aunt. But things are not that bad, it turns out that Dwayne aced his SATs and it's thanks to Philip's help.
In Nigeria, Bankole is murdered by his second in command and all the money is stolen. When word reaches Teddy, he can't blame Bankole for the things he did. Teddy and Balo reconcile at Bankole's funeral. Back in the present, it's revealed that the man Teddy has been talking to is Bankole's son, Desmond.
Back in New York, Philip informs Teddy that the stocks are down due to the Nigerian unrest. They begin talking about the past and Philip reveals that he feels there's a void growing between them. He needs to feel that Teddy has his back. Teddy promises that he would never hurt him, Olivia or their son, and they drink to memories past and memories yet to come.