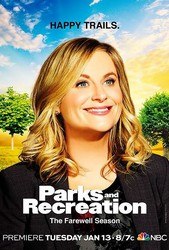 TV Info
---
Episode Premiere
April 18, 2013

Distributor
NBC

Genre
Comedy

Show Period
2009 - 2015

Production Company
Deedle-Dee Productions, Universal Media Studios


Cast and Crew
---
Director
Nicole Holofcener
Screenwriter
Norm Hiscock, Aisha Muharrar
Main Cast
Synopsis
---
Leslie has been working tirelessly at her job through weekends and even holidays, but Ben thinks it's time she took a day off. Though reluctant, Leslie agrees it might be good to recharge her batteries and step away for 19 1/2 hours. But when Jerry surprisingly announces it's his last day before retirement, Leslie gets back to work in an attempt to send her coworker off on the right note.
Chris is the healthiest human being the local fertility clinic has ever seen. Chris and Ann have every reason to suspect their child will be completely healthy, and if they'd prefer, Chris can provide his sample on the same day. But, with the concept of artificial insemination no longer just a distant thought, Chris and Ann get cold feet and decide to take a few days to think things over once more before rushing any decisions.
Jerry has been working in the Parks Department for 40 years without doing anything noteworthy, and it's killing Leslie's scrapbooking plans. Ben agrees to help Leslie make Jerry's last day special, but only if they do it quickly so Leslie can enjoy her long-planned day off. Uncovering a list of dreams written by Jerry on his first day, Leslie escorts her retiring coworker around Pawnee attempting to cross them off one by one. But when she can't get him into City Hall's private dining hall, and the mayor Jerry desperately wanted to meet 40 years ago is dead, Leslie feels as if she's failed in her mission to make Jerry's last day special.
The office is sad to see Jerry go - tormenting him was everyone's favorite pastime. With him retiring, who's left to make fun of? Ron calms everyone's nerves by saying every office has a Jerry, and like natural selection, when one leaves, another assumes his place. Soon, one of the remaining staff members will be ridiculed mercilessly. The mood around the office takes a turn for the worse. Tom takes every precaution to make sure he doesn't become the "new Jerry," but when he has a verbal flub in a meeting, the decision is already made with the hysterical laughter of everyone else.
At her house, Chris and Ann review the clinic's pamphlets on artificial insemination and are put off by the medical, emotionless verbiage throughout. Ann thinks back on the days of their relationship, when Chris and her actually engaged in physical relations. Both ponder the past with fondness and are immediately compelled to approach her fertility with a more "natural" route. They rush to her bedroom. However, when things become awkward at work, Ann approaches Chris with another idea - she thinks it might be good for their child to have a stable parenting situation, and Chris agrees. The two begin to make out; the embers of their relationship haven't completely burned out yet.
Jerry's last day is almost over, but Leslie has one last surprise up her sleeve. Though Jerry's merits certainly aren't deserving of a building being named in his honor, Leslie presents him with a plaque, renaming their conference room in recognition of his service. But when they bring out a cake to celebrate, Jerry inadvertently sets himself on fire with one of the candles and Tom has to put it out with an extinguisher. A fitting end to a blundering era.
The next day, Leslie pays Jerry a visit at his house with his completed scrapbook, after still feeling guilt about his final day. But when she shares breakfast with his impossibly cheery family and sees firsthand the amount of joy Jerry gets from his life at home, Leslie realizes in life it's not always about professional accomplishments. Jerry was successful with his time at the Parks Department because every day he got to go home to his family at 5 p.m. Later, with Ben, Leslie apologizes for skipping out on her day off with him. Achievements are great, but she wants to have a happy family like Jerry. Ben and Leslie take a real day off and decide to take the time to plan their perfect future.
Tom tries desperately to reverse the harrowing effects of his "new Jerry" role. His attempts to appoint Andy as the new bumbling office klutz are met with disinterest, and when Ron hires an intern on Tom's suggestion, the guy turns out to be a world-beating high school football star that everyone falls in love with; it seems as if Tom will be the new Jerry forever. But Ron eventually feels bad for Tom and fires the intern. In the end, Ron rehires Jerry on a once-a-week basis, just so everyone can still enjoy the normalcy of ragging on their inept friend and his clumsiness. For now, Tom's fate as the office dunce is avoided.