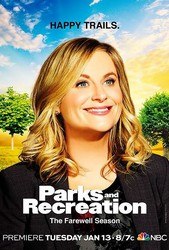 TV Info
---
Episode Premiere
April 04, 2013

Distributor
NBC

Genre
Comedy

Show Period
2009 - 2015

Production Company
Deedle-Dee Productions, Universal Media Studios


Cast and Crew
---
Director
Tristram Shapeero
Screenwriter
Dave King
Main Cast
Additional Cast
Synopsis
---
A stranger walks into the office and asks for a Ronald Swanson. Ron attempts to shoo the man away by feigning ignorance, but when the man says he's delivering a coupon for a free steak dinner, Ron's excitement cannot be contained. He gladly accepts the coupon, only to find out it's a subpoena - he got served. Councilman Jamm is suing Ron for over $46 million for punching him in the face at Leslie's wedding. Ron will represent himself. Tom is surprised at how well Ron takes the news, but a loud banging reveals Ron took his anger out on his office wall with a baseball bat.
As a gesture of goodwill, the town of Partridge, Minnesota is finally offering Ben the key to the city, a distinction given to all previous mayors before him, as well as the ones after; Leslie and Ben eagerly travel back to his hometown to accept the award, though Leslie is apprehensive due to Ben's unimpressive resume as mayor. His massive winter sports facility "Ice Town" sunk the city into crippling debt.
Ann wants to have a baby and Chris has agreed to be the father. Her fertility counselor has encouraged the two to take an online compatibility quiz to make sure they'd be a good parenting match. The results are underwhelming - a match. The fact that Donna took the quiz for fun and scored an match with Chris makes things all the worse. When Jerry chimes in that he scored an match with Ann, her excitement is completely squashed.
Jamm is confident his lawsuit will pay him enough to exact his payback on Ron - and the entire Parks and Rec department - for all the torment they've caused him. Tom is worried, since Jamm's lawyers once got Jean-Ralphio $60,000 when he sued a haunted house for scaring him too much. In deposition, Tom and April prove to be fantastic character witnesses for Ron - the only problem is, they're lying. And the only thing Ron hate's more than lying... is skim milk. It's just water that's lying. Ron forces the two back into the deposition room so they can recant their testimonies and avoid perjury charges.
Ben's sister is glad he showed up, as many people didn't think he'd be man enough to show his face in Partridge again. When Ben goes through his speech plan with Leslie and his sister, Leslie is especially moved. Ben excuses himself to use the restroom - the fifth time in an hour - and when Leslie hears a scream in the bathroom she runs in to find her husband on the floor. He has a kidney stone and is admitted into the hospital for observation until it passes. The doctors placed him on morphine to help with the pain, but the ceremony is in two hours! He's supposed to be in bed for at least 24 hours, but Ben's determined to make that speech - too many people expect him to wuss out, and he can't let them have the satisfaction.
Ann and Chris aren't convinced the online survey holds any weight when it comes to their parenting skills. Ann decides they'll carry around a dozen eggs for a day to prove their ability to care for something, but she accidentally leaves the carton at the grocery store. Chris says not to worry; they can use his coffee mug for the same exercise. But when he drops it on the floor and it shatters into a million pieces, they both start to wonder if this whole scheme of theirs is a terrible idea.
Ron's decision to have Tom and April recant their testimonies backfires on him. Tom admits that Ron told him multiple times of his desire to punch Jamm in the face and lays the many examples out one by one. Ron wanted him to be honest, but didn't expect this... with his back against the wall; Ron owns up to everything and admits he regrets none of his actions. Jamm's lawyers have everything they need. He can't wait to see Ron in court and suggests he bring his checkbook.
With Ben high on morphine in the hospital, Leslie is forced to accept the key to Partridge, Minnesota on his behalf. But within minutes of the ceremony, it becomes clear the whole thing is just an elaborate sham to humiliate Ben publicly one more time. The sign says "Ice Clown," and the key to the city turns out to just be water in a wooden box. As everyone boos Ben, Leslie stands up and defends her husband. He's an honorable man that tried to help the city he loved. Those ridiculing him are classless individuals that would rather criticize than be a part of the change. She's run off the stage, but her two cents were heard.
After failing every compatibility test imaginable, Ann is convinced she shouldn't mother a child, at least not with Chris. But Chris surprises her with a test of his own: all it says is "will you love our child and work hard to see he/she has a good life?" They both say yes, and to him, that's the only thing that matters. Chris knows Ann to be caring, intelligent and reliable. She will literally be the best mother in the world. The two decide to move forward with their plans.
April and Tom feel terrible for all but ensuring Jamm wins his suit against Ron and don't want to see their friend lose out on a part of his personal fortune. Together with Andy, they devise a plan and research all night to find 11 lies Jamm made under oath. When Jamm takes the folder from Tom, Tom falls to the ground and fakes injury; April and Andy corroborate Tom's claims of assault. Jamm realizes he's been "Jamm'd" and reluctantly agrees to drop the suit.
After Ben's kidney stone passes, he plans to drive back to Pawnee with Leslie, but she's determined to get him the key to Partridge before they go. In a closed door meeting with the Mayor, Leslie begs him to give Ben the honorable distinction they promised, but the Mayor knows it'll kill his credibility in the town, so he refuses. So, without the Mayor noticing, Leslie steals the key and gives it to Ben herself. Ben lets Leslie know he doesn't need the key. He loves Partridge, but Pawnee is his home now. All he needs is Leslie and the new city he loves. He ceremoniously throws the key into a park pond, only to be noticed by a passing ranger. The two flee back to Pawnee, litterers on the lam.