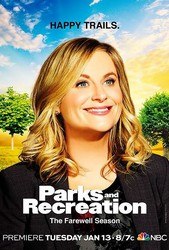 TV Info
---
Episode Premiere
February 21, 2013

Distributor
NBC

Genre
Comedy

Show Period
2009 - 2015

Production Company
Deedle-Dee Productions, Universal Media Studios


Cast and Crew
---
Director
Nick Offerman
Screenwriter
Alexandra Rushfield
Main Cast
Synopsis
---
Leslie and Ben are back from their Hawaiian honeymoon, and they've come bearing gifts. Everyone in the office gets their own personalized present from the Big Island, including Jerry, who gets a SkyMall and some stale peanuts. The same gift as the time Leslie went to Washington! Later on, Leslie tries some jokes out on her staff for her upcoming Correspondents' Lunch speech. Every year the government and media in Pawnee get together to roast each other, and Leslie is determined to serve it up to the ruthless Pawnee Sun tabloid like never before. Ah, It's all in good fun.
Ann is acting weird around Chris. Now that he's single, she is trying to work up the courage to ask him to be her baby's surrogate father. He's got a great genetic makeup, and their past together gives her a needed sense of comfort. She just doesn't know how to approach him about the offer. When she asks Ron for some help, her Ficus tree metaphor confuses the situation even more.
It's Ben's first day of work at the Sweetums Foundation. He loves helping people, so heading up the charitable organization for Sweetums is a dream job. Since Ben has only two days to pick his first charity to fund, Andy, April and Tom stop by to help him sift through the many proposals on his desk. Andy's self-esteem has free fallen since he failed his police academy exam. April sees the opportunity as a means of boosting his morale. Tom just stays for the extravagant lunch.
At the Correspondents' Lunch, a well-prepared Leslie runs in to her arch nemesis over at the Pawnee Sun, Kim Terlando. Leslie's so confident in her speech that she's added a Surgeon General's warning to the front of it. At another table, Ann is mortified to witness a meet-cute between Chris and his ex-girlfriend. Her window of opportunity to ask Chris is closing fast, and she really wants a baby. When it comes time for Kim Terlando's speech, she plagiarizes Leslie's jokes word-for-word. It's an outrage, and Leslie plans to get to the bottom of it.
Back in Ben's office, Andy is proud of himself for locating a charity he thinks would serve as a fantastic choice. April insists Ben hear his idea out. Tom, who's been too busy enjoying the extravagant amenities of the offices, hasn't looked at a single proposal. Despite April's prodding, Ben ends up choosing to fund a rural ambulance. Andy is visibly distraught. He fails at everything he tries. April leaves the offices incensed at Ben.
Leslie struggles to conjure up new material before it's her turn to speak. She can't do it, and her highly anticipated roast putters out before it even starts. Ann confides in Ron about her true plans involving Chris. Ron forces her to confront Chris at the luncheon. In an act of desperation, Ann just blurts out her proposition in front of the local news anchor. It's extremely awkward. As the event draws to a close, Leslie uncovers that Kim Terlando hacked her email months ago and has been using the insider information against her. She prepares to seek revenge.
Ben calls Andy back into his office to thank him for his help choosing a charity to fund. When Andy makes an off-hand remark about the fortune Sweetums could save if they cut back on the wasteful office expenditures, Ben realizes Andy could be a real asset working for him full-time. Ben ends the excessive spending and offers Andy an assistant position at the foundation. Andy is over the moon with excitement.
Later on at City Hall, Leslie desperately scans her emails to figure out what the Pawnee Sun may attempt to use against her in a press conference only hours away. Going on the offensive, Leslie and Donna ambush Kim Terlando at the press conference by supplying Kim with bogus information she could've only gained from hacking into Leslie's email. Terlando leaves the press conference in a fit of embarrassment as Leslie begins her belated and rewritten Correspondents' Lunch roast. Elsewhere, Chris tells Ann he's honored by her request and asks for a just a little time to consider the idea. She's hopeful for the future.