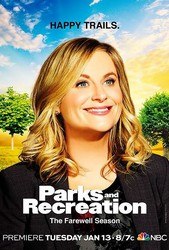 TV Info
---
Episode Premiere
February 21, 2013

Distributor
NBC

Genre
Comedy

Show Period
2009 - 2015

Production Company
Deedle-Dee Productions, Universal Media Studios


Cast and Crew
---
Director
Craig Zisk
Screenwriter
Michael Schur, Alan Yang
Main Cast
Synopsis
---
There will definitely be some obstacles in putting together a wedding in less than two hours, but Leslie and Ben agree it just feels right to get married now. First, they must respect the typical traditions of one's wedding day - no looking at each other before the ceremony! The two set off to begin their preparations with plans to get the whole office to Ann's house for an emergency meeting.
At Ann's house, Leslie divvies up the tasks to everyone in the room. Ann, though burdened with most of the work, feels as if her whole life in Pawnee has been a drill in preparation for today. She's more than ready. The rest of the group goes off in different directions, set on finding a marriage license, some makeshift rings and a minister for the wedding. Tom is pretty sure he can become a minister online in less than five minutes, but struggles to nail down a persona for the ceremony - Steve Harvey or Ryan Seacrest? Ah, choices!
Ben and Chris have no luck finding rings at a local pawnshop. At City Hall, April and Andy sneak in and take all the marriage licenses from a file cabinet. If anyone else gets married it will make their event less special. Back at Ann's house, Leslie is disappointed to find out her seamstress hasn't finished her dress three months in advance. It seems like the makeshift wedding idea is crumbling to pieces. Undeterred, Ben and Leslie press forward, resolute on stringing their nuptials together.
Jerry gets so excited about a surprise Lil' Sebastian appearance at the black tie gala that he pees himself a little bit. When he goes to clean himself up at Ann's, he finds Tom distraught over the mandatory waiting period for online minster certificates. Jerry mentions he's an ordained minister himself, and Tom lets him take the reins of the ceremony, but only if Jerry promises to perform Tom's killer jokes.
Without rings, a signed license or a tailored dress, Leslie vents to Ben that maybe this was all a horrible idea. Then it starts snowing. They were in the same location when they first said, "I love you" to one another. It was snowing then, too. It's a sign that they must keep going.
Ron uses a sconce from Ann's wall to weld some rings together for the ceremony after Ben and Chris have zero luck on their own. In the living room, Jerry is butchering Tom's jokes so badly that Tom changes up the plans - he'll tell his jokes, and Jerry will do the boring, legal stuff at the very end. Elsewhere, Andy and April wake up a grouchy Ethel Beavers and get her to sign the marriage license.
Before the wedding, Chris presents Ben with the letter from the state house assigning them both to Pawnee. It's the reason Ben met Leslie and also the reason they both found a home. Ann fixed Leslie's dress by gathering up all the meaningful documents in Leslie's life and using them for fabric. It's a masterpiece. April let's Leslie know they're ready. Somehow, someway, it all came together. It's time to get married.
Inside the gala tent, Ron walks Leslie down the aisle. But before she can make it to Ben, Councilman Jamm starts booing incessantly. The wedding is halted. He's still angry about losing the location to Leslie's park idea. Jamm starts throwing stink bombs and chaos ensues. When Ron punches Jamm, everyone cries out in shock. As silence subsides over the event, April begins throwing rice and says, "Yay, best wedding ever."
Leslie resigns herself to just getting married on a later date. After bailing Ron out of jail takes up a large amount of time, Ann suggests they all go back to the offices and at least toast to the new Pawnee Commons. At the police station, Andy is bummed to learn he didn't pass his law enforcement exam.
Back at the offices, Leslie is shocked to find out her team has set up a makeshift wedding without her noticing. The wedding is going to happen after all. Ben and Leslie exchange heartwarming vows and recall some of their best times together in Pawnee. With their marriage official, the group enjoys a fun night of celebration... perhaps too much. At the end of the night, when the whole office is passed out from the wild party, Leslie explains how thankful she is for her amazing job and amazing friends. Ben and Leslie exit the building as a married couple.