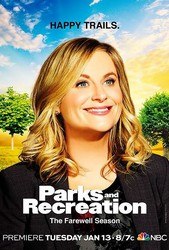 TV Info
---
Episode Premiere
October 25, 2012

Distributor
NBC

Genre
Comedy

Show Period
2009 - 2015

Production Company
Deedle-Dee Productions, Universal Media Studios


Cast and Crew
---
Director
Dean Holland
Screenwriter
Michael Schur
Main Cast
Additional Cast
Synopsis
---
Diane stops by Ron's office with the kids. He's happy to see her! But the kids? Not so much. The girls are quite loud. They're all here to invite Ron to come trick-or-treating with them. While Ron thinks he may be a little old, Andy, who's running around like the overgrown man-child he is, begs to come along. He advises all of them go at seven though, before the candy's all gone.
Leslie is house hunting since Ben is coming back from D.C. in ten days and they're moving in together. They'd move into her place, but the health department has deemed it a scary-nightmare-hoarder-nest. Leslie decides to lease the house, and her and Ann boogie down to "Party Rock Anthem." At the office, Chris shows off his certificate as his doctor's most-improved psychotherapy session patient, which Chris asked him to make while crying loudly. Chris announces that the city manager's office will be throwing a "Scary Movie Night" in the courtyard. A big fan of "Death Canoe 4: Murder at Blood Lake," Donna requests to "live-tweet this bitch." Chris will be attending the event dressed as his biggest fear, which later turns out to be "getting old."
In D.C., Ben is toasting the office on the success of Congressman Murray's campaign. The young professionals whoop with joy, and April declares that she was the best. Ben tells April she can head to Pawnee early, and she's out in a flash. Ben's still beaming from the win, but Jen is already talking about what his next career move is. The furthest ahead that Ben thought about was eating chicken parm and watching "Bladerunner." It's Halloween night and Ron, Andy, Diane, and the girls are walking around the neighborhood. We learn that Andy's applying to the police academy soon, so he's trying to work on his observational skills by noticing leaves. And trees. Mid trick-or-treating, Diane is called off on a vice principal emergency. Andy suggests that him and Ron could continue watching the girls, and Diane agrees and rushes off. One of the girls has to pee, and Andy and Ron are already at a standstill.
It's Scary Movie Night and it turns out not only does Donna live tweet, but she's also a pretty vocal movie watcher. Chris is sitting next to her and she explains the premise of the "Death Canoe" series. Leslie, who's dressed as Rosie the Riveter, is on the phone with Ben, who tells her Jen wants him to possibly work down in Florida. Leslie's disappointed, but Ben assures her this is all preliminary.
Mayhem continues on the streets when Zoe breaks Ivy's tiara and they come crying to Ron. To alleviate the situation and even things out, Ron takes Ivy's tiara and snaps it in half and both girls start sobbing. Meanwhile, Ann is trying not to let Ben's news ruin Leslie's Halloween night. To cheer her up, they decide to scare Tom as he's coming out of the bathroom but end up scaring Jerry, who's overwhelming flatulence is actually the start of a heart attack.
The next morning, Leslie and Tom are visiting Jerry at the hospital. He had a mild heart attack and will be let out in a day or two, nothing life-threatening. Tom cannot seem to forget about Jerry's "fart attack," even though the doctor explains that gastrointestinal disturbance is common during a cardiac event. Jerry's glad he's okay, but is worried about the massive hospital bills he'll now have to pay back. Leslie decides to put on a huge garage sale for him, and gets everyone involved so they can raise money.
At the garage sale, April demands to meet Ron's new lover. However, the future seems rather bleak for this pair, since Diane wasn't happy with how Ron treated her girls on Halloween. Ron likes Diane, he just doesn't think he can handle the two loud toddlers that come along with her. For her part of the garage sale, Ann is selling mementos of past boyfriends: exercise stuff from Chris, grunge apparel from Andy, and needless purchases from her time spent with Tom, like a robe with her initials on it. Leslie gets an auction going for special sale items to up the proceeds. In Florida, Ben and Jen sit down with Mr. Curtis, a wealthy businessman looking to run for Governor. Mr. Curtis isn't exactly a dream candidate, but Ben claims that their company could get him where he wants to go.
Diane ends up stopping by the garage sale to see Ron. She apologizes for her angry voicemail, but doesn't get the kind of apology she wants from Ron, and storms back out. Ben calls Leslie to inform her that Curtis wants him to run his campaign in Florida, but he won't be making any decisions until he flies out to see Leslie. Desperate to do something of worth, Leslie decides to raise more money for Jerry by auctioning off a night with sexy nurse Ann Perkins. Ann is mortified until handsome men start bidding hundreds of dollars on her. A scary tattooed man offers up $900 and suggests a night of mud pits and Thai food and Ann flees from the stage. Understandably.
Distraught, Leslie visits Jerry at the hospital and informs him he has no future left. They only managed to raise $1,200. She's saddened that Jerry can't have the retirement and beach home he's dreamed of, but he explains to her there's no such thing as really planning your future. As long as he's surrounded by loved ones, he'll be alright. Leslie cannot believe how depressing his life is. In D.C., Jen continues to butter up Ben in hopes that he'll accept the prestigious position as campaign manager. She advises him to think long and hard about his future. Ron shows up at Diane's door with flowers, chocolate, and in Ron fashion, grout cleaner. Diane is touched, but tells Ron that her kids are non-negotiable. Ron asks for a chance to prove himself with her kids: he's new at this, but wants to learn.
Leslie ends up back at the dream home she picked out for her and Ben, telling the realtor she has to back out. Suddenly, Ben appears, looking handsome as ever, and gets down on one knee. "I'm thinking about my future," he tells Leslie assuredly, as he takes out a ring. He wants to be with her forever. The pair cannot believe how lucky they are to be so deeply in love. A few days later, Ron takes Diane and the girls, fully dressed as princesses, trick-or-treating. Looks like things are looking up for this couple as well.