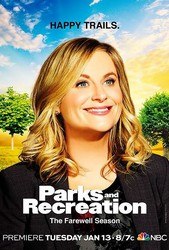 TV Info
---
Episode Premiere
October 04, 2012

Distributor
NBC

Genre
Comedy

Show Period
2009 - 2015

Production Company
Deedle-Dee Productions, Universal Media Studios


Cast and Crew
---
Director
Ken Whittingham
Screenwriter
Dan Goor
Main Cast
Additional Cast
Synopsis
---
Video chatting from Washington D.C., Leslie gives Ben a tour of her new council chambers. The tour is interrupted when Leslie discovers Councilman Jamm utilizing her private bathroom. Jamm is frustrated that he doesn't have a private bathroom in his office, so he attempts to make a deal with Leslie, promising to only use her bathroom for brief "liquid" stops, but he is only rejected.
Over at Parks and Recreation, Chris explains how he is now undergoing intensive psychotherapy to deal with his erratic emotions and he is no loner relying on his mother and running coach for counsel. Because of this, Chris is inspired to create a local 311 phone line that will reroute all citywide complaints and requests to the parks department, so they can then be directed to the proper city department.
On "Pawnee Today," Joan Callamezzo criticizes Leslie and the city council for not being able to pass any significant legislature that would benefit the city of Pawnee. Leslie then reproaches Joan and defends the city council by announcing her new bill, The Leslie No Fun in the Sun Act, which will extend public pool hours citywide. She was inspired to introduce the law by the local Pawnee Porpoises Swim Team.
In Washington D.C., April suggests the idea that she and Ben should take a road trip to Pawnee and visit Leslie and Andy. Ben and April leave for Pawnee but are unfortunately stuck in traffic, where they explore Ben's unique music collection, his Star Trek fan fiction, and April's bizarre conversational style.
Back at the 311 call center, the Parks and Rec crew are having trouble fulfilling Chris' all-in-one call center. Despite rerouting all calls to one center, there still seems to be some disconnect once the calls are transferred to the correct departments. Ron is frustrated as well, and decides to go above his job description and help a woman fill a pothole. To Chris' dismay, this is not a euphemism.
Looking to parlay a membership with Pawnee's most exclusive smoke shop, Tom makes an appointment with Jamm, an active member, for a checkup. Jamm completely overlooks Tom's subtle hint for a smoke shop membership; however, Tom finds out that Jamm is going to vote against Leslie's newly introduced bill.
Tom informs Leslie, mid-perm, about Jamm's decision to vote against her. Recognizing that now the council could reject her new bill, she quickly comes up with a new strategy to persuade one of the other voters, Councilman Milton, to support her cause. Elsewhere, Ron and Andy arrive at Diane Lewis' house, the 311 and pothole caller, and begin to dig the loose gravel, remove the larger pieces, and fill the hole with cold-patch asphalt. Andy befriends the woman's daughters and quickly, in his usual harmless manner, joins in on the make believe and dress-up fun. Diane questions Ron's skill at filling potholes, but it becomes apparent that there is a mutual attraction between the two.
Over at Councilman Milton's office, Tom and Leslie, who realize that Milton is an old, senile racist, try to persuade his ote. Milton doesn't seem coherent enough to be influenced, so Leslie tries one more time to plea for Jamm's vote. Inappropriately, Jamm will not be swayed unless he gains access to Leslie's private bathroom. Leslie doesn't take the deal once again, and storms off with only a half-perm. Over in Washington D.C., traffic starts to move, but sadly Ben and April do not make it very far and run out of gas.
Over at Diane's house, Ron finishes patching up the pothole while Andy plays princess with Diane's young daughters. After seeing the sparks fly between Ron and Diane, Andy suggests that joining in on the fun may win over Diane. Ron begrudgingly agrees, as the girls pile on the makeup and turn Ron into a beautiful princess! Diane's amusement is met with embarrassment by Ron, as he quickly ups and leaves.
Back at Councilman Milton's office, Leslie tries one last time to persuade Milton to her cause. She is successful, but he isn't when he tries to land a kiss when they shake on the deal, falling on his face. Milton ends up in the hospital and now Leslie must submit to Jamm's demands. Elsewhere, Ron arrives back at the call center, or the parks department, and is pleasantly surprised when Diane shows up, with a little help from Andy, to ask Ron out to dinner. Ron accepts and begrudgingly admits that the 311 call center was, in fact, a good idea.
Finally, Leslie's bill passes, but only after she submits to Jamm's demands. However, she still celebrates at the pool with the Pawnee swim team. Her small victory, showing the swim team that local government is not broken, is once again threatened when Jamm shows up and attempts to reveal how Leslie truly passed the law. Thankfully, Tom throws him in the pool. Leslie thanks Tom by offering up her new office as the new Tom's Smoke House. After trying his first cigar, Tom discovers that he doesn't like cigars.