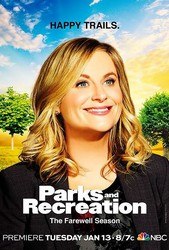 TV Info
---
Episode Premiere
September 27, 2012

Distributor
NBC

Genre
Comedy

Show Period
2009 - 2015

Production Company
Deedle-Dee Productions, Universal Media Studios


Cast and Crew
---
Director
Kyle Newacheck
Screenwriter
Norm Hiscock
Main Cast
Synopsis
---
Leslie declares that her first move as city councilwoman is to propose a tax on those giant sugary sodas in hopes of reducing diabetes in Pawnee. With this new tax, all local restaurants can get healthier: from Paunch Burger, to Big and Wide, to The Fat Sack, and even Colonel Plump's Slop Trough (formerly Sue's Salads).
Meanwhile in D.C., Ben struggles to keep his interns under control. They're apathetic and show no respect for authority. One intern in particular, Ellis, refuses to do his work and gets under Ben's skin. When Ben gives a speech about proper font usage and discovers that someone's drawn a caricature of him to retaliate, it's the last straw. As much as he wants to fire them, he discovers that they're all connected to higher-ups in the government. His new strategy? Suck up to the interns instead.
Chris and Tom offer to help Andy get in shape for the police academy fitness test coming up in three months. The run is a struggle for Andy to say the least, as he finishes two miles in just under 30 minutes. Chris definitely has his work cut out for him!
Leslie addresses the head of the Pawnee Restaurant Council regarding her proposed soda tax. Recently, many restaurants have changed their small size to a whopping 64-ounce cup, only offering a measly three-ounce "lil' swallow" as a smaller option. The regular option is a full gallon, and the "child size" option is 512 ounces (roughly the size of a literal two-year-old child, if the child were liquefied). The head of the council argues that she's just providing more bang for the buck; are we putting the customer on trial here? She follows up by letting Leslie know that if her tax passes, local restaurants will hurt badly, and they'll have to lay off about 100 people as a result. Worried that this may be more than an idle threat, Leslie starts to re-think her position.
Chris tells Andy to find what he's truly running for, and use that as his motivating factor. Andy has a warm moment, telling Chris that he runs for April. She's all he cares about, and he wants this job for their future together. This strikes a chord with Chris; love and family, what else is there to care for in this world? The realization that Chris is completely, utterly alone causes him to plummet into depression; his legs fail and he collapses in on himself. Tom suggests that Chris sees psychiatrist, and Chris enthusiastically agrees to the idea.
Ben does his best to suck up and win over the interns. He buys them all pizza, and then has them spend the morning playing Ultimate Frisbee. Imagine his horror when he finds yet another crude drawing, and confronts Ellis about his rude, disrespectful behavior. But April finally fesses up; she's responsible for the drawings, not Ellis.
Leslie arrives to vote on the soda tax, a giant sugary drink in hand. Leslie's a wreck; she's been up all night drinking that sugary concoction, yet she still doesn't know what she's going to do. Should she stand by her scruples and vote to pass the tax? Or shoot down the tax to appease the people of Pawnee and save jobs? When she's asked for her vote, Leslie pukes in her giant soda cup, probably a consequence of the sugar and her nervousness combined. She asks for a recess, giving her a chance to think over her decision.
In her time of need, Leslie seeks advice from Ron. Ron makes a surprising confession, telling Leslie that he tried to fire her on four separate occasions. But each time he did, he withdrew the request, because despite all of her annoying qualities, she was a determined woman with conviction. Ron tells Leslie that he would rather work with a person of conviction than a wishy washy kiss-ass. This decides it for Leslie; she votes to pass the tax with her head held high, leading to its victory of 3-2 votes.
Ben reprimands April for her behavior; he gave her a great opportunity that she should take seriously. April begrudgingly agrees to Ben's terms to give him just effort. Later, Ben witnesses April put her promise into action when she gets up in Ellis' face and terrifies him into getting his work done.