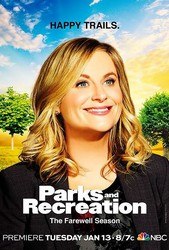 TV Info
---
Episode Premiere
September 20, 2012

Distributor
NBC

Genre
Comedy

Show Period
2009 - now

Production Company
Deedle-Dee Productions, Universal Media Studios


Cast and Crew
---
Director
Dean Holland
Screenwriter
Aisha Muharrar
Main Cast
Additional Cast
Senators Barbara Boxer
John Mccain
Olympia Snowe
Synopsis
---
In the wake of Leslie's big City Council victory, Ben moved to Washington, D.C. to work on a congressional campaign, with April in tow as his intern! Leslie and Andy decide to pay them a visit, and also see the sights of D.C. But it isn't all fun and games: while she's here, Leslie's going to try to get government funding to clean up the Pawnee River.
In Leslie's absence, Ron announces that he will the throwing the annual Parks Department employee appreciation barbeque. The office is incredulous: he's going to pull off the Leslie Knope Employment Enjoyment Summerslam Grill Jam Fun-splosion? Ron claims that his barbeque will be different; there will be no musicals and no adult men in costumes. Just shared meat. This barbeque will definitely be Swanson style.
Ron's bare-bones barbeque is off to a rough start and takes a dark turn when Ron brings out a live pig and tells the guests to meet their meat (who happens to be named Tom). Ron's plan to slaughter Tom in the park is quickly stopped by a park ranger: that's against like three laws and a dozen health codes. Ron concedes and goes to Food N' Stuff to get meat.
April, Andy, Leslie and Ben have a joyous reunion. April and Andy immediately take off to get busy, and Ben has to split as well; he's overwhelmed with meetings. Leslie excitedly goes to the Department of Interior, which, as she puts, is basically America's parks department. But her dreams are crushed when she learns that her meeting was cancelled, and she is forced to put her cleanup proposal in with a daunting pile of others. Leslie's insecurities begin to mount, as she realizes how insignificant her project is in the greater scheme of things.
Pawnee's hottest couple Tom and Ann, or "Haverkins," claim that they're stronger than ever. But the truth is, after the first day living together they realized that they made a huge mistake. With everyone being so smug about how their relationship is doomed to fail, the two decide to continue living together just to prove them wrong (even though they were completely wrong). But when Donna finds them fighting and finds out the truth, she agrees to call off the dogs for their valiant effort in upholding their lie.
Ben takes Leslie to a swanky government party, which just amplifies her insecurities. Leslie feels out of her league, as Ben continues to introduce her to powerful, beautiful, and strangely tall high-ranking brunette women. She's such a wreck that when Ben introduces her to two of her female idols, Senators Barbara Boxer and Olympia Snowe, she completely falls apart. Plus, she's completely oblivious when she has an encounter with John McCain in the coat room!
Ron FINALLY returns with the meat, but announces that it'll take another two hours to thaw and cook. The gang is hungry and antsy and impatiently crowds Ron and the barbeque. Eventually, Ron says that he's had enough and speeds off in his car with his grill, and the meat, in tow. Back at the office, Chris reprimands Ron for failing to understand that the point of the barbeque was to thank the department, not to grill quality meat.
Back in Pawnee, all Leslie can think about is Hot Rebecca (the jealousy amalgam of hot, powerful brunette women that she created). Andy actually provides Leslie with some surprisingly sage advice: she's kick-ass Leslie. Long distance relationships are never easy, but she never gives up on anything. Andy's words inspire her to face her problems head on. She clears things up with Ben AND announces that she's going to clean the Pawnee River every Saturday on her own from 8:00 to 10:00 a.m. Those are her office hours, and anyone in town is welcome to stop by and lend a hand or ask questions.
Ron takes Chris' words into consideration and decides to make amends with the department. He tells them their work is appreciated, and makes corn (a vegetable!) for the department. But he also cooked pig Tom, who the department admits smells way too delicious not to eat.