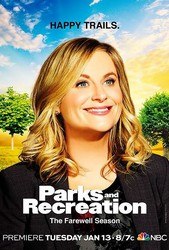 TV Info
---
Episode Premiere
May 10, 2012

Distributor
NBC

Genre
Comedy

Show Period
2009 - 2015

Production Company
Deedle-Dee Productions, Universal Media Studios


Cast and Crew
---
Director
Michael Schur
Screenwriter
Michael Schur
Main Cast
Additional Cast
Synopsis
---
With the campaign coming to a close, Jennifer approaches Ben to let him know what a great job he did on the campaign. Such great work in fact that she'd like to offer him a job on a Senate reelection campaign she's working on in D.C. Ben's shocked by the offer and tells Jen he'll definitely consider it. Jen tells him to hurry up and decide; he'll need to be in D.C. in two days.
Back at the office, April runs into a bit of an issue... she deleted the office files. ALL of them. Andy tries to take on the manly role of Mr. Fix-it, but just worsens the situation by knocking the computer off the desk. The two decide that their best option is to hide under the desk until Donna gets there; hopefully, she can fix this mess!
Unable to keep a secret from Leslie, Ben reveals the job offer he just got from Jennifer Barkley. Leslie's shocked and hit by the full gamut of emotions, admitting to Ben that she isn't sure how she feels about him in D.C. She agrees to sit down and talk it out with Ben, weighing the pros and cons of this huge decision. Ben would be gone for six months... is that something their relationship can handle?
After talking it out with Ann, Leslie decides that ultimately she doesn't want Ben to take the job. She sits down with Ben and gives her honest opinion, to which he agrees completely. He was on the fence about it anyway; this seals the deal. He'll stay in Pawnee. Ann interrupts to let them know the big moment is here... the final poll results are in!
Everyone watches as Perd Hapley makes the announcement... the winner is Bobby Newport! Bobby took the victory by 21 votes. Ben quickly notes that 21 votes is such a small margin... they're obligated to a recount. This fight isn't over yet!
Back at the office, April and Andy anxiously await Donna's arrival. Andy says that if the files are really gone for good and April gets fired, the two of them will skip town and completely start over. This is the chance for them to chase their dreams! Luckily, Donna arrives with a zip drive in tow, fixing the problem within seconds. Jerry deletes things all the time; she's got to be prepared!
Awaiting the results of the recount, Leslie and Ben have another chat. This time, Leslie tells Ben that she's changed her mind, and he absolutely should go to D.C. He put his entire life on hold for her, and it's time for her to do the same. They can weather the storm; in the long run, six months isn't so bad! Ann interrupts to let them know that the recount is complete. It's still 21 votes... but Leslie won this time!
The gang celebrates Leslie's exciting victory, and Leslie gives a moving speech thanking her friends and the people of Pawnee for giving her the opportunity of a lifetime. Meanwhile, Chris talks to Ron about Ron's new promotion as a result of Leslie's victory. Ron notes that while he appreciates the offer, he thinks he'll stick with his current job; he likes things just the way they are.