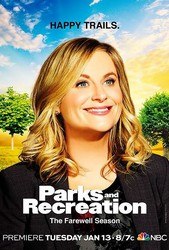 TV Info
---
Episode Premiere
May 03, 2012

Distributor
NBC

Genre
Comedy

Show Period
2009 - 2015

Production Company
Deedle-Dee Productions, Universal Media Studios


Cast and Crew
---
Director
Dean Holland
Screenwriter
Aisha Muharrar, Alan Yang
Main Cast
Additional Cast
Synopsis
---
Team Knope is trailing Bobby by two points, and this is the last opportunity to close the gap! Making the final push in their campaign, the team gets on board the "S.S. Knope" for a few more stops and speeches. Everyone's in good spirits; they've worked so hard and victory is so close! Of course, any road to victory comes with a few speed bumps. The team rented out a fleet of white vans to drive senior citizens to the polls on election day, but there seems to be an issue with their rental.
Leslie sends Tom, Donna and Ron to get to the bottom of this issue. The owner of the company, Bill, admits that the contract agreed to their payment of $900 dollars to rent the vans for one day. But apparently, Bobby's campaign offered up $10,000 to tear up the contract and give the vans to them instead. Ron has a sit-down with Bill, explaining to him that a man's word is sacred, but Bill could care less. Ron even offers to match the $10,000 dollars, but Bill counters by upping the price to $12,000, and then $15,000.
Meanwhile, Leslie delivers her speech at a campaign event, which she has down to a perfect science. When a reporter asks Leslie to comment on Nick Newport, Leslie rightfully says that he's a real jerk. Little does Leslie know that Nick Newport died earlier that day... and the reporter was looking for a comment on Newport's passing. Leslie is left speechless, realizing what a horrible mistake she's made.
Bobby's campaign manager Jennifer calls on Leslie to cancel further campaign events out of respect for the Newport family. Leslie's confronted with quite the dilemma; can she afford to put down the reins during this essential time? Leslie and Ben decide it's best for Leslie to give a heartfelt apology to Bobby and then leverage it as a publicity stunt that puts her in a positive light. But when Leslie's ridiculous bus shows up at the Newport mansion, she just ends up crashing Nick Newport's memorial in front of a flurry of reporters.
After her disastrous arrival, Leslie finds Bobby and really does make a genuine apology. Leslie assures Bobby that win or lose, she's sure his father would have been proud of him. Leslie's kind appeal makes an impact on Bobby... even if he has no idea what she's talking about.
Their van recovery mission looks to be a bust, but the gang hasn't given up quite yet. When Bill angrily honks at Donna's Mercedes and even goes so far as to tap her car, Donna's anger bubbles over. She throws her car in reverse and plows into Bill's truck, accusing Bill of rear-ending her. With two witnesses to back up her story, who's on the winning end of this one? Donna comments that she'll accept payment for the damage in van rentals.
After the incident at Nick Newport's memorial, Leslie's sure that her campaign is doomed. But things turn around when Bobby makes a statement, commenting on what a nice and supportive friend Leslie's been during this hard time. He even says that anyone not voting for him in the campaign should vote for Leslie! Finally, they're reaping the benefits of Bobby's idiocy.
Predator Jennifer Barkley approaches Chris with a proposition. There are 30 bedrooms in the Newport mansion; Bobby's in one; a dead guy's in another, and the rest are free. After momentary hesitation, Chris takes Jennifer up on her indecent proposal; maybe a roll in the hay is just what he needs to recover from his recent rejection.