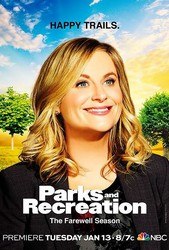 TV Info
---
Episode Premiere
March 01, 2012

Distributor
NBC

Genre
Comedy

Show Period
2009 - 2015

Production Company
Deedle-Dee Productions, Universal Media Studios


Cast and Crew
---
Director
Dan Goor
Screenwriter
Dan Goor
Main Cast
Additional Cast
Synopsis
---
Leslie's starting to look like a front-runner in the campaign, so much so that Bobby Newport got rid of his campaign manager. Leslie and Ben are ready to attack their next mission: securing the "grey vote," or the Pawnee seniors. Ben and Leslie approach senior representative Ned Jones with their latest initiative, "Ramp Up Pawnee." Stairs are an old man's game; Leslie's prepared to put ramps on all the Pawnee buildings. Ned's impressed, but has also agreed to hear out Bobby's new campaign manager, Jennifer Barkley.
Chris tells Ron that it's time to bring on a new deputy director since Leslie's splitting her time between the job and the campaign. Ron's appalled at the idea of bringing on someone new, so Chris makes a proposition: if he completes a government project without Leslie, the department will remain as is. Ron delegates the "water fountain hygiene" project to Ann, who gladly takes on the task. For some strange reason, people in Pawnee put their entire mouths over the spout of public water fountains when they drink. It's Ann's mission to find a way to put an end to this horrible habit.
Leslie and Ben set up a meeting with Bobby's impressive new campaign manager from D.C., Jennifer Barkley. The only reason Jennifer's here is because Bobby Newport's dad shelled out a ridiculous amount of money; she could care less if Bobby actually won. Leslie and Ben are thrilled by this news; maybe Jennifer will just do the bare minimum since she doesn't even want Bobby to win. But when Ben and Leslie turn on the tv, they're shocked to find Jennifer ruthlessly attacking Leslie on Perd's show.
Leslie puts on a presentation for her Ramp Up Pawnee initiative, and quickly wins over the seniors of Pawnee. That is, until Jennifer interrupts with Ned Jones in tow and her own proposal: electric lifts instead of ramps. Ned endorses Jennifer, not Leslie, and Leslie's ramp idea is quickly crushed. Later, Leslie tries to give Jennifer a piece of her mind, but Jennifer is all smiles and positivity. It's just politics; she holds no ill will towards Leslie at all.
Ann gathers the team together to find a solution to the water fountain problem, but they just end up in a full-blown water-balloon fight. Ron and Chris arrive on the scene, and for the first time Ron is actually disappointed that no work is getting done. April pulls through and comes up with the winning solution: just remove the spouts altogether so there's nothing to put your mouth around. Chris is impressed, and the threat of a new hire is averted.
The gloves are off, and Leslie's ready to attack Jennifer head-on. The two appear for a debate on Perd's show, and Leslie gains some ground by pointing out that Bobby is frolicking in Spain while he should be back in Pawnee working on his campaign. Jennifer is almost stumped, but counters by saying that Bobby's working on getting a major European country to open a factory in Pawnee. Later, Ben and Leslie run into Jennifer at a bar, who's all smiles as always. Jennifer admits that the story was a complete lie, but there's no point in them trying to refute it.
Since April was responsible for the water fountain solution, Ron asks her to pick up some slack while Leslie's away. Typically he wouldn't ask her to take on extra responsibility, but she has potential and can't stay Ron's assistant forever. April agrees... but only because he begged.