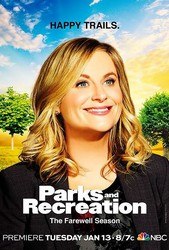 TV Info
---
Episode Premiere
February 16, 2012

Distributor
NBC

Genre
Comedy

Show Period
2009 - now

Production Company
Deedle-Dee Productions, Universal Media Studios


Cast and Crew
---
Director
Robert B. Weide
Screenwriter
Harris Wittels
Main Cast
Synopsis
---
Ben and Leslie pay a visit to the police station to try and get the chief to endorse Leslie's campaign. While he supports Leslie, the Newports basically run Pawnee and give a lot of money to the department; it'd be hard to go against them. He agrees to think about it, and tells Leslie he'll give her an answer at his retirement party later that night.
Andy's in charge of the campaign song, and is determined to make it the best it can be. He recruits the team to sing backup on the track, and they head to a studio that night to get the job done. At the studio, Ron comes across a poster for Duke Silver, a local saxophone legend with whom he shares a striking resemblance. Ron quickly hides the Duke Silver poster and April catches him in the act, well aware of his secret identity. Ron recruits April to help him destroy any Duke Silver memorabilia they come across, all the while refusing to admit that he's actually the man behind Duke.
On their way out of the station, Leslie and Ben run into Leslie's old boyfriend, Dave. Dave was a policeman in Pawnee, but was transferred to San Diego; he's just back for the Chiefs retirement party. The mood is extremely awkward, and Leslie makes the mistake of inviting Dave to join her and Ben on their romantic dinner. She insists that Dave's a nice guy, and he and Ben will get along great.
At dinner, the mood is awkward at best. Ben and Dave consistently try and one-up each other, doing their best to win over Leslie with compliments. When Ben goes to the "whiz palace," as Leslie calls it, Dave takes the opportunity to confess his undying love for Leslie, and doesn't seem to understand why she won't drop Ben on the spot to be with him instead.
In the recording studio, Andy turns into a full-blown Diva, and claims every take of his song is a complete disaster. Ron recognizes that Andy's behavior is completely delusional, and does some undercover Duke Silver work while they take a break. When he comes back and listens to the track, it's completely remixed, and even has some smooth saxophone playing in the background. Ron stays on the down low, and claims that Andy just needed to take a break and hear his music with a pair of fresh ears.
Despite Leslie's insistence, Dave refuses to throw in the towel. He follows Ben into the bathroom and handcuffs him to the urinal when Ben refuses to let him try and win over his girlfriend. When Leslie finds out, she reprimands Dave for his actions and the dinner comes to an abrupt conclusion. Despite the awkward dinner, Ben insists that they still go to the retirement party to try and win over the police chief for his endorsement.
After his awkward first date with Ann, Tom simply won't take no for an answer. He tells the entire department about their budding romance despite her insistence that he keep it a secret, and makes an onslaught of cheesy romantic gestures to try and get Ann to agree to a second date. His actions have an adverse effect, just pushing Ann further and further away. But at the end of the day, Tom finally wears her down, and gets Ann to give him another chance - if only to stop his ridiculous behavior.
Later at the retirement party, Leslie succeeds in getting the endorsement from the police chief with a great long-term plan for the department. Dave comes to terms with the fact that Ben is in Leslie's life, and is especially impressed when he hears that Ben threw a punch in her defense. But this might not be the last we see of Dave; turns out he's up for the position of Police Chief of Pawnee!