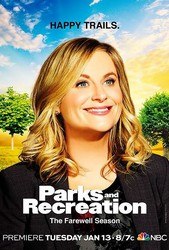 TV Info
---
Episode Premiere
February 02, 2012

Distributor
NBC

Genre
Comedy

Show Period
2009 - 2015

Production Company
Deedle-Dee Productions, Universal Media Studios


Cast and Crew
---
Director
Morgan Sackett
Screenwriter
Aisha Muharrar
Main Cast
Synopsis
---
For Valentine's Day, Leslie's planned an extremely elaborate scavenger hunt for Ben, which will ultimately tell him where to meet her at 9:00 p.m. that night for their date. Ben is completely stumped from the get-go, when Leslie gives him a cryptex - the code to which is a five-letter word that encapsulates their third date. He goes to Andy and then Ron for help, who then smashes the cryptex open to reveal the first in a series of 25 clues. Ron and Andy agree to scour the city to help Ben find all the clues, as Ron secretly relishes the complex puzzle that Leslie has laid out.
As per usual, Leslie has planned an overly elaborate Galentine's Day celebration to show appreciation to her best girlfriends on February 13th, the day before Valentine's Day. The day goes off without a hitch, but Ann can't help but feel dejected as she's the only one there without a man in her life. Leslie can't help but feel bad for Ann and makes it her mission to find a man for her best friend. She requires the entire department to bring an eligible bachelor for Ann to the community Valentine's Day dance.
Meanwhile, at the Valentine's Day dance, all of the potential suitors for Ann turn out to be a bust. Leslie's especially disappointed in April, who jokingly brought super-creep Orin. Leslie insists that Ann has done nothing to deserve this treatment from April, and if the tables were turned, Ann would help out. Meanwhile, Tom shuffles through the potential suitors for Ann. The guys are all completely embarrassing, but Tom and Ann have a great time laughing it up.
Meanwhile, a heartbroken Chris deejays the Valentine's Day dance, playing exclusively depressing funeral-worthy music. Despite Leslie's attempts to pull him out of the dumps and play some upbeat tunes, Chris is absolutely destroyed by his breakup with Millicent.
Ann sneaks off from the Valentine's Day dance, and Leslie spies her putting on makeup in her car. But whom could she possibly be meeting up with? Leslie reasons that given the turnaround in the music at the dance, it must be Chris. April suspiciously tries to stop Leslie from investigating, insistent that she give Ann her privacy.
The guys are unable to find all of Leslie's clues, but Ron points out that their meeting place probably exemplifies a time that Leslie was right and Ben finally came around to her way of thinking. Ron was spot on, as Ben finds Leslie at Lil' Sebastian's memorial. When Leslie tells Ben the news of Ann and Chris, they decide to blow off their plans and spy on them instead.
Imagine their surprise when Leslie and Ben discover that Ann is on a date with... Tom! April intercepts them, explaining that she set up the date. Tom's one of the coolest guys around once you get past his act, and he's the only guy that made Ann laugh all night. So April was able to convince Ann to give him a shot.
On their date, Tom expresses his surprise that Ann finally came around. Ann explains that this is just a test run, and after they have drinks, she's going home by herself. Tom proposes an alternate plan... that they go back to his place and snuggle like little bunnies. That's the breaking point for Ann; this was definitely a mistake.