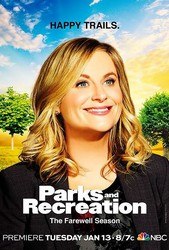 TV Info
---
Episode Premiere
December 08, 2011

Distributor
NBC

Genre
Comedy

Show Period
2009 - 2015

Production Company
Deedle-Dee Productions, Universal Media Studios


Cast and Crew
---
Director
Randall Einhorn
Screenwriter
Dave King
Main Cast
Synopsis
---
Leslie disregards her suspension and sneaks into the Parks department to do more work. Chris interrupts her covert mission and tells her she is not allowed on the premises. He asks her to hand over a flash drive full of work-related material, but she sprints out of the office.
Leslie and Ben enjoy breakfast in public. Now that there secret romance isn't so secret, they finally don't have to hide. After resigning in disgrace, Ben says he has a job interview as an in-house accountant at an accounting firm. Meanwhile, Leslie's trying to keep herself busy with all of her newfound free time. At the Parks department, Ann distributes Leslie's gifts to her colleagues. The gifts are all thoughtful and perfect. Ron tasks the gang with thinking of the perfect gift for Leslie.
Leslie meets with her political advisors who tell her she should just lay low until the scandal blows over. Meanwhile, Ben interviews for the accounting gig. His prospective boss is good-natured but incredibly boring and robotic. Back at the Parks department, Tom's fed all of Leslie's emails and memos into a program and generated a word cloud. This should help them decide what to get Leslie for Christmas. Ann decides they should make a gingerbread version of the office for Leslie.
Leslie tells Ben that she's going out of her mind. She's not allowed to work or campaign, and she doesn't do well with free time. Ben tells Leslie that he'll probably take the accounting job, but he's not exactly thrilled about it. Leslie tells Ben it's okay to take his time and look for something better. The next day, Leslie heads up the Parks Committee of Pawnee (PCP) in order to deal with her aversion to free time. It's time for the community to take action so that Leslie's not so bored.
The Parks crew assembles the gingerbread office for Leslie. April makes an adorable Ron Swanson figurine out of marshmallows. Ben interviews for a CFO position working for Dennis Feinstein. Dennis is so bizarrely rude to the former CFO that Ben rushes out mid-interview. Meanwhile, Leslie's PCP is gaining traction. They've complained to Donna and Jerry about a number of Pawnee-related issues, and they're about to take their issues straight to Chris Traeger.
While Ron struggles with assembling the gingerbread house, Leslie charges into Chris' office with PCP demands. Chris agrees to meet with PCP later. Moments later, Leslie bumps into William and Elizabeth, her political advisors. They tell Leslie that before the scandal she was at but post-scandal, Leslie's at "You were a great candidate, but it's over," William says.
Leslie tells Ann the bad news. Ann tells her to keep her chin up for this too shall pass. Later, Jean-Ralphio bumps into Ben. He tells Ben that if he doesn't love his job, it's not worth doing. Back at the Parks department, Chris presents Leslie with her Christmas present: her suspension's been lifted. Outside Chris' office, Ben tells Leslie he turned down the accounting gig. Leslie says she's proud of him. Moments later, Leslie's colleagues present her with the gingerbread office! It's beautiful.
Next, the Parks crew makes an announcement to Leslie: now that her political advisors have quit, they're going to help Leslie win! Leslie's so touched she tears up. Later, Jean-Ralphio snags the accounting job Ben was considering.