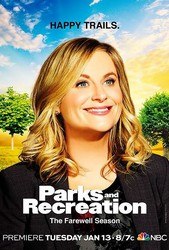 TV Info
---
Episode Premiere
November 17, 2011

Distributor
NBC

Genre
Comedy

Show Period
2009 - 2015

Production Company
Deedle-Dee Productions, Universal Media Studios


Cast and Crew
---
Director
Nicole Holofcener
Screenwriter
Chelsea Peretti
Main Cast
Synopsis
---
Chris assigns Tom and Jerry a very important job: they have to redesign the Parks logo. Meanwhile, Leslie has decided to create the smallest park in Indiana. It's taking up the space left behind when the last phone booths in the city were removed. Meanwhile, Andy decides to take a course at a local community college - he's just having a hard time deciding what subject to focus on.
Leslie enjoys spending time with Ben as they discuss the minutiae of creating the smallest park. But Ben has a confession: as soon as they're done with this project, he's going to transfer to a different department. Hanging out with Leslie bums him out, so he views it as his only option. He's not even going to attend the ribbon-cutting ceremony. Leslie decides she must prolong this assignment in order to spend more time with Ben. Meanwhile, Andy audits a guitar class until he realizes that he's way too advanced. He walks out with Ron and April in tow.
At a public forum devoted to the smallest park, Leslie leads what she hopes will be a very long, very drawn out meeting. She asks Pawneeans about their childhoods and goes on long-winded tirades about intolerance. Meanwhile, Andy takes an Introduction to Lasers class. He's immediately disillusioned when the lectures don't involve cool laser shows. Meanwhile, Tom unveils some cool Parks logos, including one that looks like it's right out of "The Sopranos."
Andy enjoys taking a Women's Studies class. Surprisingly, Ron and April enjoy it too. Meanwhile, Leslie tries to anger her fellow Pawneeans by telling them that the smallest park might have devastating effects on the community. Will it cause traffic problems? Will it attract the wrong kind of people? Leslie will do anything to rile up the townsfolk so that this project won't reach an end. That way she'll get to spend even more time with Ben. Back at the office, Tom presents more outlandish logo ideas to Jerry. Jerry criticizes Tom's imagination, saying that Tom's imagination is what torpedoed Entertainment 720.
Leslie causes the townspeople to riot and strike over the park. Annoyed, Ben announces that the park is canceled. He's had it with Leslie and her steamrolling ways. Leslie complains to Ann, but Ann argues Ben's side. After all, Leslie does have a way of only hearing what she wants to hear. She's got to listen to Ben's desire for space. Meanwhile, Andy realizes that he can't afford to take the Women's Studies class. Back at the office, Tom bemoans his fate as a Jerry-esque corporate drone.
Ron loans Andy the money to take the Women's Studies class. Later, Ann convinces Ben to talk to Leslie. Meanwhile, Tom decides to revert back to the 1970s Parks and Rec logo. Tom noticed that Jerry had never renewed his first ID card, and that's how Tom came up with the idea to go retro.
Ben visits Leslie at the smallest park. Ben reiterates that he thinks not seeing Leslie is for the best. Unable to control her emotions any longer, Leslie confesses that she can't be without Ben any longer. They passionately kiss.