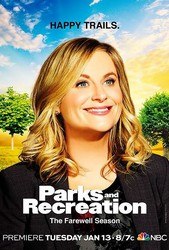 TV Info
---
Episode Premiere
October 27, 2011

Distributor
NBC

Genre
Comedy

Show Period
2009 - 2015

Production Company
Deedle-Dee Productions, Universal Media Studios


Cast and Crew
---
Director
Wendey Stanzler
Screenwriter
Katie Dippold
Main Cast
Synopsis
---
April and Andy go through a checklist to make sure they have the proper supplies for a gory and great Halloween party. Unfortunately, Ben's not excited about the fiesta. He was planning on staying in and getting some work done. That'll be nearly impossible with a noisy party going on. Meanwhile, Leslie decides to throw a meet 'n' greet with small businesses as part of her campaign. Tom is eager to help Leslie strategize and even isolates her primary target, influential CEO Martin Kernston.
Leslie arrives at the meet 'n' greet and finds it looks more like a promotional event for Entertainment 720. She tells Tom to get rid of his promotional material at once. Meanwhile, April and Andy's party is a hit. Chris invites Jerry's daughter while Ron plays handyman, fixing up their bathroom. Later, Leslie talks to Martin. She's ill at ease bragging about her accomplishments, so she asks Tom to help. Instead, he selfishly publicizes Entertainment 720.
Leslie snaps at Tom for derailing her event. Unfortunately, that doesn't stop him from interrupting her speech later. He even plays a promotional video. Meanwhile, April and Andy realize that Ben's angry about the Halloween house party. Jerry's also not too happy; seeing Chris grind against his daughter on the dance floor is making him feel uncomfortable. Meanwhile, Ron and Ann repair a leaky faucet.
Andy wrestles with Ben in the hopes of getting him to admit that he's angry about the party. Meanwhile, Martin tells Leslie that if she trusts a company as showy and flamboyant as Entertainment 720, then maybe she's not the right candidate. Enraged, Leslie yells at Tom for screwing up her big event. Tom reveals that Entertainment 720 is dead.
Ron and Ann shut down the party momentarily to work on a busted fuse. Meanwhile, Chris and Millie feverishly make out, causing Jerry to feel even more uncomfortable. Sick of being forced to express his anger, Ben elbows Andy, accidentally breaking his nose. Across town, Leslie takes Tom to dinner to console him regarding Entertainment 720. He tells Leslie before his company went under he created a video biography of her life.
At the hospital, Ben finally vents his frustration about Andy's inconsiderate, bad roommate behavior. Later, Leslie watches the video biography Tom created. It brings tears to her eyes.