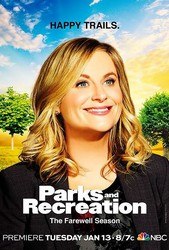 TV Info
---
Episode Premiere
October 13, 2011

Distributor
NBC

Genre
Comedy

Show Period
2009 - 2015

Production Company
Deedle-Dee Productions, Universal Media Studios


Cast and Crew
---
Director
Charles McDougall
Screenwriter
Alan Yang
Main Cast
Synopsis
---
Ron tells his Pawnee Rangers that Wilderness Weekend is upon them. As troop leader, Ron has one lesson to impart: Be a man. With Andy's help, he plans on giving the boys a fun-free camping experience. Meanwhile, Leslie leads the Pawnee Goddesses, a group of girls that went ahead and started their own troop when the boys weren't accepting. The competitive spirit gets the best of Leslie and Ron as they debate which club is better.
In the Parks office, Ben is clearly preoccupied and irritable. Privately, he admits that it's because, without Leslie, he no longer has a good reason to stay in Pawnee. Later, Ron gifts his troop with canvas sheets. He claims they have a variety of useful purposes, but clearly the boys aren't sold on this theory. Meanwhile, Leslie hangs out with the girls in the Goddess Cabin. Unlike the boys, they're not roughing it all. Instead, they have crafts time.
Tom and Donna celebrate "treat yourself" day, an annual celebration of indulging in all of life's pleasures. Feeling bad for Ben, Donna suggests she and Tom invite him for a day to just relax. Meanwhile, Leslie treats her troop to delicious Korean food while Ron forces the Pawnee Rangers to enjoy beans from a can. Later, when a little boy defects from the Rangers in order to become a Pawnee Goddess, Leslie can barely contain her smile.
Ron lures a hesitant Darren back to the Pawnee Rangers so he can "enjoy the solitude." But the Pawnee Goddesses accuse Leslie of hypocrisy. After all, she's the one who fought for gender equality only years before. The girls demand a public forum. Meanwhile, Ben tries to enjoy treating himself, but he manages to analyze the whole experience until it stresses him out. His introduction to acupuncture doesn't help very much either. Back at the office, Chris meets Jerry's daughter Millicent who happens to be drop dead gorgeous. Chris takes an instant liking to her.
Leslie holds a public forum to decide if the Pawnee Goddesses should take pity on the Pawnee Rangers by letting Darren join the girls. Meanwhile Tom and Donna enjoy buying fancy clothes while Ben watches, confused. Back at the office, Jerry happily gives Chris permission to date his daughter.
Tom and Donna convince Ben to treat himself. He indulges by buying a Batman costume. When he starts tearing up, Tom knows something might be bothering Ben. Meanwhile, Leslie makes a great case for the Pawnee Goddesses, and soon all the boys want to join her club. To celebrate, Leslie throws a puppy party, but when she sees Ron alone outside, she feels guilty.
Leslie consoles a glum Ron, who's realizing he no longer understands kids. He thought they'd enjoy sitting in total silence eating beans. "When did kids get so interested in fun?" he asks. At the mall, Ben is still teary. Tom assures him he'll find a lover if he doesn't give up. When Ron and Leslie get back to the office, she organizes a coed group called the Swansons. Finally, there's gender equality in Pawnee.