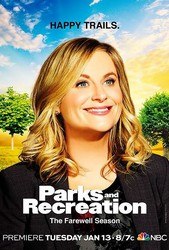 TV Info
---
Episode Premiere
September 29, 2011

Distributor
NBC

Genre
Comedy

Show Period
2009 - 2015

Production Company
Deedle-Dee Productions, Universal Media Studios


Cast and Crew
---
Director
Randall Einhorn
Screenwriter
Norm Hiscock
Main Cast
Additional Cast
Synopsis
---
Leslie tells the gang that the "battle royale" is coming up. It's a budgetary fight where every department will battle for funds. Leslie wants to enlist Ron, but he's currently being audited by the I.R.S. thanks to Tammy 1. Leslie asks April and Andy to help Ron survive his audit. Later, Tom asks Ben to look over some Entertainment 720 paperwork that has him stumped.
Leslie, April and Andy try in vain to get Ron's financial affairs in order. Ron didn't keep receipts and doesn't believe in banks. Plus, he has tons of weird expenses, like his monthly shipment of shotgun shells and cigarettes that he sends to his mom. His mother's name? Tammy, of course. Ann casts Chris in a diabetes PSA she's writing and producing. Chris immediately micromanages the entire affair, wondering how to make it absolutely perfect.
Tom shows Ben the Entertainment 720 offices where Jean-Ralphio and Detlef Schrempf enjoy a game of hoops. Needless to say, Ben doesn't mesh well. He guesses that with their wild expenses, Entertainment 720 will be bankrupt in no time. Ron tells Leslie, April and Andy that he's known Tammy 1 since he was born. She was a candy striper at the hospital. She helped deliver baby Ron. Suddenly an icy Tammy 1 enters, sending shivers down everyone's spine. She demands to take control of the auditing process.
One week later, Ron arrives at the office sans moustache and wearing nerdy clothes. He makes jokes about "hump day" and takes baby aspirin to lower his risk of heart disease. This is not the same Ron. Ann and Chris shoot their diabetes PSA. Chris demands multiple takes, each delivered in the exact same way. Meanwhile, at Entertainment 720, Ben "Jell-O Shot" Wyatt learns that Tom's company makes money by printing its own money.
When Leslie learns that Ron won't be attending the "battle royale," she decides his new act has gone too far. Enraged, she slaps Ron and asks him to lunch. Ron calls Tammy 1 and says she objects. Thankfully, Leslie insists. Tammy 1 intrudes on Leslie and Ron's lunch. Leslie tells Tammy 1 she's evil and asks if the audit is real. Tammy 1 admits she just wanted Ron back, and she wants to make sure his finances are in order. She's especially glad to know Ron has a small fortune in gold.
Ben scolds Tom and Jean-Ralphio for running a company with virtually no organization whatsoever. Most troubling, Entertainment 720 has absolutely no revenue. Meanwhile, Chris' constant takes are driving Ann a bit insane. Leslie, April and Andy ask Tammy 2 to help them save Ron. Sadly, she too fears Tammy 1. Not willing to give up, the gang goes to Tammy Zero, Ron's mother, for help. She's got a scary scowl and tons of guns.
Tammy Zero and Tammy 1 face off at the Parks office. They have a "drink-off" using Swanson family mash liquor. Its only legal use is to strip varnish off speedboats. Leslie decides to compete as well, hoping that, if she wins, Ron will stay at the Parks office. Unfortunately, after one sip, Leslie's reduced to a drunken mess. Tom comes to Ben and admits that he was right. Entertainment 720 will go under if they keep giving away free iPads.
After watching Leslie, Tammy Zero and Tammy 1 get increasingly wasted, Ron decides to stop the drink off himself. He downs the entire jug of liquor and tells both Tammys to get lost. Tammy 1 gloats that she already stole Ron's gold. He tells her it's decoy gold and dismisses her again.