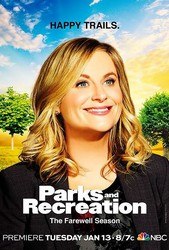 TV Info
---
Episode Premiere
September 22, 2011

Distributor
NBC

Genre
Comedy

Show Period
2009 - 2015

Production Company
Deedle-Dee Productions, Universal Media Studios


Cast and Crew
---
Director
Troy Miller
Screenwriter
Dan Goor
Main Cast
Synopsis
---
Leslie tells Ann that she's considering running for political office. Ann is excited for Leslie, but asks what this means for Leslie and Ben. Leslie doesn't know, but for now, she doesn't want to think about it. Suddenly Ron charges in the office and tells Leslie he's leaving the parks department for 228 days (the number of personal days he's accumulated) because he wants to avoid his ex-wife, Tammy One.
Tom returns to the parks department with tons of Entertainment 720 swag for the gang. Meanwhile, Leslie tries to hide from Ben the fact that she's running for office. She knows that if she tells him about her aspirations, they'll have to break up. But if they stay together, it'll surely result in a scandal. Leslie's torn. Every woman in the parks department receives an X-rated e-mail featuring an unidentified man's penis. Chris and Ben launch a full investigation into the matter.
Tom tries to convince Andy to work for him at Entertainment 720. Meanwhile, Ann tells Chris that the lewd photo concerned her. The unidentified man had enlarged testicles - a sure sign he might not be well. Leslie does an interview with Perd Hapley in which she discusses the penis scandal and says that it's a sign more women should be in power. Leslie's clearly unofficially campaigning. Her advisors tell her to announce her candidacy the following Friday, and even though Leslie's excited, it's clear she's also scared about what it will mean for her and Ben.
Leslie decides to tell Ben about her political aspirations when suddenly he surprises her with an L-shaped eclair. Touched, Leslie decides to make out with Ben for hours. Meanwhile, Chris and Ben fire Joe for sending out the penis picture. Chris also tells Joe that Ann's expert opinion is that - based on his package - he's got the mumps. Chris' comment has some unintended consequences: now everyone in city hall is taking pictures of their "junk" in order to find out if they too have mumps.
Leslie goes to dinner with Ben, intent on telling him the truth and breaking up with him. When he sets what looks like a jewelry box on the table, Leslie bolts. She just can't bring herself to break it off. She arrives at a remote cabin where she finds Ron sporting long hair and a beard.
Ron and Leslie return to the parks department ready to face their demons. Leslie tells some of her colleagues that she's running for city council. She hires Andy as her assistant. She is about tell Ben the news when he presents her with a box once again. Leslie refuses to open it, assuming it's fancy jewelry. Ben opens it for her and shows her that it's a "Knope 2012" pin. He knows she must follow her dreams and run for office, even if it means they can't be together. He doesn't want anyone to ever accuse Leslie of getting where she is by sleeping with her boss.
Leslie faces her fears and announces her candidacy. Meanwhile, back at the office, Ron is facing a fear of his own. His ex-wife Tammy One enters, fixing him with a cold stare. She tells him he's being audited. "I hope you don't go to jail," she says.