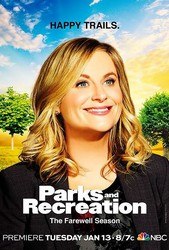 TV Info
---
Episode Premiere
May 19, 2011

Distributor
NBC

Genre
Comedy

Show Period
2009 - 2015

Production Company
Deedle-Dee Productions, Universal Media Studios


Cast and Crew
---
Director
Dean Holland
Screenwriter
Dan Goor
Main Cast
Synopsis
---
Thanks to a frivolous lawsuit, Jean-Ralphio has some extra cash to invest. Tom suggests they create Entertainment 720, Pawnee's premiere, high-end, all-media entertainment conglomerate!
Leslie informs her staff that, sadly, Li'l Sebastian has died. He's no doubt in heaven, eating carrots and urinating freely. Ron, in particular, is incredibly saddened by the news. The entire crew has a moment of silence in honor of their four-legged friend, and Leslie decides to plan a memorial service.
Meanwhile, a doctor tells Chris that he has tendonitis, a natural ailment for someone "of his age." When the doctor tells Chris that the cure is "to get a time machine and go back to being 20," Chris is uncharacteristically offended.
Leslie holds a meeting to discuss Li'l Sebastian's memorial. Jerry suggests that someone should read a 13th-century poem by Dante Alighieri at the event, and Leslie agrees. April convinces Leslie to pay Andy $50 for a tune in honor of the horse that Andy will write and perform. Ever the entrepreneur, Tom arranges for Entertainment 720 to put on the event in Li'l Sebastian's honor. Though Ron objects, Tom insists, saying it will give Entertainment 720 some much-needed publicity.
Meanwhile, Ann tells Chris about Li'l Sebastian's death and notices that the news upsets him. Fresh off his tendonitis "scare," Chris is clearly very sensitive about aging and death.
Ron pointedly asks Leslie how long she's been secretly sleeping with Ben. It turns out Ben "butt-dialed" Ron the other night, and Ron heard the two of them flirting and making out. Ron warns Leslie that if Chris finds out about the affair, Chris will fire Leslie.
The next day, the team works together to turn an empty lot into the site of Li'l Sebastian's memorial. A maintenance worker named George spots Leslie and Ben making out. Nervous, Leslie explains that she and Ben were just hugging because Leslie just found out she won the MacArthur Genius Grant. Leslie then tells George to take the rest of the day off and thanks him in advance for his discretion.
The Li'l Sebastian Memorial begins with a heartfelt speech from Leslie and a cameo from the horse's girlfriend, Coconut. Then Jean-Ralphio and Tom present a beautiful video in honor of Li'l Sebastian and courtesy of Entertainment 720.
Backstage, Tom tells Leslie that George left so now they don't have fuel for the "eternal flame." Leslie chooses not to mention that she told George to take the day off. Instead, Leslie forces Jerry to go buy some propane. Donna can read his stupid 13th-century poem instead.
Backstage, Jean-Ralphio urges Tom to quit his job so they can work together on the Entertainment 720 dream. Life is short. Look at Li'l Sebastian. When the Li'l Sebastian video ends, Andy comes onstage to sing "5,000 Candles in the Wind." Though onstage everything looks perfect, Leslie's scrambling behind the scenes. It's clear it was a mistake to send George home. When Ron complains that Councilman Howser stole his assigned job (the laying of the ceremonial wreath, naturally), Leslie tells Ron that he can light the memorial flame with a torch. Ron begrudgingly accepts the new task but tells Leslie that he suspects this has something to do with someone catching her and Ben making out.
Ron holds the memorial torch and admits that he wept when he heard news of Li'l Sebastian's death. After a march and some ceremonial grunting, Ron lights the memorial flame. The flame explodes, burning off Ron's eyebrows. Apparently Jerry bought lighter fluid instead of propane and poor Ron almost paid for the mistake with his life. At the after-party, Jerry apologizes to the now eyebrow-less Ron. Secretly, Leslie takes responsibility for Ron's near-death experience. She tells Ben that they can no longer flirt or make out at work; it's just too risky and it's affecting her job performance.
Tom tells Ron that he's thinking of quitting the Parks Department to pursue his entertainment company. Ron admits that he'd love for Tom to reconsider so they can remain colleagues. Suddenly, Tammy interrupts the conversation, and even though Ron pretends to hate her, it's clear the sexual attraction is still there. Donna interrupts to tell Ron that his "other ex-wife, Tammy 1" is waiting for him in his office. Meanwhile, Ann helps Chris cope with his fear of aging and death. Her understanding makes Chris reconsider his decision to remain single. Later, April convinces a partygoer to purchase a Mouse Rat CD. Noticing this, Andy asks April to become his manager. She agrees.
William Barnes and his colleague approach Leslie at the party. He tells Leslie that he's noticed her amazing work with the Harvest Festival and Li'l Sebastian's memorial. He works with a group that identifies potential candidates for political office in Pawnee. He thinks Leslie's got great potential, and he wants to work with her. Perhaps he could even help her run for mayor. First, however, he wants to make sure she doesn't have any skeletons in her closet. Leslie says she's got nothing to hide, but she's no doubt already worried about her secret relationship with Ben.
Tom, Jean-Ralphio, and - Detlef Schrempf? - plan on taking over the world with Entertainment 720.