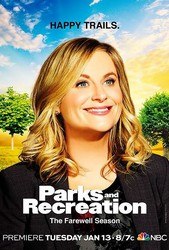 TV Info
---
Episode Premiere
May 05, 2011

Distributor
NBC

Genre
Comedy

Show Period
2009 - 2015

Production Company
Deedle-Dee Productions, Universal Media Studios


Cast and Crew
---
Director
Nicole Holofcener
Screenwriter
Emily Spivey
Main Cast
Additional Cast
Synopsis
---
Leslie tricks Ron into revealing it's his birthday the following Friday. Ron commands Leslie to do nothing for his birthday, but it's clear Leslie's planning on celebrating in some way that will irritate Ron.
Tom tells the gang that something terrible has happened to the small park that sits on the border of Pawnee and Eagleton. Eagletonians have erected a fence right down the middle of the park, presumably so the unwashed masses of Pawnee can't cross over. Who builds a fence to keep kids off a playground? It can only be Leslie's nemesis, Lindsay Carlisle Shay. Lindsay and Leslie were best friends, but then Lindsay went to work in Eagleton, fixed her "deviated septum," and lost a bunch of weight. Now it's her mission to show Leslie that Eagleton is better than Pawnee. Leslie assigns April the job of planning Ron's birthday so that she can focus on tearing down that fence!
At the City of Pawnee Public Forum, residents complain about the fence. After all, Pawneean children have a right to a spacious, open playground too. They suggest burning down the fence, but Leslie doesn't bite. However, Leslie makes a vow to her townspeople that she will tear down that fence.
Meanwhile, April terrorizes Ron, implying that she's planning a wild birthday party in his honor. He tries to appear calm and collected, but it's clear he's worried.
Leslie invites Lindsay to the Parks office in order to discuss the fence. Lindsay is snooty and condescending and makes snide remarks about the people of Pawnee. She defends the fence, claiming she's only trying to protect the children of Eagleton. Leslie appeals to Lindsay, referencing their shared history, but it doesn't work. Lindsay won't budge: the fence stays up. In her opinion, Pawnee's just a dirty little nightmare.
At the Eagleton Public Forum, Tom, Leslie and Ben can't help but notice Eagleton's supremacy over Pawnee. Eagleton's Public Forum even has a crepe station and valet! Lindsay approaches the Parks crew and manages to insult Leslie's appearance almost immediately. Meanwhile, back in the office, April continues to annoy Ron. She asks if his neighborhood offers ample street parking, clearly implying that she's planning a rager. Ron's worry increases.
At the Eagleton Public Forum, Leslie fails to convince the Eagletonians to take down the fence. They feel that the fence is a deserved punishment that might force Pawnee to clean up its act. They even accuse a Pawnee resident of selling firecrackers at the park.
Back at the office, Ron corners Ann and tries to force her to reveal Leslie's birthday plan. Ann claims she has no idea but reveals that on her birthday, Leslie gave her a wild, unforgettable party. Ron shudders.
Leslie, Ben and Tom leave the Public Forum feeling discouraged. Leslie reveals that five years ago, Eagleton offered her the job that Lindsay ultimately accepted. At the time, Leslie and Lindsay vowed to help Pawnee together, but Lindsay obviously had other intentions. Newly enraged, Leslie organizes her team and asks them to dump trash on Eagleton's side of the fence. Leslie second-guesses the plan when Lindsay arrives and insults Pawnee's famous restaurant, JJ's Diner. Suddenly, Leslie attacks Lindsay and they fall into the pile of trash, fighting!
Police break up Leslie and Lindsay's fistfight. Because the two women won't apologize, they're forced to go to jail. Naturally, Eagleton's jail offers Greek yogurt and scones. Later, Ann arrives to bail Leslie out of prison. Ann tells Leslie not to let Lindsay get to her. If it would make Leslie feel better, Ann would be happy to beat Lindsay down with a baseball bat. This gives Leslie an idea...
At the Parks office, Ron begs Andy to reveal Leslie's secret birthday plan but Andy won't spill the beans.
Inspired by Ann's reference to baseball bats, Leslie decides to turn the Pawnee side of Lafayette Park into a baseball diamond! She even creates a Pawnee Wiffle Ball League! When Lindsay sees what Leslie's accomplished, she can barely hide her awe.
It's Ron's birthday and he's prepared for the worst. Instead, he finds a nice steak dinner in the conference room. Leslie's provided him with booze and a copy of "Bridge on the River Kwai." Leslie never intended on humiliating Ron; instead, she gave him the perfect birthday!