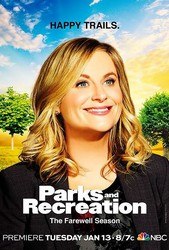 TV Info
---
Episode Premiere
March 24, 2011

Distributor
NBC

Genre
Comedy

Show Period
2009 - 2015

Production Company
Deedle-Dee Productions, Universal Media Studios


Cast and Crew
---
Director
Rob Schrab
Screenwriter
Aisha Muharrar
Main Cast
Synopsis
---
City Manager Paul Iaresco honors Leslie for her work on the Harvest Festival when suddenly he has a heart attack. He falls over, accidentally groping Leslie's chest in the process. Leslie tells the gang that she has arranged a camping trip. With the Harvest Festival over, Leslie wants to make sure they think up some new ideas so they don't experience a sophomore slump. Chris enters and tells everyone he is replacing Paul as city manager for the time being. In typical Chris fashion, he's thrilled about the new opportunity.
April complains to Andy about Leslie's mandatory camping trip idea. Andy offers to join April on the trip in order to make it more fun. Maybe they could even make out. Meanwhile Ann crosses Chris in the hallway and has a difficult time making small talk. Thankfully, Chris is friendly, saying they should make plans to hang out in the near future. Ann dares to hope that Chris might be into her again, but Leslie warns her about falling too fast. Then Leslie invites Ann on the camping trip. Ann happily agrees to join.
At the Pawnee campground, the Parks team has decidedly different takes on the great outdoors. Ron's excited about fishing, saying it's like yoga, except you get to kill things. Predictably Ben's not very enthused about the great outdoors. Tom's having fun, but it's mostly because he has a well-decorated tent stuffed with Sky Mall products. Good-natured Andy sets up a romantic tent with balloons and rose petals. Too bad he's nowhere near the Pawnee campground, a fact April is not thrilled about. Once everyone's finished setting up, Leslie asks the gang for some new, fresh ideas. The Harvest Festival was a great concept, but they need to keep up the good work. Unfortunately, the gang is out of good ideas. A luxury dog park is just not going to cut it.
Annoyed, Leslie tells her team to take a quick stroll and come back with some great ideas. When Ann asks Leslie why she's being so stern, Leslie admits she's run out of ideas and she needs her team to come through for her.
Unfortunately, Leslie's team isn't exactly working hard. Andy looks in vain for April while Jerry talks poor Ron's ear off. Ben struggles to get comfortable while Tom enjoys his well-stocked tent, choosing to watch reality television and eat fondue.
Stressed, Leslie invites Ben to go on a walk. Leslie confesses that she fears she's only a one-hit wonder. Maybe the Harvest Festival was her one shot. Ben comforts Leslie and praises her work ethic.
While the gang pitches ideas, Chris interrupts his nighttime run to say hello. Ann senses that Leslie's nervous - after all, she still doesn't have a great idea - so Ann asks Ron if he'd like to go on a walk. Upset, Leslie tells the gang that she's drawing a blank. What if she never has an idea as good as the Harvest Festival ever again? Rather than support Leslie, everyone complains, saying they just want to go home. Unfortunately, Ron's car won't start; Tom's been using his car battery to charge his various Sky Mall electronic purchases. The gang decides to walk to a bed & breakfast called the Quiet Corn in order to get a good night's sleep.
Meanwhile, on Ann and Chris' walk, Ann reveals how embarrassing it was when Chris dumped her. Chris apologizes and invites her to a rustic diner to talk further.
The gang checks into the Quiet Corn and meets its owner, a conservative old lady named Elsa. The rooms are full of cats and scary porcelain dolls and Elsa prattles on about German muffins. April's about to have a nervous breakdown when Andy arrives in the nick of time, serenading her with a song. Finally, she and Andy can make out.
At the diner, Chris is being so friendly to Ann that she mistakenly thinks he's into her after all. She leans in for a kiss but Chris rejects her with a sweet smile. Ann's humiliated and decides she should probably just leave the country.
At the Quiet Corn, Ron finds Leslie staying up all night, stressing out about following up the Harvest Festival with an amazing new idea. Ron locks Leslie in a bedroom and forces her to go to sleep and stop working. Only when she stops overthinking it will the right idea come.
The next day, Leslie arrives for a meeting after having a good night's sleep. As Ron had hoped, Leslie has a million great ideas, from creating an observatory to creating theme nights at the park. Leslie Knope is back!
Ben and Jerry finally embrace the cat-friendly Quiet Corn - whether they like it or not.