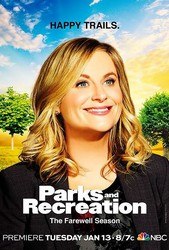 TV Info
---
Episode Premiere
February 24, 2011

Distributor
NBC

Genre
Comedy

Show Period
2009 - 2015

Production Company
Deedle-Dee Productions, Universal Media Studios


Cast and Crew
---
Director
Randall Einhorn
Screenwriter
Katie Dippold
Main Cast
Synopsis
---
Leslie and Ron prepare for their trip to Indiana State House to receive a commendation for bringing the Harvest Festival back to Pawnee. Ron couldn't care less about the commendation; he's just happy to go along so he can visit his favorite restaurant, Charles Mulligan's Steakhouse. Tom enters the Park Department dressed to the nines. After work he's attending the launch party for Dennis Feinstein's new fragrance, Allergic for Men. It's the best cologne for tricking women into sex. Leslie urges Tom to take Ben along with him; after all, Ben doesn't know anyone in town.
Andy's over the moon now that he and April are together again. They make a plan to join their friends at the cologne party later that night. Secretly Andy worries about how he'll be able to afford a girlfriend.While Ann helps Leslie pick out a dress for the commendation ceremony, she shares a secret concern: Ann thinks Chris might be cheating on her. Ann says Chris has been acting distant; what if he has a secret girlfriend in Indianapolis? Leslie says she'll plan a dinner with Chris and do some investigating. If anything's up, she'll let Ann know. As a favor to Leslie, Tom invites Ben to the cologne launch party. When Tom asks Ben what he's planning to wear, Ben gets the (correct) sense that his style needs some updating.
On the ride to Indianapolis, Ron's a little grumpy because he's been starving himself in anticipation of a Mulligan's steak. Leslie makes things worse when she tells him they have to pick up Chris first; he'll be joining them for dinner. At Chris' house, Leslie does some investigating on behalf of Ann and finds some damning evidence: a woman's razor and pink swimming cap in Chris' bathroom. When Ann hears the news she decides to crash their dinner. At the cologne launch party, Andy tries to use Tom's name in order to score some free drinks for April. The move backfires when the bartender refuses, leaving Andy embarrassed.
Leslie, Ron and Chris arrive at Mulligan's Steak House only to find that it's been shut down for a health code violation. Needless to say, Ron is crushed. Seeing Ron's utter breakdown, Chris invites him back to his house for a barbeque. At the cologne party, Tom tells Ben about Tommy Fresh, his signature cologne that he hopes will get backing from perfume genius Dennis Feinstein. Meanwhile, Andy tells April that he's embarrassed he's broke. April tells him not to worry about it; she can always score free drinks at a bar because she's a girl. Andy steals some mints from the bathroom to prove he can be resourceful too. The two of them then compete to see who can get the most free stuff.
Back at Chris' house, Leslie continues looking for clues that Chris is a cheat. Her investigation is sidetracked when Ron has another breakdown over the fact that Chris is grilling portobello mushrooms instead of steaks. At the cologne party, Tom's Tommy Fresh pitch bombs. Turns out Dennis is a nasty snob who's let success get to his head. He hates Tom's scent and tells him not to quit his day job. Meanwhile Andy and April go to great lengths to get freebies at the party. April pretends to be a waitress while Andy gives out mints in the men's bathroom for tips.
Back at Chris' house, Ann charges in demanding to know whose razor and swimming cap are in the shower. Chris says it's his razor; women's razors work better. And he got the pink swimming cap for competing in a breast cancer awareness triathlon. Ann backtracks, explaining that she thought Chris was cheating on her. Chris says he wasn't cheating on her and he's also not dating her. He thought they broke things off the week before! Since Ann's never been dumped, Chris is positive that somehow his message didn't get across. Needless to say, Ann's humiliated.At the Snakehole, Ben boosts Tom's spirits and even pretends to like the smell of Tommy Fresh. Meanwhile April and Andy share all of the money they've earned. After gloating for a moment they put the huge wad of cash in the bartender's tip jar.
Leslie drives a mortified Ann home and shares her own embarrassing stories to make Ann feel better. Ann is touched; after all, Leslie's driving her home instead of attending the commendation ceremony. Ron stays behind to accept the honor, but first he's got to find a restaurant that will live up to Mulligan's. Fat chance. Ann and Leslie crash the cologne party and hang out with Ben. Ben tells Ann he too thought she and Chris broke up last week. New waves of humiliation crash on poor Ann. Before leaving the club, Ben douses Dennis' car with Tommy Fresh. This way, Dennis will definitely be able to smell Tom's dreams for days to come.