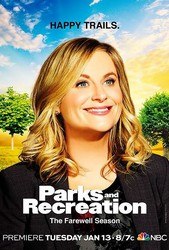 TV Info
---
Episode Premiere
February 17, 2011

Distributor
NBC

Genre
Comedy

Show Period
2009 - 2015

Production Company
Deedle-Dee Productions, Universal Media Studios


Cast and Crew
---
Director
David Rogers
Screenwriter
Harris Wittels
Main Cast
Synopsis
---
Ron drives the office crazy when he won't stop using his very loud antique typewriter. He refuses to part with it, claiming he got it for a great price from the "electronic bay." Meanwhile Leslie and Ben plan a media blitz to promote the Harvest Festival. Leslie's hoping to get on Oprah, but in the meantime she's booked an interview on the radio show "Crazy Ira and the Douche." April walks in on Ron and Ann exercising together. Ron's pleased by the interruption; he's been wanting to know if April's given any more thought to working with him in Indianapolis. April has warmed to the idea, but Ann's still left wondering why Chris hasn't said anything about their romantic future yet.
On "Crazy Ira and the Douche," the two sophomoric hosts barely give Leslie a chance to promote the Harvest Festival - they're too busy making fart jokes. Tom and Leslie roll with the punches and still manage to plug the Festival. But when Ira and the Douche invite Ben to join the interview, things get hairy. Ira pokes fun at Ben for being an 18-year-old mayor of a "hick town" called Partridge, Minnesota and blowing the city's budget on an ice skating rink called "Ice Town." When callers phone in to heckle Ben, things worsen. Ben can't seem to string a sentence together and isn't able to form a clear thought. Meanwhile back at the office, Ron offers to help Andy man the ever-challenging Permits Desk. It's actually April's job, but Andy happily does her work in order to keep her from moving to Indianapolis.
After the show, Tom rails at Ben for sounding so stiff and humorless. Ben apologizes, but it's clear Tom isn't having it. Moments later, Leslie and Tom fight over Ben's involvement in the media blitz. Leslie claims that Ben's necessary because he's the numbers guy, but Tom doesn't think that makes up for his overly rigid demeanor and nervous personality. Leslie says Tom should "tag team" the Channel 4 interview in order to minimize Ben's awkwardness. Ann agrees to let Chris "feng shui" her house while not-so-casually mentioning that she's not very attached to her furniture or her place. Chris doesn't pick up on the hint and gives Ann no indication that he wants her to move with him to Indianapolis.
Shauna interviews Leslie for the Pawnee Review but seems not to care about the Harvest Festival at all; instead, Shauna harps on Ben's spotty mayoral record. Leslie defends Ben, saying he's dedicated and "easy on the eyes." As a result, Shauna begins to question the exact nature of Leslie's relationship with Ben. Meanwhile April asks Andy to write her grandfather a thank you note. Even with Ron's help, Andy flubs the task completely. Donna tells Andy that it's April's job to massage her feet but since Andy's covering for her, now it's his job. Tom and Ben appear on "Ya' Heard with Perd," but when Perd asks about Ben's mayoral record, Ben makes a fool of himself. At one point, Ben nonsensically blurts out "Who hasn't had gay thoughts!?"
Andy meets up with Natalie while running errands for April. Andy foolishly tells a security guard that his license is expired and Natalie gleefully takes photos of Andy getting arrested. Leslie appears on "Pawnee Today" with Joan Callamezzo to repair the damage Ben's caused. Tom flirts with Joan before show time, but once the cameras roll, Joan hardens and goes for Leslie's jugular. Joan wants to know why Leslie is bankrupting Pawnee with the Harvest Festival. Annoyed, Leslie calls Ben onstage to defend himself and after a rocky start, Ben manages to articulately defend himself and the festival!
Ron confronts April and tells her to stop leading Andy on. Andy's a good guy with a big lovable heart and if April cares for him, she shouldn't move to Indianapolis just to get him back for kissing Ann. Over tea, Ann tells Chris they need to talk about their future. Chris enthusiastically agrees but somehow the conversation feels a bit awkward. When April learns that Andy's willing to do her job for a whole month - just so she won't move to Indianapolis! - she rewards him with a kiss! Meanwhile, Leslie, Tom and Ben watch the embarrassing Pern Hapley appearance. Uptight Ben impresses Leslie and Tom with his ability to poke fun at himself.