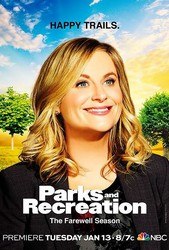 TV Info
---
Episode Premiere
February 03, 2011

Distributor
NBC

Genre
Comedy

Show Period
2009 - 2015

Production Company
Deedle-Dee Productions, Universal Media Studios


Cast and Crew
---
Director
Michael Schur
Screenwriter
Michael Schur
Main Cast
Additional Cast
Synopsis
---
Leslie asks her colleagues to donate items for a time capsule. Jerry offers his mother's journal while Tom hands over a defaced portrait of his ex-girlfriend Lucy. Looks like that breakup didn't go too well. Leslie donates a brief history of Pawnee that she typed herself from memory. After Leslie meets with a local journalist, a Pawnee resident named Kelly Larson shows up to suggest that the "Twilight" book series be added to the time capsule. Meanwhile, Ann worries that Andy's going to accidentally sabotage her relationship with Chris by sharing details of their romantic past. Lucky for Ann, Andy seems way more preoccupied with April and her new hot boyfriend Eduardo.
When Leslie rejects Kelly's request that the "Twilight" series be added to the time capsule, Kelly takes drastic measures: he handcuffs himself to a pipe in Leslie's office in protest! Slowly but surely, Kelly manages to annoy everyone in the office except for Donna who happens to be a huge "Twilight" fan. The next morning, Tom enters the office only to find Kelly still camped out in the chair by Leslie's desk. Tom has a confession to make: he read "Twilight" and loved it! To Ann's great annoyance, Andy and Chris' friendship flourishes. Andy beautifully shines Chris' shoes, and to repay the favor, Chris offers to help Andy win April back!
Kelly's wild stunt upstages Leslie; instead of covering the time capsule, a local newspaper reporter thinks Kelly's the real story in Pawnee. Meanwhile Chris mentors Andy on how to seduce April and get rid of Eduardo. The first step is isolating Andy's strengths: he's nice and he's in a band. He'll have to utilize these traits to win April back. After being forced out of her office by Kelly's annoying "Twilight" obsession, Leslie decides to do a little research on her unwelcome visitor. Turns out he's trying to get "Twilight" into the time capsule in order to impress his daughter Liz, a fellow "Twilight" fanatic. Kelly and his wife divorced, and he just wants to do something to cheer his daughter up.
Touched by Kelly's story, Leslie tells Ron and Ben that "Twilight" should go into the time capsule after all. The men disagree, saying they shouldn't negotiate with weirdos. If "Twilight" goes in, there will be a line of psychos waiting to handcuff themselves to Leslie's office with more strange requests.Still intent on including "Twilight," Leslie has a town hall meeting to let local residents pitch items for the time capsule. Kelly gives a heartfelt speech and Leslie thinks she's found the perfect way to justify the book's inclusion. Unfortunately, the idea causes controversy; The Society for Family Stability Foundation objects to the books' anti-Christian, overt sexuality, while the National Civil Liberties Union attacks it for being too Christian!
Andy apologizes to Eduardo for his jealousy-fueled rudeness and offers him a Mouse Rat CD. Eduardo is only too happy to accept Andy's apology and it seems like the two will become fast friends. Leslie's town meeting continues to go downhill. A local resident suggests "Crazy From the Heat: The David Lee Roth Story," and objects when Leslie seems to favor "Twilight." Back at the Parks Department, Tom asks Lucy why she dumped him. He wonders if like Bella Swan, Lucy's feelings have gotten the best of her. Lucy readily reveals the reason she dumped Tom: he's obsessed with the fact that macho, handsome Ron is now dating Wendy.
The town hall meeting takes a somber turn when various Pawnee residents suggest putting their loved ones' ashes in the time capsule. In order to honor everyone's requests, Leslie decides to create a number of time capsules. Unfortunately the idea just causes more chaos in the increasingly rambunctious town hall meeting. Meanwhile, at the Parks Department, April is furious that Eduardo's canceling their dinner date to play bass in Andy's band. Annoyed, April tells Eduardo that his whole purpose was to make Andy jealous.
In order to appease all of the passionate members of the community, Leslie comes up with an ingenious plan: she'll put a video recording of the town hall meeting into the capsule! That way, future generations will have a true sense of the close-minded infighting that defined Pawnee in the past. Meanwhile, April tells Andy that Eduardo's gone back to Venezuela. April just couldn't stand that Eduardo loved hanging out with Andy and playing in his band. Andy thanks Chris and tells him the plan worked; by focusing on his strengths - being nice and having a band - Andy's well on his way to winning April back.