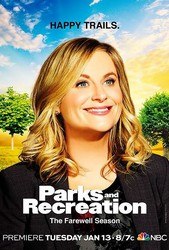 TV Info
---
Episode Premiere
January 27, 2011

Distributor
NBC

Genre
Comedy

Show Period
2009 - 2015

Production Company
Deedle-Dee Productions, Universal Media Studios


Cast and Crew
---
Director
Wendey Stanzler
Screenwriter
Norm Hiscock
Main Cast
Synopsis
---
A flu-stricken April makes it her goal to make Ann's life a living hell. When Ann suggests that April's still angry that Ann kissed Andy, April just sulks and makes more demands. Unfortunately Leslie also gets a bad cold and it couldn't be happening at a worse time: she's planning the Harvest Festival and needs to include numerous businesses to make it profitable. While Leslie soldiers on, Ron visits April at the hospital, offering his gruff brand of support. Donna, Jerry and Tom quarantine Leslie in her office and beg her to go home. Ever the workaholic, Leslie insists on staying even though she's clearly too sick. When her colleagues still give her a hard time, Leslie licks items on Jerry's desk in protest.
Chris visits Ann at the hospital to make sure their date is still on. Ann's clearly smitten by Chris even if she is a little bit awed by his total perfection. While everyone else is battling illness, Chris is running five-and-a-half-minute miles. It's almost annoying. With April out sick, Ron searches for a replacement for someone equally aggressive and apathetic. He decides Andy might be a perfect temp since he's also totally ineffective. Meanwhile Ben forces Leslie to go to the doctor. Ann diagnoses Leslie with a fever and says she needs bed rest. In spite of Leslie's fears, Ben will just have to make the Harvest Festival presentation without her.
April continues to terrorize Ann, while back at the office Andy has dropped yet another call. Thankfully Ron approves of Andy's total ineptitude. When Andy offers to grab Ron a burrito for lunch, Ron almost can't believe his good fortune. From her hospital bed, Leslie tries to micromanage the Harvest Festival presentation. She offers to write Ben an introductory rap, but thankfully Ben refuses. Convinced that she's got to get back to the office, Leslie unsuccessfully tries to convince Ann that she's healed. Meanwhile, Tom takes advantage of Leslie's absence by spending the day at a local spa. With his effortless humor, Tom becomes quite popular with the elderly patrons.
Chris checks himself into the hospital after experiencing flu symptoms. Because of his impressively low body fat, Chris admits that he's somewhat susceptible to disease. Ann happily nurses him back to health, secretly relieved that he's finally showing signs of not being perfect. Meanwhile, Leslie steals flu medicine from Chris and April and escapes the hospital! She takes a cab to the Chamber of Commerce and arrives before Ben's presentation has begun. Ben tells Leslie he's hurt because it's evident that she doesn't trust him to make a good presentation. A loopy, drugged Leslie insists that's not the case.
At the hospital, Chris' powerful flu has him falling asleep on the floor in a stupor. Ann admits that there's a part of her that appreciates this less-intimidating version of Chris. On the other hand, Ann does not appreciate April's continuous nagging. Once Ann's shift is over she finally lets April have it, thereby winning April's respect. Ron is so happy with Andy's job performance that he tells him a secret: April's at the hospital with the flu. Andy makes a plan to visit her and win her over. Surprisingly the Harvest Festival presentation is a huge success. Tom's spa buddies own a car dealership and offer to donate vehicles for the big event. In spite of some drug-induced non-sequiturs, Leslie makes a persuasive case at the Chamber of Commerce.