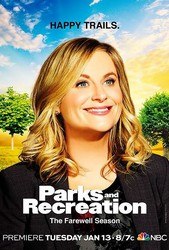 TV Info
---
Episode Premiere
January 20, 2011

Distributor
NBC

Genre
Comedy

Show Period
2009 - 2015

Production Company
Deedle-Dee Productions, Universal Media Studios


Cast and Crew
---
Director
Dean Holland
Screenwriter
Alan Yang
Main Cast
Synopsis
---
After summer break, the Parks Department starts back up. Leslie makes it her mission to round up Ron, Tom, Donna and Jerry so the government-funded productivity can begin! Meanwhile Andy leaves yet another message for April. If she's trying to phase him out, he clearly isn't getting the message. Unfortunately Ben ruins the mini-reunion by telling the crew that due to budget cutbacks, their only job is existing parks maintenance. The only silver lining is the creation of a boys' basketball league that Ron will coach. At the Pawnee Rec Center, Ron uses his coaching position to lecture the boys about basketball-related topics such as capitalism and crying.
Leslie complains to Ann and Ben about the restrictive cutbacks. She longs for the days when the Parks Department could invest in valuable community events such as the Harvest Festival. Later, Chris asks Ann out on a date, and in spite of his optimistic attitude gets totally rejected. Leslie witnesses this and pitches an idea to Ann: what if Ann goes out on a date with the sole intention of getting Chris to put more funding into the Parks Department? Ann reluctantly agrees to prostitute herself.Meanwhile, Andy helps coach boys' basketball while Tom ingeniously repurposes his Lady Foot Locker shirt so he can play referee.
Leslie preps Ann for her dinner date with Chris, suggesting sexy attire or at the very least, sexy food like bananas or asparagus. Once on the date, Ann is surprised to find that Chris is actually a nice guy. He attributes his positive attitude to a rough childhood; he had a rare blood disorder and was only given three weeks to live. His life is a miracle - one he's grateful for each and every day. Unfortunately, there's a problem: Ann's having a hard time bringing up the Parks budget. Ann phones Leslie for help and immediately regrets it when Leslie shows up at the restaurant to crash the date!
Next Ben shows up at the restaurant and accuses Leslie of having an ulterior motive for "bumping into" Ann and Chris on their date. Oblivious, Chris invites Ben and Leslie to join them for dinner. Chris is having so much fun that he invites everyone to dance at The Bulge. Meanwhile, at the Rec Center, Tom pretends not to care that his ex-wife Wendy is dating Ron. Yet every time Ron and Wendy get intimate, Tom finds a reason to literally blow the whistle and cry foul during the boys' basketball game. Tom eventually benches all of Ron's players, thereby giving an easy victory to Andy's team.At The Bulge, Chris' friendly attitude to the gay clientele impresses Ann. Leslie tries to convince Ben to invest more in the Parks Department, but he reveals that he was impeached for overspending before.
Leslie continues outright pleading for more funding and Chris finally agrees to consider it. Not thinking, Leslie yells, "Mission accomplished!" When Chris realizes that Ann only agreed to date him in order to get money out of him, his face falls. At the office, Andy finally corners April. She claims to have missed Andy's calls because she's been in Venezuela. Then she introduces Andy to her new boyfriend Eduardo! Meanwhile Ann apologizes to Chris for dating him in order to secure more Parks funding. When Ann invites Chris on a second date, his big smile shows Ann he's forgiven her.
Andy tells Leslie about April's new boyfriend. Not sure quite what to say, Leslie says that with Andy's back against the wall, all he can really do is "go big or go home." Perhaps taking her own advice to her heart, Leslie makes an impassioned pitch to Ben and Chris to bring back the Pawnee Harvest Festival. With ticket sales and sponsorships, it's just the type of community event that could bring much needed cash into the Parks Department's coffers. Leslie is so sure the Harvest Festival will be a success, she tells Ben and Chris they can close down the Parks Department if nobody shows. A tearful Chris says Leslie's speech is the most moving thing he's ever heard. Success!Andy offers April multiple bouquets of flowers and says he won't stop asking her out until she agrees.