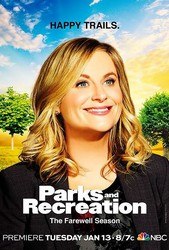 TV Info
---
Episode Premiere
May 13, 2010

Distributor
NBC

Genre
Comedy

Show Period
2009 - 2015

Production Company
Deedle-Dee Productions, Universal Media Studios


Cast and Crew
---
Director
Dean Holland
Screenwriter
Michael Schur
Main Cast
Additional Cast
Synopsis
---
Tom passes out invitations to April's 21st birthday bash, which will be held at the Snakehole Lounge. Tom's stocking the club with every hot girl he can find in Pawnee, in hopes of upping his chance of leaving the party with a girl on his arm.
Andy tells April he's coming to her party and bringing a birthday gift. The song he wrote for her is named after a month in the year, just not the month of April.
Leslie has prepared the Pawnee Parks Department Master Plan, which details all the spending and proposals for the next year. At the city meeting, it's announced that all city planning and spending has been put on hold indefinitely. To help everyone through the process, the city is bringing in state auditors.
Andy consults Tom. To avoid looking creepy while dating, what age should your date be? Tom's formula involves dividing his age in half and adding seven. After doing the math, Andy figures he should date someone who's at least 21 and a half.
Mark and Ann sit down at a diner. Mark wants to talk about why Ann broke up with him. He's confused because he thought they had a great relationship.
State auditors Chris and Ben arrive at the Parks and Recreation Department to meet with Leslie and Ron. The most positive state auditor in history, Chris leaves Ben with Leslie and Ron to go through the department's budget and decide where they can cut some spending.
Ben and Leslie don't see eye to eye on budget cuts. Ron really warms up to Ben's tough approach, even if it means cutting people from the department.
April's birthday party is in full swing at the Snakehole Lounge. Jean-Ralphio openly hits on April, who's turned off at first. Ann and Leslie decide to get drunk after their respective bad days. Tom tries to hit on every lady at the Snakehole Lounge, but nothing seems to be working for him.
Once at the bar, Andy hones in on April. He compliments her dress and offers to buy her a drink. When he goes to the bar to get it, Ann's sitting there. They get into a long conversation about when they were together. A little drunk, Ann gets very touchy with Andy, which April sees.
After spying Andy and Ann hanging out at the bar, April decides to turn her attention to Jean-Ralphio. Andy's a little thrown off when he walks over to hang out with April and finds Jean-Ralphio all over her. Andy thought April liked him, but maybe he's just really bad at reading signals.
Ben attempts to apologize for getting off on the wrong foot with Leslie. She wants nothing to do with him. Claiming no one wants him at the club, Leslie asks him to leave.
The next day, Leslie visits Ben to apologize for her behavior at the club. He doesn't seem bothered, and asks her out for a beer. Anne can't remember what happened last night. She has a sneaky suspicion she made out with someone, so she asks Andy to help her remember.
Tom returns to the Snakehole Lounge to settle his tab from the night before. He hits it off with Lucy the bartender, and asks her out for a drink.
Leslie and Ben have a beer at a bar in town, where she continues to apologize for yelling at him. Ben tells Leslie about his past in local government. At the age of 18, he was elected mayor of his small town; two months later he was impeached for running it into the ground. Leslie instantly remembers reading all about his campaign and following his story.
While waiting with Leslie and Ron at the city offices, Ann finally figures she made out with Chris the state auditor last night. The mystery is finally solved and he appears to be very into her.
After meeting with Ben and Chris, Ron and Leslie are told the situation in Pawnee is worse than originally thought. The entire Pawnee city government will shut down until further notice.