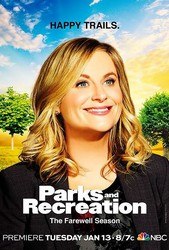 TV Info
---
Episode Premiere
April 29, 2010

Distributor
NBC

Genre
Comedy

Show Period
2009 - 2015

Production Company
Deedle-Dee Productions, Universal Media Studios


Cast and Crew
---
Director
Tristram Shapeero
Screenwriter
Harris Wittels
Main Cast
Synopsis
---
Mark consults Leslie. Is asking Ann to move in with him a good idea? Mark also shocks Leslie with news that he plans on marrying Ann.
People are piling into the Parks Department lobby to meet with Ron when April realizes she's made a huge mistake. There's a reason why Ron hasn't had a single meeting since she became his assistant. Anytime someone requests a meeting, April schedules it for March 31st - a month she thought had only 30 days.
Due to this oversight, Ron now has 93 meetings scheduled for March 31st. Ron enlists Leslie's help since she loves taking meetings. Thrilled, Leslie sits down for her first meeting.
Leslie's first meeting of the day is with the Deputy Director of the Pawnee Historical Society. He alerts Leslie to the fact that a rich woman has rented out the famous Turnbill Mansion in Pawnee to host a party for her husband. Now it seems she's made significant enhancements and changes to the mansion in preparation for the party.
It turns out the party is for Nick Newport, Sr., the ex-CEO of Sweetums. Everyone in town is afraid to say no to his family. Learning that Mr. Newport's wife has plans to tear down the gazebo on the mansion property, Leslie quickly reacts. That gazebo is the site of a major moment in Pawnee history.
Tom and Leslie head to the mansion to confront Mr. Newport and his wife, Jessica Wicks. Back at the Parks Department, Ron has recruited Ann, April and Andy to take meetings on his behalf. He asks them to just sit and listen, and not say yes to anything.
Leslie, Tom and Jessica walk into the Turnbill Mansion. Jessica shows them the changes she's made to the mansion in preparation for the party. Leslie's appalled by what Jessica's done to this historic site.
Ann takes some of Ron's meetings in the courtyard. When she tells people she's actually a nurse and not an employee of the Parks Department, everyone asks her for medical advice.
Ron continues to hold meetings, and then checks in with his team to see how their meetings are progressing. Despite their progress, there are still 20 meetings left.
Leslie meets with a reporter from the Pawnee Journal in hopes of blowing up the mansion party plans in Jessica Wicks' face. Just as she starts to tell the story, the reporter stops her. Sweetums owns the Pawnee Journal.
Leslie decides to chain herself to the front gate of the Turnbill Mansion in hopes of preventing the bulldozer from destroying the historic gazebo. Having thrown away the key, Tom's unable to unlock Leslie's chains. They call Ann and Mark for help.
Later that night, Leslie opens up to Tom, telling him the news Mark shared with her earlier in the day. Tom assures Leslie she has nothing to worry about if Mark and Ann get married. They're true friends and won't abandon her.
At the birthday party, Jessica Wicks performs for her husband. Leslie interrupts, raising her glass to wish Nick Newport, Sr. a happy birthday.
Ron yells at April for her scheduling mishap, so she quits. Later, Ron visits April at home to apologize and ask if she'll come back to work. April finally agrees. When Ron says goodbye using the nickname April's parents gave her, she returns the favor, saying good night to "Duke Silver."
Shocked by this revelation, Ron makes sure April hasn't told anyone else she knows he's Duke Silver.