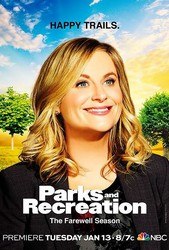 TV Info
---
Episode Premiere
March 04, 2010

Distributor
NBC

Genre
Comedy

Show Period
2009 - now

Production Company
Deedle-Dee Productions, Universal Media Studios


Cast and Crew
---
Director
Jason Woliner
Screenwriter
Norm Hiscock
Main Cast
Synopsis
---
Leslie tries to settle a soccer field dispute between a boys team and a girls team. Apparently the boys team has a scheduled weekly practice on the field, but the girls team doesn't. In trying to make a point of fairness to both teams, Leslie mistakes a young boy for a girl.
Back the office, Leslie finds an envelope from the IOW in the mail. She automatically assumes it contains a letter announcing her as the winner of the IOW's Woman of the Year award. Leslie has April read the letter, but to her surprise and disappointment, the IOW has named Ron Swanson their Woman of the Year.
While Ron thinks it's ridiculous that he was named Pawnee's Woman of the Year by the IOW and fully intends to decline the award and recommend Leslie, he can't pass up the opportunity to tease her about it, at least for a little while.
Tom stops by Pawnee's nightclub, Shakehole Lounge, to drop off their temporary liquor license renewal. In doing so, the owner lets Tom know that they are looking for investors in the club. Not wanting to pass up this opportunity, Tom agrees to buy a share for $10K and bring the money in by Friday.
Leslie eats lunch with Mark to discuss the IOW award. She can't understand why they would recognize Ron with the award. In their congratulations letter they give Ron credit and recognition for some of her city projects.
Tom brings his friend Jean-Ralphio into the office to discuss the Shakehole Lounge investment opportunity. Tom can kick in $4K, but needs Jean-Ralphio to bring in the other $6K. When Jean-Ralphio comes in $1K short, Tom has to think of other ways to get the other thousand dollars.
Leslie confronts Ron about the IOW award. She shows him previous award winners, proving that the winners have always been women. Ron, playing in to his original plan to irk Leslie, sticks it to her and thanks her for making him look good in the job so he can be recognized.
Ron calls Leslie into his office while he gets his portrait taken for the IOW award, or so he tells Leslie. Ron actually set it up himself just to get under Leslie's skin.
April helps Andy do some online research for a new apartment while he works. When she finds a few possible places, they decide to go take a look at them together.
Tom presents the Shakehole Lounge investment opportunity to Mark, Donna and Jerry with an elaborate Power Point slideshow and dancing girls.
When Leslie goes into Ron's office with all of her previous awards and certificates to prove she really deserved the IOW award, Ron finally lets her in on his scheme. He hands her a letter he wrote which lets her know that he fully intends to decline the award and give it to her.
When Ron tries to decline the award to the IOW, they refuse to accept it and tell him to take it like a man. In frustration, Leslies tell him to accept it and make a political statement in his speech about these awards. Ron tells her to write an acceptance speech.
Tom gets his shoes shined by Andy while talking about the stresses of wanting to follow his dreams and open up a nightclub. When Andy hears that all Tom needs is $1K, he gives it to Tom and becomes a partner.
Tom arrives at the Shakehole Lounge as part owner. He gets comfortable in his booth when he realizes Donna is in another, and bigger, booth. She decided to buy three shares of her own.