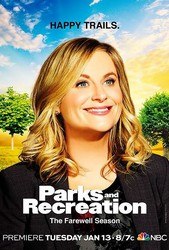 TV Info
---
Episode Premiere
February 11, 2010

Distributor
NBC

Genre
Comedy

Show Period
2009 - 2015

Production Company
Deedle-Dee Productions, Universal Media Studios


Cast and Crew
---
Director
Ken Kwapis
Screenwriter
Michael Schur
Main Cast
Additional Cast
Synopsis
---
Leslie and her lady friends celebrate Galentine's Day: a day for breakfast and presents, including portraits made from crushed soda bottles. It's kind of like the Lilith Fair but without all the angst. Leslie's mother, Marlene, is there too and she shares Leslie's favorite and most romantic story: the tale of Frank Beckerson and how he saved Marlene from a strong tide in Bermuda when she was 18. Two weeks later, Frank asked Marlene to marry him, but Marlene's parents thought she was too young and they never saw each other again. When Justin hears about this, he thinks that he and Leslie should track Frank down to reunite him with Marlene. Leslie agrees as long as Frank isn't weird.
Mark thanks Ann for getting him great Valentine's Day presents, like towels and shampoo. Leslie announces to the Parks Dept. that the Senior Center Valentine's Day Dance is tomorrow and she drafts Mark and Ann to help out with whatever is needed. Tom tries to woo Wendy back into his life with music and champagne, but she only wants to be friends.
Andy practices with his band, Mouse Rat, at the shoeshine stand and tries to convince Leslie to let him play some of his own music at the Senior Center dance, like "Sex Hair." Luckily, Leslie is able to convince Andy that the "old fogey" songs will do just fine. Frank informs Leslie of some good news: he's found Frank and he's in Indiana. Leslie gets permission from Ron to take the day off for a "nooner" to find her mother's long-lost love.
Ann and Mark celebrate a cliche Valentine's Day fully equipped with a box of chocolates, a big teddy bear, perfume, roses, and a heart-shaped necklace. Mark, dressed in a tux, says that he has never been able to give gifts like these before so he went all out. Meanwhile, Leslie wonders what she'll call Frank if he marries her mother.
Leslie and Justin arrive at Frank Beckerson's house, and Frank almost mistakes Leslie for Marlene. Frank seems exceptionally nervous about reuniting with Marlene and shows Leslie some photos of her mother when she was younger--even an X-rated one. On the car ride back to Pawnee, Leslie starts to have second thoughts about Frank because he seems weird. Then Frank starts to have a panic attack. At the Parks Dept., April's two gay boyfriends decide that they want to come to the Senior Center dance to make fun of the old couples.
Andy practices with Mouse Rat right before the dance and he worries that he won't be able to tell if they're any good, since in a usual rock show, women flash their boobs to show their appreciation. He knows that the old ladies at the dance won't do that--or so he hopes. Once the dance begins, April enjoys the band, while Mark voices his concern to Ann about how their relationship is going. Mark feels like everything is going well and he wants to be sure Ann feels the same way. Ann assures him everything is good, but in an interview, it seems as though something else may be on her mind.
When Frank arrives in Pawnee, he runs out of the car. Later that night Leslie tells Justin that she thinks Frank is a loon and she doesn't want to reunite him with her mother. Justin keeps pushing Leslie until it's too late--Frank has run inside to the dance before Leslie could stop him. Frank greets Marlene and the two disappear to catch up. Leslie wants to stop them but Justin wants to see how things unfold.
April is getting sick of her two gay boyfriends making fun of the seniors at the dance. Justin jovially retells the story of how he and Leslie got Frank to come to the dance and how he's excited to find out what's going to happen. When Ron asks Justin how Leslie feels about all of this, Justin admits that he kind of lost track of her with all the excitement. Ron looks on, disapprovingly.
Wendy storms off when Tom tries to blackmail her to go on a date with him by suing her for alimony. Ann approaches Andy and says that she thinks the band is doing well and April interjects to tell Andy to get back on stage. Andy dedicates a song to April and Ann seems surprised. Ann shyly asks April if she and Andy are together, but doesn't get a straight answer and claims she doesn't care.
Marlene learns that Frank is unemployed, has suffered four heart attacks and wants to pick up where they left off 40 years ago. Marlene tries to escape from Frank but he takes the stage and tells Marlene that she blew it and she will never see his body again. Justin rushes to Marlene's side to hear every detail of what happened. The dance winds down and April is fed up with her two gay boyfriends and breaks up with them. Off in the distance it looks as though Wendy has forgiven Tom.
Ron checks in on Leslie to see how she's doing; Leslie thinks Justin acted like a jerk. Ron calls Justin a tourist and says he is selfish, whereas Leslie is not. Ron is approached by two older women to sign a Duke Silver CD but he pretends he doesn't know what they're talking about. By the end of the dance, Andy gets his confirmation--he nailed the gig.
Tom is torn up about Leslie and Justin's break-up, like a kid going through his parents' divorce. Justin assures Tom that the break-up isn't Tom's fault and they can still hang out. In fact, Armani is having a sale--time to go suit shopping.