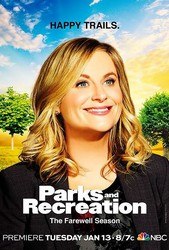 TV Info
---
Episode Premiere
January 21, 2010

Distributor
NBC

Genre
Comedy

Show Period
2009 - 2015

Production Company
Deedle-Dee Productions, Universal Media Studios


Cast and Crew
---
Director
Alex Hardcastle
Screenwriter
Daniel J. Goor
Main Cast
Additional Cast
Synopsis
---
Leslie has unfortunate news to deliver to a group of teachers at the Recreation Center: the budget has been cut by $1,000 and five of the classes are going be removed from the program. It's exceptionally hard for Leslie, who has been taking these recreation courses since she was in high school. It's where she learned how to braid hair, bake biscuits and French kiss (thanks to a boy in her biscuit-baking class).
Leslie and Justin have been on a few dates and every one of them has been amazing, such as the private tour of the Indianapolis Aquarium. Tonight they are at a Moroccan restaurant, where Justin continues to impress Leslie with his exotic and vast experiences. At the end of their date, Leslie and Justin decide that their next meeting will be in Pawnee, and Leslie promises Justin that this date will blow Indianapolis out of the water. Back in Pawnee, Ann inspires Leslie to throw a big dinner party with all of her most interesting friends.
Ron agrees to come to the dinner party as long as there will be five courses and room enough in the refrigerator for his personal stash of deviled eggs. Tom's also on board (as long as Jerry doesn't come) and Leslie hires Andy as the waiter for the night, which he agrees to, even though his two nemeses will be there: Mark and Justin.
Ann comes by Leslie's house -- for the very first time -- to help Leslie get ready for the dinner party. However, when Ann sees the stacks of boxes and papers consuming Leslie's living room, she gets a little concerned. Leslie knows her place is a mess, but it works for her. Ann, in interview, believes she should call Child Services and have Leslie removed from herself. Ann begins to help Leslie tidy up, but she finds old newspapers from 1986, birdhouses, and basically anything you might find in a crazy person's garage. Leslie decides to call the Recreation Center to get some real help from "Organize Your Life with Maria Portlesman."
Tom worries that he won't be hip enough for Justin, since no one in Pawnee is hip. For example, people are just now getting into Nirvana, and Tom doesn't have the heart to tell them what happened to Kurt Cobain in 1994. Meanwhile, Maria Portlesman has come over to Leslie's place and agreed to help her free of charge, hoping that this will keep her class going in the Recreation Center. Leslie tells Maria that although she is helping organize her house, it will not affect Leslie's decision at all. When Ann asks Leslie what five courses she'll be cooking tonight, Leslie realizes she has no idea -- and calls the Recreation Center for help once more.
Andy promises Leslie that he'll be very professional even with Mark and Justin at the dinner. Leslie's friends usher in one by one, but Leslie tells them to save all their stories for Justin. Justin arrives and Andy, as promised, takes his coat and places it in Leslie's room. However, April decides it would be awesome to stick pieces of chewed up gum in Justin's pockets. Andy loves the idea.Justin and Tom chat and Tom tries to "wow" him by sharing stories about India. There's only one problem: Tom's only been to India once, when he was eight, and he stayed inside playing video games the whole time. Tom quickly runs to Leslie's room to use her computer and get some quick knowledge of his "native" land.
Turns out, Leslie has become super-dependent on the teachers from the Recreation Center; not only does she have a cook and an organizer at her party, but she also hired a bartender. And Ron thinks he is doing an excellent job. Right before dinner, Wendy and a few friends show up and Tom is not happy about it. He thinks Ron is going to take Wendy home. Tom yells at Leslie that he's not going to get over it. The first course is a Mexican bean soup, and Ron decides to eat a hot red pepper. Tom, trying to one-up Ron, eats a huge hot pepper and has to run to the bathroom immediately. Justin yawns at the table and Leslie tries to figure out how to pep up the party -- she calls the Recreation Center for back-up, again.
Leslie hires a belly-dancer, a fencer, a cartoonist and an origami teacher to impress Justin. April tells Andy that she thinks Justin is kind of awesome, and this hurts Andy's feelings. Then, one more visitor shows up: another teacher who had heard that Leslie is "evaluating" the other teachers from Recreation Center. Leslie, scared to tell the truth, goes along with it and the dinner guests fall victim to the accounting teacher's lecture on how to do online accounting. Justin has fallen asleep, everyone wants to go, and what's worse: Leslie is now being accused of abusing her power.
Leslie is in big trouble and has to go in front of the Disciplinary Committee for a hearing to prove that she wasn't abusing her power. Tom (still angry at Leslie about inviting Wendy to the dinner party) tells the committee that Leslie loves using people for her own gain. Leslie apologizes to Tom for putting her newfound romance with Justin before their friendship. When Ron is called to the hearing, he decides to be a hostile witness, answering the board's questions with questions. Justin is the next witness in the hearing, although he does not work for the government. Leslie calls Justin to the hearing so she can find out the truth about how he felt about the evening. Justin says he had an amazing night, but was tired due to a case he was working on late the previous night.
Meanwhile, April asks Andy for a shoe shine, but his feelings are still hurt and he tells her that his stand is closed "due to betrayment." But April proves herself to Andy by showing him the empty gum wrappers. Apparently she succeeded in placing the chewed gum in Justin's coat pockets.
The Disciplinary Committee rules not to take any further action, especially since Leslie gave $1,000 of her own money to the Recreation Center so all the teachers could keep their classes, and turned herself in. Leslie tells Ann that it is every girl's dream to ask a guy how their date went under penalty of purgatory. Although Leslie isn't proud of what she did, she is happy that there is an official government document proving that her dinner party was a success. Later, Justin tells Tom to ask Wendy out.