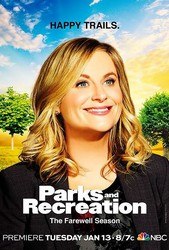 TV Info
---
Episode Premiere
January 14, 2010

Distributor
NBC

Genre
Comedy

Show Period
2009 - 2015

Production Company
Deedle-Dee Productions, Universal Media Studios


Cast and Crew
---
Director
Troy Miller
Screenwriter
Katie Dippold
Main Cast
Additional Cast
Synopsis
---
When the Parks Department gets sued by the previous owners of lot 48, Ann recommends her lawyer friend, Justin, for Leslie. According to Ann, Justin is the greatest guy ever. Meanwhile Ron deals with complaints from the local residents thanks to the new push for government officials to be more accessible to the public -- or as Ron likes to call it, his hell.
Justin meets with Leslie, whose latest case is with fire in a can and he warns Leslie against buying it. In the office, April gets slack for being late and not loading paper in the printer. More importantly, Ron wants an assistant -- he needs to use the taxpayers' money to protect himself from the tax payers. Ron gives April a small printout to post at her college, but April thinks it looks like an ad for nothing.
April complains to Andy about her internship and suggests he sell his band's CDs at the shoe stand. Leslie, fearful of not getting over Dave for 500 years, decides it's time for her to date again. However, when she tells Anne that she might be interested in dating Justin, Ann dissuades her from doing so. Ann has other options for Leslie. Leslie just has one rule: she won't date a twin, she's been fooled before.
Mark is suspicious of Ann's relationship with Justin when she sets up a lunch date with him. At the Parks Department, Tom has tryouts for Ron's assistant, which actually turns out to be more of an audition for Tom's own personal assistant: and Tom's interested in real-world expertise. For example, like what tie he should wear to a club or what to text a girl he just met in the bar.
At dinner Chris, an MRI technician, is shocked to learn that Leslie has never had an MRI and takes her to the hospital to do one. It ends badly, with Chris scolding Leslie for moving in the MRI and telling her she has a great oven to have triplets. Leslie's about had just enough of this date. Mark's suspicion about Justin grows when he finds out Ann doesn't want to set up Leslie with him. Mark thinks that Ann is saving him for herself.
Tom has found Ron's assistant: Jean-Ralphio. Jean promises Ron access to the illest clubs and he'll be there for Ron all day and all night. Tom can't wait for Jean to start. However, after Jean leaves, Ron has the urge to punch Tom in the face. Jean would be on all day every day -- but Ron is not up to hire him right away.
Meanwhile Andy sells some of his CDs on the shoeshine stand, with a little help from April. When Andy cheerily states that he likes when April is around, she asks Ron for the assistant job. This way, she can at least be paid for being there. April promises Ron she'll scare anyone away who comes to see him and proves herself when she slams the door on Tom. Ron hires her on the spot.
Ann comes to her senses and decides to set Leslie up with Justin -- she thinks the two of them will really get along. Ann continues to do damage control with Mark and apologizes to him about everything, which he accepts after telling her the ending to District 9. That night, Leslie is back on the horse, and this horse is a lawyer and she's looking forward to riding him.
Leslie and the Parks Department welcome April as part of the new staff, except Jerry, who is not pleased. When he requests to talk to Ron, April makes Ron proud by denying Jerry an appointment -- even though Ron is standing right there.