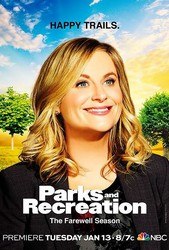 TV Info
---
Episode Premiere
December 10, 2009

Distributor
NBC

Genre
Comedy

Show Period
2009 - 2015

Production Company
Deedle-Dee Productions, Universal Media Studios


Cast and Crew
---
Director
Randall Einhorn
Screenwriter
Michael Schur
Main Cast
Synopsis
---
The parks and recreation department puts on their holiday show that spoofs what has happened in the town of Pawnee. Prepare to laugh your Asnov! (Sid Asnov was a government official, some of the jokes are more inside.) Tonight's joke is all about Councilman Bill Dexhart and his sex scandals, with Leslie portraying the infamous Dexhart in yet another sex scandal involving multiple women, a love child, rabbis and priests.
Lot 48, which used to be the disgusting pit, is now being used as a Winter Wonderland. Leslie gathers the parks department together to inform them of the day's itinerary. However, April tells Leslie that Councilmen Dexhart wants to meet with her, but Leslie isn't scared, she has nothing to apologize for. According to Leslie, Dexhart got off easy (and often!)
Leslie meets with Councilman Dexhart and she doesn't apologize for her spoof of him in the Government Follies. However, Dexhart wants to know how Leslie knew about the new sex scandal and who told her about it. It seems as thought the "spoof" that Leslie acted out the night before, is actually true. Dexhart apparently slept with the babysitter, got her pregnant, then in the delivery room had sex with four nurses and a woman whose husband was getting a liver transplant. Once Leslie comes clean about not having any real information about Dexhart's new scandal, he plays their meeting off as a funny prank. Meanwhile, April asks Andy's advice about what to get her gay boyfriend for Christmas. When Leslie gets back to the office, she finds out that she is now in the middle of a new scandal with Dexhart because of their meeting. Her face is on the front page of The Pawnee Sun!
At the office, Ann and Tom try to tell Leslie not to worry about the tabloid magazine. Andy tells Leslie about all the talk around the shoeshine stand, like, "Can you believe it?" and "That Parks lady boned Dexhart." Leslie tells Andy to keep his ear to the ground, and she is not going to let anyone intimidate her. Leslie had pictured herself in a situation like this, only in her mind, she was the President and the scandal was about the Vice President sleeping with her.
At the Winter Wonderland, the press interviews Leslie. Leslie tries to tell the truth, but Ron quickly breaks up the interview. Leslie decides to hide out and lay low until the media storm surrounding her passes. Meanwhile, Ron has to divide Leslie's daily duties amongst the parks department employees. As part of Leslie's agenda, Ron and April sit in on the Discussion on Re-Organization of Local Auditing Systems meeting. Ron has to give a presentation, but he has no idea what it's about!
Officer Dave meets Leslie for lunch and tells her that his Army Reserve Unit has been called to active duty and he is moving to San Diego. Dave wants Leslie to move to San Diego with him, and he needs to know soon. In interview, Dave gives an "affirmative" when asked if he's in love with Leslie. When Leslie talks to Ann about it, Ann admits she'd miss her like crazy. Meanwhile, Tom and Mark skip buying a case of beer for the sanitation department and Tom tries to convince Mark to give Ann diamonds for a gift instead of a computer bag.
At Ann's house, Ann and Leslie watch Pawnee Today, where an old tape of Leslie shaking hands with Councilman Dexhart is broadcasted and analyzed. In the public's eye, Leslie has now become Dexhart's "alleged sex toy." Leslie can't believe it, but she knows that this is the drill: the tiniest story in Pawnee will get dissected over and over again. Back in 2004, a kid from Pawnee was going to the Olympics and it was reported on for over a year. The kid wasn't even competing; he was just going to watch the Olympics!
Later that night, Leslie brings Councilman Dexhart to Ann's house and asks him to call a press conference to clear her name. But Dexhart doesn't want to do it. Being linked to Leslie is covering up his real sex scandal. Leslie threatens Dexhart with coming clean with the real story, but Dexhart tells her that in his experience, denial only makes the situation worse. Dexhart then has the nerve to ask Leslie if they should just go through with it and sleep together. Everyone thinks they already have. Leslie, appalled, kicks Dexhart out of the house.
Andy has made a list of gift ideas for April's gay boyfriend, including a gift certificate for a spray tan, a trip to Germany, and a hip-hop abs fitness DVD. April turns down these ideas in the hopes of getting Andy to come clean about what he wants for a present. Unfortunately he does: an Indianapolis Colts Reggie Wayne jersey, home blue, signed by Reggie Wayne right after he catches a touchdown to win the Super Bowl.
This just in on Pawnee Today: pictures of City Councilman Dexhart with Ann and Leslie! The news anchors believe that Ann and Leslie are lesbians. Leslie makes a phone call and demands to be on Pawnee Today to clear her name. On Pawnee Today, Joan interviews Leslie about the sex scandal. While Leslie tries to deny the affair, Dexhart comes out on the show and refers to Leslie as "sweetie!"
At the Winter Wonderland, the rest of the parks department has their own surprise: sanitation didn't empty the dumpster, and raccoons now are running amok! Ron wants to know who dropped the ball. Tom and Mark realize they didn't bring a case of beer to sanitation, like they were supposed to. Later Ron tries to run a public forum where he gets complaints about Turtle Flu and mayo-less sandwiches.
Leslie beats Dexhart at his own game when he claims she has a mole on her butt. She pulls down her pants and shows Joan that there is no mole on her butt! There is no mole on Miss Knope! Dexhart finally comes clean about the affair rumors being false, but he has no plans to resign.
Later that night, Leslie tells Dave that she can't go to San Diego with him. She loves Pawnee too much to leave it. The parks department waits for Leslie to come to the Winter Wonderland. Leslie lights the tree and the holiday spirit is alive! The next day, Andy gets a jersey from April and Mark gives Ann the computer bag. With Leslie back in the office, Ron is relieved and everything is back to normal.