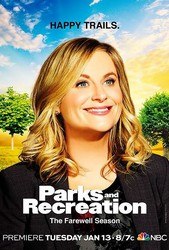 TV Info
---
Episode Premiere
November 19, 2009

Distributor
NBC

Genre
Comedy

Show Period
2009 - 2015

Production Company
Deedle-Dee Productions, Universal Media Studios


Cast and Crew
---
Director
Greg Daniels
Screenwriter
Daniel J. Goor
Main Cast
Synopsis
---
The parks department is so happy to be having Andy working in the building. Andy's thing to do is to give piggyback rides! Even Leslie combines work with play as she gets a piggyback ride from Andy while talking to Councilman Howser about a re-zoning proposal.
Ron, Jerry and Mark are ready to conduct their annual "trail survey"; however, Leslie knows that Ron and the guys aren't conducting any kind of survey. Apparently Ron has a deal with the park rangers and every November they let Ron use their cabin for a secret hunting trip with all the guys in the office. Well, not all the guys, Tom is never included, so all the "men" in the office get invited.
Leslie demands that Ron invite Tom and the rest of the ladies in the office to come along on the hunting trip. Ron denies going on a hunting trip, while listening to turkey calls. Leslie convinces Ron that she is good at hunting, and even better at being a guy. Ron realizes that it's a work event and can't stop anyone from the office from coming along. Leslie is stoked, but Ron believes his love for government has just been "clubbed to death" before his very eyes.
Leslie has April check a budgeting request while she's gone: meaning call a number and stay on hold. April doesn't know if she can handle it but she'll try. Leslie gives Ann a hunting license for her to come along and the ladies are ready to go. Mark pants Jerry in good fun, declaring himself the "pants king." Leslie tries to join in by pants-ing Tom, but fails to produce the same enthusiasm.
The new additions to the annual hunting trip continue to try and fit in with the men. Tom brings along some chew and Leslie even tries some. Tom realizes that you're not actually supposed to swallow the chew after it's too late. Leslie teaches Donna, Tom and Ann the safety of hunting. Ron has everyone grab a beer and toasts to the hunt! Leslie tops Ron's toast, ruining his tradition. Back at the parks department, April is still on hold and has to pee. She asks Andy to listen in for her.
Leslie and Ron are paired up as hunting partners, although Ron is a bit hesitant to enjoy the company. Leslie shoots a quail! Ron tells Leslie that he doesn't care that she's a girl, it's change that he doesn't like. Leslie makes a bet with Ron that she will bag more birds than him. They split up. The bet is on! Meanwhile at the parks department, Andy and April sing along to the "hold" music.
Tom, Donna and Jerry all hunt together. Tom is shooting at any bird he sees and Donna follows his lead, just shooting at anything. Mark teaches Ann how to shoot and she keeps shooting over and over again, seeing how people could like this. While Jerry takes a moment for a beer, he hears a shot ring out, followed by a scream. Ron's been shot in the head!
Ann looks at Ron's head and sees that the wound isn't that serious. Ron knows that the rangers won't let them come back next year. He is livid! Outside, Donna is screaming because someone shot her Mercedes. This hunting trip is turning into a disaster for everyone. Ron downs some scotch and asks Leslie if she shot him. Leslie swears she didn't do it.
April and Andy entertain themselves with a game of Marco Polo while they still wait on hold. Back at the hunting cabin Ron is beginning to hallucinate due to the combination of scotch and pain medication Ann has been giving him. Ann tells Ron that he needs to immediately purge; he refuses and Ann grabs a bottle of Ipecac. Ann and Leslie have hold Ron down as he struggles against the two women. Leslie and Ann are finally able to get Ron stay still.
Leslie tries to find out who shot Ron. Donna, Mark, Jerry, and Tom are all silent. The group starts to believe that maybe something like The Predator is out there, hunting them. Tom gets paranoid and shoots the rifle when he hears a noise from outside. Ron gets up and swears to tear apart whoever shot him. At the office, Andy and April practice "spitting soda reactions" out of their mouths.
Leslie tells Ann that no one saw who shot Ron and no one knows what happened. However, Ann knows what happened. While the rangers talk to everyone else, Leslie comes out of the room and admits to shooting Ron. Donna thinks that Leslie also shot her Mercedes and runs and tackles her to the ground. While Ann checks up on Leslie, she asks her why she is taking the rap.
The ranger interviews Leslie to find out what happened. Leslie tells the ranger she is an excellent hunter but she tripped and her gun went off. She finally blames it on that "tunnel vision" that girls get. Leslie continues to use her "female weaknesses" as the reason why she accidentally shot Ron. Meanwhile, April offers to give Andy a hickey to make Ann jealous. Andy's in!
The hunting trip has come to an end. Ron is bandaged and conscious. He tells Leslie that maybe during Super Bowl Sunday she can come by and shoot him in the head. Or the next time he's in the bathroom, she can come in and shoot him in the head. Leslie is sincerely sorry for ruining Ron's trip, but he's not taking the bait. Ann takes Tom aside (who is enjoying Ron yelling at Leslie) and tells him that she knows Tom was the one who shot Ron! Ann doesn't know why Leslie is taking the blame for Tom's mistake, but Ann isn't going to let Tom give her any more grief.
Tom, out of guilt, comes clean to Ron and everyone outside. Turns out Leslie covered for Tom because he didn't get a hunting license and could have been in serious trouble if the rangers knew he was using a gun without a license. Ron is impressed with Leslie and calls her a "real stand-up guy." Ron calls Tom a moron and lets him know that he is NOT forgiven. With perfect timing, Ann pants Tom, declaring herself the "pants king."
Andy tries to show off his hickeys to Ann in the hallway, but she doesn't seem impressed. Just grossed out. At Ron's welcome back party everyone cheers, but they find it a little gross when Ron turns around and shows the large wound on the back of his head. The whole gang is a bit horrified at this sight.