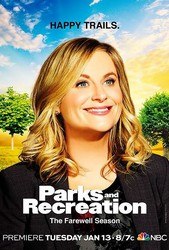 TV Info
---
Episode Premiere
November 12, 2009

Distributor
NBC

Genre
Comedy

Show Period
2009 - 2015

Production Company
Deedle-Dee Productions, Universal Media Studios


Cast and Crew
---
Director
Millicent Shelton
Screenwriter
Rachel Axler
Main Cast
Synopsis
---
The mural in Pawnee, "The Spirit of Pawnee" has been defaced again, this time with chocolate pudding. The City Council decides that the mural should be reworked to be less offensive, and this time each department will submit their own design for the mural. It looks like Leslie and the parks department have a "friendly" competition with the sewage department.
Leslie calls a meeting and drives home how important submitting a winning design for the mural could be for their department. Leslie orders everyone to draw a sketch. Meanwhile, Ron gets his shoes shined by Andy. Apparently, Ron has a large bunion on his foot that is very painful, but just by luck Andy's shoe shine eases Ron's pain for the first time.
Tom pays a local artist, Andrew, to paint a drawing for him, but when Tom sees the end product he believes he's wasted his money. Tom claims the painting looks like "a lizard puking up Skittles." Ann also tries to help out the parks department, but thinks maybe she should have given them all free flu shots.
Leslie believes that making this mural is a dream come true. April believes her piece will capture the true spirit of Pawnee: she digs in the garbage to find it. Ron secretly scuffs his shoe to get another shoe shine from Andy.
It's time for the great unveiling of everyone's sketches. Ann has designed a park and cut some dogs out of a magazine; Tom tells her that she failed. Tom presents his abstract painting, but Leslie isn't quite sure what she's looking at, it's all very abstract. Tom learns to suddenly appreciate abstract art as he presents it to the group. Donna's painting is the Last Supper but with famous people from Indiana, with Greg Kinnear as Jesus. Jerry's is off to a good visual start, until he calls his sketch a "murinal" and is disqualified; even though so far, Jerry's is the best one. April's sketch is full of gross concepts, and Leslie doesn't believe anyone really paid attention to the assignment. Finally, Leslie shows her picture of the great bakery fire, claiming, "This is our Holocaust movie."
While Andy is giving Ron his third shoe shine of the day, Ron lets out an inappropriate moan. Andy doesn't know what to think of it, and Ron claims the moan was involuntary. To Ron, sometimes "a sound is just a sound."
The members of the parks department each cast a vote for their favorite sketch, but it seems as though everyone has voted for his or her own drawing. Leslie decides that they need to whittle this down. April thinks Ann's drawing sucks, while Ann thinks April's is gross. Tom thinks his abstract art is amazing but Donna doesn't get it. Leslie decides that they will make a new design that takes the best parts of all of their designs. The end result is less than impressive, and Leslie knows it.
Leslie asks Mark for help. Mark takes one look at the entry for the mural contest and says that they made a "camel," or more or less, "one ugly camel." Leslie pleads with Mark to sketch something for them. Mark gives in and creates a pretty picture of an old man feeding pigeons in the park. However, no one in the parks department likes it, even though this will win because it has mass appeal. Ron likes it and Leslie decides to enter Mark's sketch despite everyone else's protests.
Joe from the sewage department boasts about how awesome his department's sketch is but Mark assures Leslie that the parks department painting will win. Ron talks about how he hasn't yet come back to see Andy, and when they run into each other in the hallway Andy tries to make a break for it. Ron tries to explain himself to Andy, but Andy is fine if they just don't ever mention it again.
Leslie checks out the entry from the fire department and sees that they had a really fun time creating their picture. Leslie decides that she should enter "the camel" as the parks department's submission, even if it means they'll lose. This makes everyone happy and they are ready for the results!
The members of the City Council committee are a bit speechless with the poster, although one of them likes the shapes. The cut-out Michael Jackson figure looks like he is carrying the Greg Kinnear Jesus figure into the burning building. Although the Parks Department realizes that their poster is a bit wacky, they all have a good laugh about the work they did.
Turns out the City Council is not going to spend the funds on a new mural and instead will just fix the old one and rename it "The Diversity Express." Ron hangs Mark's picture in his office and Leslie hangs up their "camel" in the parks office.
Tom continues to pay Arnold to paint more abstract art for him, demanding he paint something more like the first one. Tom has been looking at that first painting for five hours.