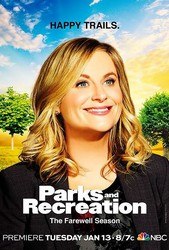 TV Info
---
Episode Premiere
October 29, 2009

Distributor
NBC

Genre
Comedy

Show Period
2009 - 2015

Production Company
Deedle-Dee Productions, Universal Media Studios


Cast and Crew
---
Director
Dean Holland
Screenwriter
Michael Schur
Main Cast
Additional Cast
Synopsis
---
It's Halloween in Pawnee and Leslie is ready to face her nemesis: Greg Pikitis, a high school student who terrorizes the parks system every year and defaces the statue of Mayor Percy. This year, Leslie lets Greg know that he won't get away with it this Halloween. Greg casually eats a peach and denies doing anything to the Pawnee parks.
Halloween is Ann's favorite holiday! Ann invites the Parks department to her Halloween party and tries to keep it hush-hush from Tom, but Jerry's already let the cat out of the bag. Tom can't wait to see what skimpy costume Ann will be wearing tonight.
Leslie shows Ann her detailed map of all the different routes Greg could take to get to the statue of Mayor Percy. Ann doesn't quite understand what the big deal is, but Leslie tells her that it takes the Parks Department 10 days to clean up Greg's mess and more than that, Greg Pikitis "sucks" and Leslie wants to destroy him. Jerry gets stuck in some decorative cobwebs and Leslie runs to help him out.
Andy, Leslie, and Officer Dave take a look at the statue of Mayor Percy. Leslie tells Andy and Dave about the "heroic" acts Mayor Percy did. Leslie hires Andy to stop Greg from doing anything to the statue. Dave warns Andy not to use excessive force, even though Leslie wants Andy to stop Greg by any means necessary.
Ann's Halloween party is off to a rocky start when Ron (who is dressed up as a pirate) and Ann's doctor friend (who is dressed up as a doctor) awkwardly meet for the first time. April brings her two gay boyfriends and Mark gets the third degree from Ann's nurse friends. Meanwhile Leslie and Dave stake out Greg and keep their eyes on him. Dave says he usually hates Halloween, but this year, Leslie makes out with him in his cop car.
Leslie continues to record Greg's every move. Dave convinces her that she's done a good job and that they should go to Ann's party. When Leslie goes to pick up her costume at her office, she finds an unpleasant surprise: the whole office has been toilet-papered and covered in graffiti! Leslie finds a peach pit on top of shaving cream, which makes her believe it was definitely Greg because he was eating a peach earlier when she saw him. Dave thinks it has to be someone else because they had been following Greg since he left his home that evening.
Dave interrogates Greg, who completely denies doing anything to the parks department, but admits that he does like to get under Leslie's skin. When Andy tries to interrogate Greg, posing as Burt Macklin, FBI, it backfires on him. Leslie sees that Greg has made Andy cry.
Meanwhile Ann's party is becoming a dud and some of her guests start to leave. Mark tries to tell Ann that the party is going fine, but Ann thinks it's a failure. Tom and Wendy have perfect timing. Tom sees that the party is a disaster and he and Wendy fix it by getting a dance party started.
Leslie drops the peach pit in front of Greg, claiming that it proves he vandalized the office. Leslie knows that Greg found a way to get into the parks department, even though she followed him all night! Greg's mother comes to the office and she is mad! Since Dave and Leslie have no evidence, Greg's mother threatens to sue and takes her son away. Regretfully, Dave thinks this was all bad police work.
Ann's party is jumping! Everyone is dancing and having a great time. Even Ron is having fun. One of Ann's coworkers tries to coerce Mark to come home with her, but Mark passes this "test" with flying colors. Wendy thanks Ron for keeping her green card marriage a secret. Wendy invites Ron to their "divorce" party and Tom doesn't seem too happy about the idea. Ann is grateful to Tom for helping out with the party and both she and Mark are impressed with Wendy.
Meanwhile, Leslie is still trying to figure out why anyone would throw toilet paper everywhere. Andy is so grateful to Leslie for getting him a job, he stays with her to clean up the office. After a few beers Leslie and Andy go and toilet paper Greg's house! Dave shows up to stop Leslie and Greg's mother comes out to talk to them: turns out the woman who came to the parks department earlier was not Greg's mother, she was hired from Craigslist. Leslie knew that Greg was guilty!
Leslie, Dave, and Andy run to the statue of Mayor Percy where they find Greg and his friends throwing toilet paper all over it. Greg's mother takes him aside and scolds him. Leslie demands that Greg tell her how he got into the parks department, but Greg won't divulge anything. Leslie basks in her moment of glory, although Greg won't be sent to prison, he'll just put on probation.
Everyone at the parks Department is impressed with Leslie, although no one knows how Greg Pikitis ever got into the office. At 3:45 that day, a camera captures Greg dressed as a janitor with a fake mustache. He snags Leslie's keys when she goes to free Jerry from the decorative cobwebs. Greg hides in the dumpster till everyone is gone and then goes into the parks department office and commits his crime, leaving the peach pit as his mark.