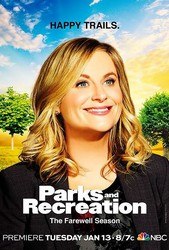 TV Info
---
Episode Premiere
October 22, 2009

Distributor
NBC

Genre
Comedy

Show Period
2009 - 2015

Production Company
Deedle-Dee Productions, Universal Media Studios


Cast and Crew
---
Director
Charles McDougall
Screenwriter
Aisha Muharrar
Main Cast
Synopsis
---
There are some abnormal charges on Leslie's credit card. The credit card company contacts Leslie at work to make sure the purchases of: Netflix, Blockbuster, tuition to Hogwarts School of Witchcraft and Wizardry, hair extensions, a man pillow, and bucket of cake are all valid. All this would have been just fine if Tom wasn't listening in. Leslie cancels her credit card.
It is build-a-playground time in Eagleton! Leslie and staff have volunteered for Kaboom, a service organization that builds playgrounds in a day. Keef, the team's energetic leader, convinces Leslie that anything is possible if you have the Kaboom spirit! KaBOOM! is a real national non-profit organization dedicated to helping communities just like yours build playgrounds where they're needed most. Find out how you can help at http://kaboom.org/
While Ann and Leslie work on a swing set, Andy drops by. Andy tells Ann that he loves to volunteer, but little does she know that he volunteers to load up on all the free food, except for the suicide hotline, which had a lame spread. Andy tells Ann that he is not living in the pit anymore, but is living with a drummer friend.
Leslie and Ann successfully erect the swing set. Keef is excited! Keef tells Leslie that they can Kaboom anywhere and anything. Leslie is pumped! After Kaboom, Leslie and Ann think about the pit and wish they could Kaboom that. Leslie is inspired and calls a staff meeting to Kaboom the pit.
Mark gives Leslie some advice on how to get the pit filled in. He suggests that Leslie fill the pit in without permission. Don't ask permission, just ask for forgiveness. Leslie decides to be bold and rent a bulldozer to fill in the pit.
Ann and Leslie start to fill in the pit with the rented bulldozer. They have their "kick" and "ass" hard hats on and are ready for action. However, the women are met with an unpleasant surprise when the dirt piles on top of Andy, who is still living in the pit.
Andy is taken to the hospital where Ann takes care of him. Andy takes Ann's professional care as something more and she has to tell him that she is dating Mark. When Andy presses Ann for more information about Mark, he gets a load of facts that make him feel like a loser.
Back at the office, Leslie gets yelled at by Ron. Ron bursts Leslie's "ka-bubble" and tells her that the city manager addressed him and now the entire department is "ka-screwed!" Leslie feels horrible!
Leslie goes to apologize to Andy but she is stopped by Scott, the city attorney. Scott warns Leslie that Andy can sue the department at a drop of the hat. Scott tells Leslie that she can't say anything that admits liability or guilt. This includes the words: sorry, unfortunate, victim, and situation. Leslie can't even get away with miming her emotions. Just when Leslie can't feel any worse, Andy's attorney, Wendell Adams, says that Andy is suing the city of Pawnee.
Later that day Leslie tries to contact Andy obsessively but he is not returning her phone calls. Finally, Ann helps Leslie by calling Andy and telling him to meet at her house. Andy shows up at Ann's house naked, thinking that he and Ann are getting back together. Ann leaves the house to allow Leslie and Andy to work things out.
Leslie and Andy talk things out. Andy tells Leslie that he is completely broke and he feels like suing the city is his only way to get money. He wants to have money so he can get Ann back. Leslie tries to tell him that maybe taking a shortcut isn't the way to go. Andy says he'll get a job. Meanwhile, Ann and Mark meet for drinks and Ann tells Mark about a nude Andy showing up to her house, claiming he is now dead to her.
At City Hall, Andy drops the suit. Unbeknownst to the city lawyer, Scott, Leslie and Andy have a diabolical plan so they both get what they want. Andy makes a list of demands, one being that the pit gets filled in. He wants it to happen right away and not eventually.
The pit finally gets filled in. Ann can't believe it! And not only that, Andy is working the construction on the site. Leslie tells Ann that Andy dropped the suit. Ann is pleasantly surprised and a little impressed. Leslie has learned that taking risks gives her waves of pleasure; she wishes there was something physical to make her feel this way.
The pit is finally filled in, but there's still a lot more work to do.