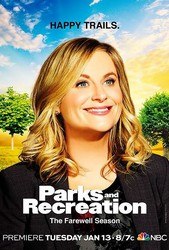 TV Info
---
Episode Premiere
October 15, 2009

Distributor
NBC

Genre
Comedy

Show Period
2009 - 2015

Production Company
Deedle-Dee Productions, Universal Media Studios


Cast and Crew
---
Director
Michael Schur
Screenwriter
Alan Yang
Main Cast
Additional Cast
Synopsis
---
Leslie welcomes the Parks Department of their sister city, Boraqua, Venezuela. Leslie warns everyone that the Venezuelan government isn't used to all the leisure and wealth that Pawnee has to offer. Although Pawnee hasn't had the best of luck with its foreign visitors in the past, Leslie is sure that this time the city of Pawnee knows how to treat government officials. This time they'll be put up in a motel and not in a cage.
The officials from Venezuela arrive and Leslie introduces herself, and Raul Alejandro Bastilla Pedro de Veloso de Morana, the vice director of the Parks Department, introduces his team. Tom casually greets the officials and Raul orders Tom to collect their bags. Apparently, Raul believes Tom is Leslie's servant. Tom protests but Leslie is determined to make a good impression on their foreign visitors. However, she might be in over her head when she realizes the delegates want to pick a woman to "party" with. They all like Donna.
At the meet and greet, Raul orders bottled water, not tap. Leslie sends Tom to get the water and when Raul gives him a large tip, Tom is more than happy to oblige. Meanwhile, Jhonny, the Venezuelan intern, has taken a liking to April. She convinces Jhonny that she is feared and very powerful.
April and Raul exchange gifts of gratitude in the name of diplomacy. Raul offers the Hugo Chavez gold replica gun that was used in the 1992 socialist revolution. Leslie offers Raul a bottle of high fructose corn syrup and three dozen rubber baby bottle nipples. Raul thanks Leslie for the garbage and says that North Korea is much nicer than Pawnee. Leslie tries to maintain a diplomatic demeanor, just like Hilary Clinton. Ron doesn't support Chavez, but on the other hand, the gun is sweet!
Raul continues to use Tom as his servant boy and Tom continues to take Raul's generous tips. Leslie tells Raul and his friends about Pawnee's budget and how they are trying to raise $35,000 to fill in a pit to make a park. Raul and his colleagues laugh. Venezuela can build whatever they want! Their country is rich due to oil. Leslie is starting not to like Raul.
Determined to impress Pawnee's sister city delegates, Leslie takes the Venezuelans to the nicest park Pawnee has to offer. This doesn't impress Raul; instead he thinks the park is the big pit Leslie wants to fill in. Raul continues to insult the park, enraging Leslie. Meanwhile, Jhonny courts April.
Leslie brings the Venezuelans to a town hall meeting to show them what the real meaning of democracy is. Tom is now cheerily handing out chocolate bars to Raul and friends. Raul laughs at the town hall meeting's venue, usually Raul's meetings are held in different fortresses and palaces. The meeting doesn't go very well, angry citizens bark at Leslie for not having hand dryers in the park bathrooms, Frisbees, and dog problems. Raul is in awe! Where are the guards to take the protestors to jail?
Leslie has had enough of Raul. She explodes when Raul says that in Venezuela they are like kings and answer to no one. Leslie attacks Raul and calls him rude and says his medals are stupid and their uniforms are lame. Leslie calls Chavez stupid and tells Raul to leave if he doesn't like it here!
Leslie has to explain the fight to Ron. He leaves her with two choices: call the mayor and cancel the photo opportunity, or apologize to the Venezuelans. Leslie knows what she has to do and calls a meeting. She apologizes and Raul offers an apology as well; the Venezuelans are a little upset that they aren't in Miami. Raul offers Leslie a check for $35,000 to fill in the pit. Leslie is shocked.
Leslie talks to everyone about the pros and cons of taking the money. Ann thinks it will be good to fill in the pit. Leslie thinks they are taking dirty money, but decides to keep it for the benefit of a new park. Jhonny continues to court April and invites her to live with him like a princess in Venezuela.
Raul requests that Leslie be on a video to show the other government officials. He makes Leslie say "Viva Venezuela" and "Viva Chavez", even though she has a hard time saying it. After taping Leslie's video, Raul makes one of his own. April translates what Raul is saying and it seems as though Raul is on a committee to "humiliate and shame America." Leslie tears up the check and says, "Viva America!" Raul exclaims that Pawnee is no longer their sister city!
Leslie is going to stick to her guns and build that park herself. When no one is looking, Tom takes all the money he has made from Raul's visit and sticks it in the donation jar for the park.
April took Jhonny's offer and has taken Donna down to Venezuela with her. Jerry, Tom and Leslie check out the video April sent. April is living in a palace with men with lots of guns. She doesn't know when she's going to be back, but she doesn't look worried.