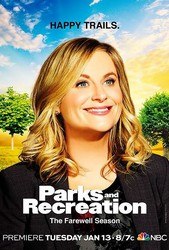 TV Info
---
Episode Premiere
September 24, 2009

Distributor
NBC

Genre
Comedy

Show Period
2009 - 2015

Production Company
Deedle-Dee Productions, Universal Media Studios


Cast and Crew
---
Director
Seth Gordon
Screenwriter
Rachel Axler
Main Cast
Additional Cast
Synopsis
---
Ann and Leslie have a morning cup of coffee and talk about Mark. Leslie promises she is over Mark and that it's "uteruses before duderuses." Later, Leslie and Tom work in the pit in their community garden; a place where anyone can plant anything they like. Leslie, impressed with Tom's "knowledge" of plants, shows him an odd-shaped plant she's never seen before. Tom points out that "The best way to figure out what kind of plant that is, is to roll it up in a joint and smoke it."
Leslie confronts Ron about finding the marijuana plant in the community garden. Instead of going to the police, she wants to handle it internally, because she is scared of the press. Ron agrees and Leslie wants to find out who the pot "kingpin" is. She decides she and Tom must go on a stakeout and then they will be rewarded in the press for their efforts. Ron has a painful hernia and cannot move from his desk. Ron awkwardly asks April to hand him his lunch and she suspiciously obliges.
Leslie is in all black and in business to catch the local drug lord. She shows Tom that she has brought all the necessary supplies: notepads, pencils, shakeable whipped cream, cameras, and candy necklaces. To go along with the theme of a stakeout, Leslie has also made a mix CD full of songs about stalking people. Tom has not worn and appropriate outfit and Leslie gives him a black hoodie to cover up his bright pink shirt. He is not too pleased when the hoodie fits.
Ann gets ready for her date with Mark and reassures herself that Leslie is okay with it. She is excited to get back in the dating game with Mark since Andy always used to make her pay. Mark picks up Ann for their date and Leslie, still on her stakeout, gets a front row seat to see it. She uses her long-lens camera to take pictures of Mark going to Ann's house. Tom wonders if Mark and Ann are dating and calls Mark "the man." Leslie tells Tom about the night Mark fell in the pit, when he tried to kiss Leslie and she denied him.
Ron is stuck in the office late at night because he can't move. He tries to play it cool with the night janitor, but it ends up creeping the guy out. Back in the van, Tom and Leslie spend some quality time playing "shovel guitar" and "bucket drum." Leslie gets to know Tom better and learns that he was born in the States and changed his name because he wanted to go into politics. Just then, Andy walks across the garden and starts to eat carrots. Leslie and Tom think they've found their kingpin.
Leslie and Tom confront Andy about the marijuana growing in the garden. Andy claims he didn't know about it. He does confess to living in the pit and eating the vegetables for two weeks. Leslie asks Andy to help catch the kingpin and he agrees. Back at City Hall, April finds Ron at the office. He tells her about the hernia. After a slight interrogation, during which April makes sure Ron doesn't have a hernia AND syphilis, she offers him a ride to the hospital. But first, April has to ride her bike back home so she can borrow her father's station wagon.
In the van, Andy asks Tom and Leslie about Ann. Andy says how he misses Ann a lot. Tom almost spills the beans about Ann being on a date with Mark, but Leslie interrupts. Leslie offers Andy a candy necklace and he excitedly eats the whole thing; string and all. Andy has been living on nothing but vegetables for weeks. Leslie realizes Andy needs to eat something more substantial and decides to take him for a burger.
Tom gets locked out of the van while Leslie and Andy are gone. Tom tries to jimmy his way into the van right when Mark and Ann are coming home from their date. Mark almost makes it in for a nightcap when Ann notices someone trying to break in the van. Ann and Mark do not know it's Tom and they call the cops.
Leslie goes for a walk with Andy and accidentally lets it slip that Ann is dating Mark. Andy faints. At the van, Officer Dave Sanderson checks in on Tom and asks him for some identification. Tom does not want to cooperate and thinks Dave is stereotyping Indians. Tom starts to harass Dave and when Dave asks him to step out of the van, Tom responds, "I'll step out of your mama's van." Dave lunges in the van to get Tom, who screams for Leslie. Leslie returns to the van and sees that Tom is missing. The tow truck driver tells Leslie that the cops took him. Andy sees Ann and Mark and he runs for the bushes. Ann and Mark tell Leslie about the "criminal" breaking into the van. Leslie is left speechless.
Leslie, Mark, and Ann go to the police department. Leslie talks to Dave and demands that Tom be released. Leslie comes clean to Dave about why the van was there. She tells Dave what they were staking out, and why there were pictures of Mark and Ann on the camera: Leslie's ex-lover went out on a date with Ann, her best friend. Leslie's honesty works and Dave decides to let Tom go. Leslie tells Ann and Mark to go home while she waits at the station for Tom to get out.
April comes back to City Hall and wheels Ron through the hallways to get him to the hospital. Mark walks Ann to her door and gives her a kiss on the cheek. Andy, from a distance, sees this. Tom is finally released from jail and he is appreciative that Leslie stuck around. Dave tells Leslie he'll give them a ride back to the pit. Tom tells Leslie that she can do better than Mark. Touched, Leslie smiles, but Tom warns, "I didn't mean me. Keep it your pants, Knope!"
In the community garden, Officer Dave checks out the marijuana plants and tells Leslie they're just carrots. Dave tells Leslie that he thinks she was spying on Ann and Mark. Leslie tries to deny it, until Dave admits that it was cute. This makes Leslie smile and Dave may have a little thing for Pawnee's Miss Knope! After a long night, Leslie gives Tom a ride home. The next day, Tom bashes Mark and Ann for getting him arrested. After he leaves, Ann tells Mark that she still thinks Tom's a pervert.