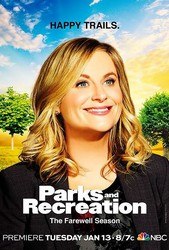 TV Info
---
Episode Premiere
April 30, 2009

Distributor
NBC

Genre
Comedy

Show Period
2009 - now

Production Company
Deedle-Dee Productions, Universal Media Studios


Cast and Crew
---
Director
Michael McCullers
Screenwriter
Alan Yang
Main Cast
Synopsis
---
It was time for the big red ribbon cutting... on April's computer screen. April was tasked with creating a social network profile for the Sullivan Street Pit. Ann is excited to see the pit already has six friends including Mark. When Leslie checks out Mark's page, she sees it's covered with photos of him partying with young girls.
Leslie thinks it's about time she and Ann busted up Mark and his little boys' club that meets in the courtyard of the city building. The women join the guys for a little beer and chitchat about the day. Leslie is fully convinced she's breaking some glass ceilings and finally feeling like one of the guys.
When the courtyard party starts to wind down, Leslie finds a way to keep it going. She busts open the gift basket of wine and cheese she received as a gift. The next morning, Leslie feels guilty about opening up the gift basket, especially after she lectured Tom about it being immoral to accept gifts as a city worker. Leslie feels it's time to apologize to every female politician for her behavior the night before.
Leslie admits to Ron all her wrongdoings. He tries to calm Leslie down, telling her what she did really wasn't all that bad, but Leslie doesn't back down. She has emailed everybody in the Pawnee government a confession, along with an attached link to the pit's homepage, so people can be reminded of her good work.
Leslie is appalled to see that April uploaded a video onto the pit's webpage of her drinking the wine from the gift basket. Leslie begins to freak out, because now every lawmaker from Pawnee will be clicking on the link in her emailed confession, only to find April's wine-drinking video.
Ron lets Leslie know about his disappointment over an underage April drinking wine on the pit's homepage. He also tells Leslie she'll have to face a disciplinary committee for questions and the final decision could lead to terminating her job. Tom does his best to prepare Leslie with questions that might be asked by the committee, but, for his amusement, he throws in a few embarrassing sex questions to make Leslie blush.
Ann is on her way to work a double-shift at the hospital so Andy takes this as opportunity to surprise the woman he loves. After cleaning up all the food crumbs and empty cans on the couch, he bathes himself in a wading pool in the yard. After all, his parents do the same thing to his family dog.
Leslie and Ron meet with the committee regarding April's wine pictures. Ron ends up calling an end to the meeting, accusing the committee of treating Leslie like she was in Communist China. The worst that will happen is Leslie will get a mark in her personal files. Ron wants to make it clear; he didn't end the meeting for Leslie. He ended the meeting because he hates bureaucracy.
After her double shift, Ann meets with Leslie. Leslie fills her in on her "100 days in hell," but tells her everything is fine now. She also admits the reason she opened the wine in the first place was because she wanted to impress Mark. Ann finds Leslie to be a smart woman with iffy taste in men.