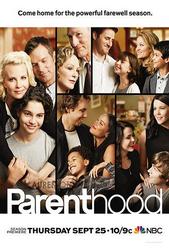 TV Info
---
Episode Premiere
April 10, 2014

Distributor
NBC

Genre
Drama

Show Period
2010 - 2015

Production Company
Imagine Entertainment, Universal Media Studios


Cast and Crew
---
Director
Scott Schaeffer
Screenwriter
Ian Deichtman, Kristin Rusk Robinson
Main Cast
Synopsis
---
Max charges into Hank's studio in full meltdown mode, throwing lights and screaming at Amber. She's a fascist for wanting him to complete his homework - three to five is always studio time, no matter what! Now that Hank has some insight into Asperger's, he's able to negotiate with Max, and just like that - poof! - no more meltdown. Crosby's in the middle of a meltdown of his own. He's broke, there's no floor in his house, and he STILL has standing water in his crawl space. Surveying the scenario, Joel says it's a doable one-man job, but Crosby presses on, hoping his brother-in-law will pitch in and help for free. When Joel complains to Peet, she advises him to strap on his tool belt and head to Crosby's. She knows he's a family man, which is probably why he hasn't responded to her advances. True to family-man form, Joel takes Peet's advice and makes a pale and sweaty Crosby a very happy man, preventing him from further ruining his floor. After the job is done, the guys hang out on the stoop and gab over a beer. Crosby tells Joel that he is sorely missed by the entire Braverman clan, and Joel feels the veracity of this statement deeply.
Drew may be back at school, but he's stressing over finals and definitely not cutting Natalie any slack for sleeping with Berto. Having decided to make Drew a graduation celebration dinner, Sarah talks recipes with Julia, who drops a bomb: she slept with Evan Knight, and she feels really bad now! This is not what she does and she's in love with her husband, but she needed to do something. Sarah assures Julia that she didn't do anything wrong, and advises her to tell Evan it was just a one-night thing... if that's what she wants. Afterwards, Sarah stops by Drew's dorm to drop off some kale cupcakes and on the way out, runs into Hank shooting a job. He's hoping Sarah's ready to respond to his vulnerable plea to continue their relationship, but she knows now isn't the time to talk, since he's on a job. Instead, she makes a beeline for The Luncheonette to tell Adam all about what's been happening between her and Hank. For whatever the reason, there's still a little bit of a wall between Sarah and Hank; it's almost like Hank's Asperger's is a third person in the relationship. In Adam's opinion, Sarah could do a lot worse - and she has.
Julia meets Adam, Kristina and Evan outside a "charming fixer" building she's found - an excellent candidate for their charter school. The price is right, but there's only one problem... a huge developer has already made an offer. Nevertheless, Kristina is determined. Since the city owns it now, they'll simply lease the building from the city. Kristina gets a call from her friend Gwen's sister; it's time to say a final goodbye. A few days later, Adam finds Kristina crying in their bedroom. Gwen is gone, and Kristina feels so terrible, so mad. Why does she get to stay alive and Gwen doesn't!? Somehow, the experience of losing Gwen seems to make Kristina even more determined to succeed with the charter school. So she marches over to Bob Little's office and makes her case: by leasing the building to her, Bob will both do good and make himself look good for doing good. All Bob will say is that he'll look into it. Back home, Adam finds Kristina staring at a gift box. It's from Gwen, and she's scared to open it, so they decide to do it together. In a magnificent parting gesture, Gwen has bequeathed a generous gift to the charter school, which finally has its name.
Julia stops by Evan's to explain her feelings after their one-night stand; she doesn't want him to feel she was taking advantage of him. Evan insists they were just having fun, that's all. But Julia knows it wasn't just fun for her; she needed to break free, and she's glad she got to do it with him. A few days later, Julia's stunned when Joel rings her doorbell. Inspired by his session with Crosby, he stopped by to fix the leaky dishwasher, but Julia's already fixed it. Rather than take off right away, Joel asks Julia about the sale of her parents' home. It's the first time they've really talked in months. Could there be hope for this marriage? Across town, Crosby proudly brings his family home for good. Finally - being home has never been sweeter.
Amber has just dropped off Max at Hank's studio when she gets a phone call. When Max spies her dropping to the sidewalk, Hank runs outside. In shock, Amber tearfully pulls out her keys and gets in her car. Ryan's hurt and she has to drive to San Diego right now! Knowing this is a recipe for disaster, Hank rises above and insists on driving, refusing to take no for an answer. By the time they get there, Ryan's in surgery and there's no information to be had about what happened or how he's doing. When Sarah arrives late that night, Amber is passed out on Hank's shoulder. Despite both women telling him he doesn't have to stay, Hank's a rock. He's staying. It's daylight when Amber is finally allowed to see a badly injured Ryan...
Back in Berkeley, Natalie slams into Drew's room to apologize for sleeping with Berto. The truth is that when Amy came to town, Natalie felt forgotten by Drew, so she slept with Berto. It's always been about Drew. All Drew will say is "okay," so a deflated Natalie invites him to Finals Primal Scream later and takes off. She's surprised when Drew shows up to scream his head off, then plead his case. He doesn't want to be just friends, and he doesn't want to sleep around. He wants Natalie to be his girlfriend. Amazingly, Natalie gives him a resounding "yes!" and a kiss that tastes like fireworks.