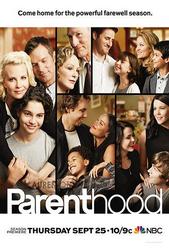 TV Info
---
Episode Premiere
March 27, 2014

Distributor
NBC

Genre
Drama

Show Period
2010 - 2015

Production Company
Imagine Entertainment, Universal Media Studios


Cast and Crew
---
Director
Bethany Rooney
Screenwriter
Jason Katims
Main Cast
Synopsis
---
Amber is surprised to run into Mark Cyr on the street. Back in Berkeley, he awkwardly tells Amber to say hi to her mom. She's just telling Drew about the encounter when Joel calls, asking if she can babysit. Lightning strikes: freeloader Drew needs money, so Amber volunteers him for the job. As Drew predicts, sullen Sydney and Victor really don't want to do anything but play video games and bicker. The next day, Amber comes to the rescue, dragging the kids out to a grubby roller skating rink that she and Drew used to frequent as kids. When Sydney and Victor grumble, Amber lays down the law. The kids may be having hard times, but they have each other - and that's the key to getting through it all.
Hank and Sarah drink champagne to celebrate winning their second big job for a skin care line. Hank is gingerly suggesting the good times they've been sharing when Amber knocks and blurts out her Mr. Cyr news. At least it's fair warning for when Mark calls Sarah and asks if they can meet up, but Hank winds up back on Dr. Pelikan's couch. Pelikan advises Hank to open himself up to romantic possibilities beyond Sarah, but that's easier said than done. Sparks fly when Mark and Sarah meet up - until he drops his bomb: he's getting married and hoping to start a family! The next day, Sarah tells Hank about Mark's plans, planting a spark of hope in his heart.
Max interrupts his parents in the middle of Funkytown to announce his final decision: he's not going back to Cedar Knoll. When Adam asks where Max intends to go to school, Max insists it's not his problem. Across town, an excited Zeek barges into Crosby and Jasmine's bedroom. He found the grill he needs for his GTO; he and Crosby need to leave tomorrow at 6:00 a.m. to drive to Eugene to pick it up. Jasmine gives her blessing, but Camille is none too happy - there are only 72 hours left to decide whether to sell the house!
Joel celebrates with Peet - they sold their first house! He makes a big deal about picking up the dinner check, surprised when the total is $468. When Julia gets a call from her bank's fraud department in the middle of the night, it doesn't take long to figure out what happened. Julia recruits Sarah to check out the restaurant, explaining that Joel will barely talk to her. She'd really like to know whether there's any chance of getting back together. That night, Julia tells Joel about the bank call. Why did he pay for a business dinner? Is he sleeping with Peet? No, he's not. Julia tells Joel what she told Sarah: she can't live in limbo any more. Are they trying to get back together or what? Joel doesn't know what he wants, but if Julia has to know, right now, he's not ready to do anything. Convinced that she has no choice but to move on, Julia consents to meet Ed for a drink.
Adam and Kristina meet with Mr. Knight and several school officials to discuss the field trip incident, but no one has come forward to admit peeing in Max's canteen. Adam's boiling. Holding back, he tells Principal Radford that his "response blows." Mr. Knight backs Adam and Kristina, but since there's only one month left to the school year... maybe Max should finish the semester at home. It actually seems like Max will finish his year at The Luncheonette, where he does schoolwork while telling Amber the whole sad story. Even though Max doesn't like surprises, Adam's got one that's going to break all the rules: they're going surfing! Afterwards, Kristina lays into Adam, who explains he just needed to see his son happy. On the next surf outing, Max personally invites Kristina to come and gives her his camera to take photos. When Max is able to stand up on his surfboard, it's a moment of victory for the whole family.
Zeek and Crosby make it to the scrap yard in Eugene, where it seems there has been tremendous confusion about the grill. Zeek and curmudgeonly owner Ernie butt heads, so Crosby persuades Zeek to regroup at a local diner. Zeek admits it's not about the grill. He's feeling old and the house sale is happening too fast for him; it feels like the end. But he told Camille he'd sell, and he's not going to be a welcher like Ernie. Crosby digs deep and decides to make Ernie a deal, netting not only the grill for the GTO, but an old Triumph motorcycle for himself. Back at home, there are hugs all around as Zeek tells Camille he thinks they should accept the offer on the house.